XTZ Divine Delta standmount loudspeaker
by Alan Sircom
Let's start in the middle here. No matter how you slice it, irrespective of how good or bad you think the XTZ Divine Delta is in sonic terms, as a value-for-money proposition, it's outstanding. All other considerations aside, this D'Appolito design, intended for home cinema use as a horizontal centre speaker as much as two-channel in its vertical orientation, is a serious value proposition for one simple thing – the drive units.
XTZ uses Thiel & Partner drive units throughout the Divine Delta, specifically the C25-6-158 ceramic dome tweeter and a pair of C173-11- 191 mid bass ceramic cone units flanking that tweeter. Why should these drive units be so important? Because outside of its native Germany, Thiel & Partner is better known by its trade name… Accuton.
Accuton drive units have featured in some of the best and best-loved top-end designs of the last few decades. Whether they were the inviting midrange of Avalon designs or the units featured throughout in Marten's models, Accuton drivers are associated with high-performance and equally high price. That XTZ can place these exotic ceramic drivers in a loudspeaker and do so without incurring a five-figure price tag is deeply impressive, no matter how the rest of the loudspeaker ultimately turns out.
In fact, the rest of the loudspeaker is extremely competent, too. As suggested, the Divine Delta has two roles depending on orientation. The loudspeaker is bi-wired, and comes with jumpers using XTZ's own loudspeaker cable. The loudspeakers do not come with the stands supplied, but do include a small plate designed for centre-channel speaker use (I'm so long out of the home cinema loop, I thought it was a replacement top-plate).
These are large sized loudspeakers for a stand-mount, but nothing prepares you for the box they come in, XTZ has gone for maximum protection (a good idea because ceramic drive units can be fragile in transit if not carefully stowed). However, this means a box roughly twice the volume of the loudspeaker itself for the MDF/aluminium cabinets. It's the same for the speaker stands, as they arrive ready built. If you did choose Divine Deltas and stands in a 7,1 channel system, you'd have enough cardboard to build yourself a life-size replica of Balmoral.
The crossover of the Divine Delta is a third-order network (with an 18dB/octave slope) and features Mundorf components in the signal path. It also uses air coils, iron core coils, MKP capacitors, and MOX resistors.
"There's a clear statement to be made here: in Germany big bookshelves give big bass."
► There is a small but important degree of seasoning available on the Divine Delta, both the treble range and the bass are adjustable. A switch on the rear terminal block allows for a -3dB cut to the treble, and the bass can be adjusted with a pair of bungs for the two rear-firing bass reflex ports. Both ports can be opened in order to achieve a slight emphasis in the upper bass range. With an open and a closed port, the Divine Delta plays with a bit more oomph in the low bass range, and the most neutral frequency response occurs with both bungs in place. These are large rear-firing ports, two to a channel, but they are rear firing; even with the bungs in place, this imposes limits on placement and the speakers are best in free space. I wouldn't use them much less than about a metre from the side or rear walls. Bass is a strong suit of the Divine Deltas no matter how you use them, but closer than a metre from the rear wall and the bass can dominate.
Accuton drivers are phenomenal, but from experience there are a few things to note. First, as discussed earlier, the drivers are not exactly shockproof; they are ceramic and if you expose them to a lot of G-force, they can smash like a plate in a Greek restaurant. In truth, unless you enjoy a spot of loudspeaker rugby, this is more of an 'in transit' problem, but it means you do need to keep that huge packaging come moving time. Fortunately, however, this doesn't apply to amplifiers, although putting any loudspeaker drivers into full clip or amplifier oscillation isn't recommended. Secondly, they typically need a long run in time; this didn't seem to be quite of a problem with the XTZ compared to enormous flagship models, but bear in mind the speaker you get a few hundred hours after you buy it is a very different animal to the one that comes straight out of the box. Thirdly, they are somewhat temperature-sensitive. They like a warm room, and if you live in an icebox be prepared for them to take a long while to spring back to life on every listening session. This largely depends on the nature of your listening room, but I do know people who place their system in a 'man cave' which could double as a cold store when they are not listening. The XTZ designs would not work in that context, unless he turned the heating on several hours in advance.
The loudspeakers are a pretty sensitive 89dB and with an impedance plot comfortably between 4ohm-8Q at all times, they are no challenge for an amplifier. I wouldn't recommend using them with something cheap and cheerful, however, as the loudspeakers do seem to like to be driven quite hard. But it's more about quantity than quality per se, and as long as the amplifier is of sufficient power it should sound more than good enough. Personally, I'd like to partner the loudspeaker with an amplifier that delivers quantity and quality, and those products do exist in the price range one might consider using with the Divine Delta loudspeakers. We found they worked particularly well with Class D, and in particular the Aavik U-150 integrated amplifier, and while this does seem like a sledgehammer to crack a nut, the combination sounds great in reality.
My first reaction here was to give the XTZ Divine Delta a soft landing because they are a home cinema design, and home cinema designs can't keep up with good hi-fi designs. Then I realised that if I did that, it would be compromising the integrity of the review and I should just give the product a fair assessment irrespective of origin. Then I heard them and realised I needed to stop being so prissy; they sound fine!
The speakers are very well damped and integrated. The damped bit comes in part from that extremely rigid aluminium/MDF sandwich front baffle, but the rest of the cabinet doesn't respond to knuckle-rapping. I preferred the loudspeaker with its -3dB cut in place and settled on the all-bung approach.
Even with bungs inserted, there's a clear statement to be made here: in Germany, big bookshelves give big bass. The bass on these loudspeakers is strong; not too strong, just powerful and authoritative. You know when you've been bassed at when you spend some time in front of the Divine Deltas. There's a tendency to put on something with some real bottom end heft, so out came The Fat of the Land, by The Prodigy [XL], which didn't disappoint. While this album is turning 21 this year, the opener 'Smack My Bitch Up' still has the power to shock, and that wall of bass has something like a blast radius here.
It's not uneven, and it's not wrong, but us genteel tea-guzzlers are more used to light, tight, and polite loudspeakers, and the Divine Delta only ticks one of those boxes by Brit-fi standards.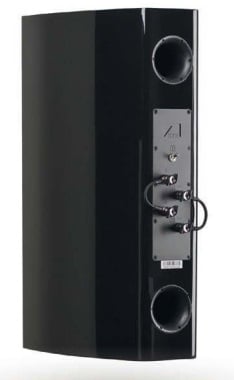 Fortunately it's not just about bass, and the loudspeaker is a subtle and refined performer in many respects. Perhaps most important of those is its imagery, which is absolutely first rate. This big stand-mount images almost as if it were a point-source
But the more you listen, the more those subtle elements of a piece of music begin to emerge.
► loudspeaker. The soundstage has good depth and some height, but is most importantly very free of the boxes and wide of them too. The layering of musicians in the second movement of Beethoven's Seventh Symphony [Klieber, DG] shows that perfectly; the sombre nature of this movement is never ponderous here, but is translated with an excellent sense of an orchestra in three dimensional space, instead of lumped together as one amorphous bolus of sound.
It's a dynamic presentation, too. This is an Accuton strength that XTZ has exploited well. OK, so these are loudspeakers that have a footprint not dissimilar from a pair of lower-middle tier Wilsons, and they aren't that dynamic, but neither are they middle-tier Wilson money. Again, this becomes clear on that Prodigy recording.
But the more you listen, the more those subtle elements of a piece of music begin to emerge. This only happens when a speaker is basically extremely accurate, and XTZ has harnessed Accuton's combination of low distortion and great speed well here. You do get the feeling of a living, breathing musician in their studio. Playing 'I Misunderstood' from Richard Thompson's Rumour and Sigh album [Capitol], his playing and the syrupy early 1990s mix draw you into the music well, and these quite large stand-mounts disappear as a result.
It's not a completely clean bill of health, though. Those overproduced albums of the 1980s and early 1990s always sound syrupy, but can sound almost edgy here. James Taylor's 'That's Why I'm Here' from the album of the same name [Columbia] is a perfect example, as it's all Yamaha DX7 synths backing an over-ripened James Taylor vocal. This particular recording might have been one of the progenitors of MP3, but the full 16/44 CD recording can easily show any brightness to the sound or spitchiness to the vocals, and both were displayed here. In truth, the vocal 'spitch' sound was minimal, and as much a function of the recording itself, but even with the treble set at -3dB, it never quite tamed that slight zing to the top end. I tried not to let the price get in the way of the review, but it's here the price becomes an issue, in a good way. That zing would be unacceptable in many of those classic high- end designs that also sport Accutons, but here it's just a function of a good middle-priced loudspeaker trying to make a well-balanced sound. It's also the kind of zing that is only really noticeable if you have logged lots of hours with the more upmarket competition. Many will never notice.
Back finally to the value question. These are great loudspeakers at a fantastic price. Are they they best speakers ever? No. Are they the best speakers to use Accuton drivers? Again, no. But given you could own 100 pairs of Divine Delta for the price of some of those anointed Accuton-sporting flagships, something is going very right for the XTZ Divine Delta. The fact they sound fun too helps.
SPECIFICATIONS
Type: Two-way, Bookshelf/ Centre-Speaker
Drive unit complement: 1 x 25mm
Ceramic dome tweeter, 2x 180mm ceramic cone mid-bass units Frequency response: 36Hz-30kHz Sensitivity: 89dB SPL (2.83V/1 m)
Nominal Impedance: 4-8 ohm Power handling:360W (short term),
180W (long term)
Finish: Gloss Black Dimensions (HxWxD):
267 x 653 x 380 mm Weight: 26.5kg
Manufactured by: XTZ URL: xtzsound.eu
Distributed in the UK by: HiFiPilot UK
URL: hifipilot.uk
Tel: +44(0) 1642 232188