Amazon's wireless subwoofer may ape the styling of its Echo speakers but isn't the chatty type. It does like to throw its weight around, though, says Steve May. Read our AMAZON ECHO SUB Review.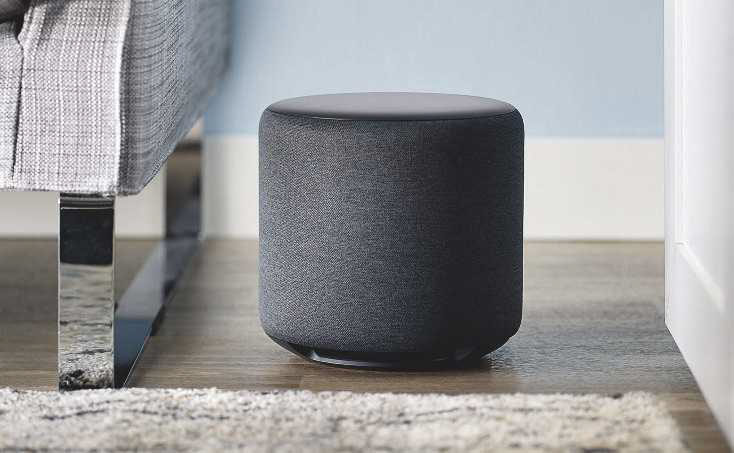 6in wireless subwoofer for Alexa systems
Amazon's first Alexa-compatible Echo subwoofer
PEERS: Apple Homepod; Yamaha MusicCast SUB 100
IF YOU'VE BEEN hankering after a more fulsome sound from your Amazon Echo smart speakers, the Echo Sub will sort you out. Not a smart speaker per se, it's designed to partner existing Echoes to bolster bass performance.
This subwoofer has a relatively large footprint, but isn't unattractive. The circular enclosure is wrapped in a dark charcoal fabric, echoing the style of the latest Plus and Dot devices. There's only the single color choice available, but don't rule out other colourways appearing over time.
Unlike other Echo speakers, there's no near-field microphone on-board, so you can't engage the Echo Sub in conversation (disappointing if you were hoping Alexa would talk in a deep contralto). It doesn't have the familiar flashing LED interface either, just a status reset button above the power socket.
Consequently usability is less intuitive than its stablemates, and setup a tad more challenging.
It actually took me several attempts to get the Echo Sub online using the Amazon Alexa app,
whereas regular Echo devices typically present no problem.
The sub itself is a sealed design (with an internal four-litre volume) with a 6in downward-facing woofer, firing onto a solid circular base. It's intended to sit on the floor, not too far from the main speaker(s). Best place it close to keep the soundstage intact.
The Echo Sub requires a compatible Echo speaker to work. It can be used in a 1.1 configuration, or 2.1 with paired Echoes performing left/right duties. Be aware that to create a 2.1 system, you'll need third- generation Dots, first- or second-generation Echo Pluses, or second-generation Echoes.
This woofer can't be used with non-Alexa products, nor does it have a 3.5mm/Bluetooth connection.
Renovation required
Curiously, the Echo Sub can't be added to any existing stereo pairing you might have. You'll have to unpair your Alexa devices and then rebuild to accommodate it. An adaptive 50 Hz-200 Hz low-pass filter automatically copes with whatever Echo speaker you partner it with. Onboard Class D amplification is rated at a punchy 100 W.
Once up and running, there's no doubt this subwoofer adds welcome weight to any Echo speaker configuration, but the listening experience varies according to content.
It can sound too heavy with speech radio, causing mid-range vocals to bump and thump. If you primarily request Alexa to disgorge news and podcasts I suspect you won't get much pleasure from using it.
However, with music, the bolshie beat can be far more infectious. It likes to make a noise. Play Nomadic, by Slipknot, and the Echo Sub pulses in delicious anger. A gutsy performer, it's equally at home with dance tracks and reggae, although it's far from nuanced in its bass handling.
Also, don't plan on using a 2.1 config as a soundbar alternative, or as part of a Fire TV sound system. This is dedicated to streaming music only.
As such, it does a solid job filling in the space left untouched by Amazon's smaller boxes, dropping down (with some DSP help) to 30 Hz. But it would have been nice to have been able to adjust the EQ setting for the Echo Sub itself; the Alexa app only allows adjustment for grouped speakers en masse.
Value added
I love the idea of adding a compact sub to upgrade an Amazon Echo, and to a certain degree this offering fits the bill. It's undeniably well made, and sports great cosmetics. However, usability isn't as polished as other more communicative Echo products, and for all its brawn, it's only passably musical.
In terms of value, though, this new arrival is hard to beat. A 2.1 system built around an Echo Sub and Echo Plus stereo pair is temptingly competitive. Opt to partner it with Amazon's smaller Echo speakers and you'll take the package. This compares well with more expensive single-box options, including Apple's Homepod and the Google Home Max.
SPECIFICATIONS
DRIVE UNITS: 1 x 6in downward-firing driver ENCLOSURE: Sealed FREQUENCY RESPONSE (CLAIMED): 30Hz-200Hz ONBOARD POWER (CLAIMED): 100W Class D amplifier REMOTE CONTROL: No. Via Amazon Alexa app only DIMENSIONS: 202(w) x 210(h) x 202(d)mm WEIGHT: 4.2kg
FEATURES: Integrated dual-band Wi-Fi; system EQ via Amazon Alexa app (Fire OS, iOS, Android); pairs with compatible Amazon Alexa products (Echo Dot, Echo, Echo Plus, Echo Show); 50Hz-200Hz adaptive automatic low-pass filter
AMAZON ECHO SUB Review
The Echo Sub turns Amazon's smart speakers into a price-competitive 2.1 proposition, but a laboured nature rather limits its musicality.
Add your review
|
Read reviews and comments
Best AMAZON ECHO SUB prices ?
$

349.99

$599.99
1 used from $312.83
2 new from $349.99
in stock

MORE DEALS