Elipson Prestige Facet 24F
by Jason Kennedy
Elipson is France's oldest speaker brand. Founded in 1938, it ran as an independent company until 2008 and during that time never exported its products. Which says a lot for the strength and patriotism of the French market. It is now part of the AV Industry group, a company with rather more ambitious ideas about potential markets, hence the appearance of the Facet line and other ranges on these shores. Elipson's classic speakers were nearly always curved, either spherical or ovoid, and there is one tribute model (BS 50 with its upward firing drivers and reflector) and two derivatives (the spherical Planet models) of that style in the current range.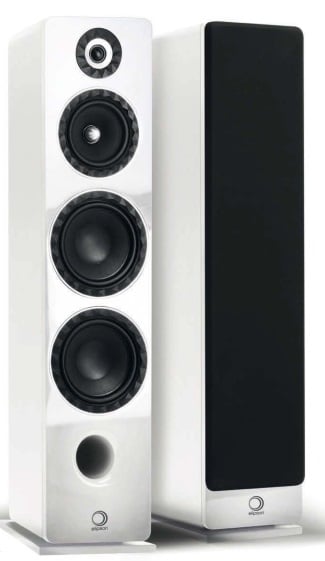 But the wider market has always been a little shy of curvy loudspeakers so the Prestige Facet range consists of box loudspeakers and the 24F is the largest of these. It's certainly substantial at over 26 kilos and a 1137mm height – nearly four feet in old money. In many respects it looks like a classic 'mug's eyeful' loudspeaker; with its multiple large drive units in funky surrounds on a shiny baffle, it could be considered a bit brash in terms of styling and better suited to tastes outside western Europe.
But don't let that distract from the fact that it's an awful lot of loudspeaker for the money – too much to have been manufactured in France, of course, but that's where it was engineered, and that's what counts.
Those bass drivers are 200mm types, bigger than you see on many speakers these days and this plus the decent size of the box means that sensitivity is a useful 93dB; this is measured at 60 (so closer to 91 dB in real terms) but still very useful if you want to produce a decent sound level without too much effort. The Facet 24 is a three- and-a-half way, so one of the bass drivers is helping out with the midrange as well; you ►

"The cabinet has a vinyl wrap behind the shiny baffle and curved corners for a contemporary feel."
► wouldn't have thought the 165mm mid driver would need it, but that is where most of the action is so it probably doesn't hurt. Both drivers are polypropylene designs and have an unusual corrugated trim beyond the suspension. This presumably is the source of the Facet name and is said to "reduce the baffle effect and limit diffractions". The tweeter has the same facet surround and a short horn on the soft dome driver.
When I visited Elipson in 2018, it put on three demonstrations, two of which were in home cinema set-ups. One was typical of the genre, loud and with too much bass (that was with a retailer), but the second was remarkably refined and transparent with the levels set below the pain threshold. Both systems featured similar speakers but the second, by Dolby, involved a high end processor. Essentially this proves that source is king whatever the style of material. It also reveals that Elipson has more than half an eye on the home cinema market, which is rather bigger in France than it is here. This probably explains the high power handling nature of the Facet 24F with its high sensitivity and large bass drivers; the big bore front firing port also augments the bass of course.
The cabinet has a vinyl wrap behind the shiny baffle and curved corners for a contemporary feel. It comes with an optional fiat base to increase the footprint and comply with 'topple test' regulations but I'm surprised it needs one as the box is hardly skinny. Cable connections are via bi-wire terminals sensibly placed near the bottom at the back.
In my system, the Facet 24F produced surprising amounts of bass, so much so that I moved it away from the wall twice in an attempt to balance things out. But this didn't really change low frequency level a great deal, so either this is the way they were designed or you need a bigger room; one that's more than the 3.5m wide might help. I also noticed that the midrange is a little pronounced; voices and trumpets, for instance, are illuminated to a greater degree than usual while in the area between mid and bass there is a perceived suck out. The treble is a little soft/relaxed, but that's no bad thing in my book.
What this balance confers is a tremendous sense of effortlessness, it really is unusually relaxed at normal listening levels, which can be very appealing. The flip side to this is that the sense of timing is a little slow; there is a degree of thickening in the upper bass that stops anything from happening quickly. As one visitor pointed out, the balance and presentation is not unlike the big Celestions of the 1980s, which given the popularity of such designs might make this a good choice. There are certainly enough nimble and lively speakers around so it makes sense to offer something a bit different. And to be honest I enjoyed the ease with which the Elipsons delivered all manner of material, from Herbie Hancock through Esperanza Spalding, and even London Grammar. The latter's ►
"The compensation for this is good dynamics, a result of big drivers and good sensitivity.
► 'Hey Now' [Truth is a Beautiful Thing, Ministry of Sound] has plenty of low end on it and revealed that these speakers can keep things under control and push out a big image without too much trouble.
The image while large when it's called for has trouble escaping the boxes, it was always thus with big wooden cabinets of the relatively affordable variety, and while this doesn't undermine enjoyability you do lose a bit of image precision. The compensation for this is good dynamics, a result of big drivers and good sensitivity. This means that the Elipsons can swing big changes in scale and power with ease. It's a style that suits live recordings really nicely, Ryan Adams and the Cardinals [Live at Das Haus, archive.org] sound very much the part thanks to the low end prodigiousness and scale of image created. It sounds more like a live PA than usual, which given that it was recorded in the audience is probably right. Adams and his band clearly had a bit of a Grateful Dead thing going on, one because of the rambling nature of songs like 'Magnolia Mountain' and two in that they allowed fans to record the gigs. The results of both sounded excellent here. Patricia Barber's 'Company' [Modern Cool, Premonition] is always a little bass heavy and with this speaker got a little too overweight, so much so that I decided to try a leaner sounding speaker cable.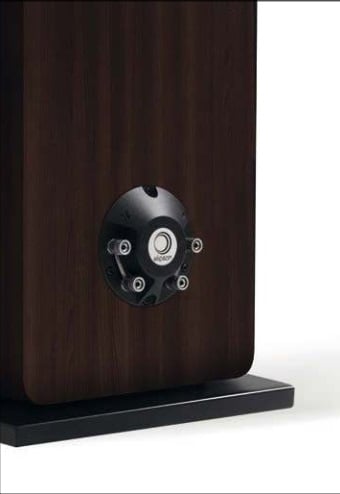 Replacing the Townshend Fractal F1 with Chord Sarum T proved a good move, it tightened the bottom end and added some attack to the leading edges. This livened things up nicely, making the music quite a lot more engaging. The presentation was less relaxed but the overall balance better suited to a wide range of music styles. Yet it was still easy enough to drift away with laid back material. Detail levels were up slightly as well, this isn't the most revealing of loudspeakers, but through the mid and treble at least it's easy to hear what's going on with a fair degree of clarity. I changed from the ATC P2 power amp to an integrated DM250 from Struss Audio of Poland, this tightened up the timing and increased resolution which indicates that this speaker is sensitive to the source and amplification. The grooves on the K&D Sessions [Kruder and Dorfmeister, K7!] had plenty of detail and a juicy bottom end that inspired extended listening at highish levels. It also had me wondering how valve friendly the Elipsons might be. I only have a Quad VA-One to hand and that's quite low powered with 12 Watts on hand for eight Ohm loads but it was worth a try. Or not: while it livened things up and brought out some of the energy in the music, there was clearly a shortfall that made for rather less than effortless listening. A bigger valve power amp might be an option, however, and glass audio enthusiasts could do worse than checking this speaker out.
The Elipson Prestige Facet 24F is an unusual loudspeaker in today's market. It has more bass than most and is happy to play at higher levels than the competition. Its tonal balance doesn't seem entirely even but this does little to undermine the appeal of what it plays. Those looking to unwind with their music will find a lot to like, especially if they enjoy a bit of home cinema too.
TECHNICAL SPECIFICATIONS
Type: 3.5-way, four-driver, floorstanding speaker with reflex loaded enclosure
Driver complement: One 25mm soft dome tweeter; one 165mm midrange driver; two 200mm bass drivers
Crossover frequencies: Not specified Frequency response: 28Hz-25kHz Impedance: 6 Ohms Sensitivity: 93dB/W/m Dimensions (HxWxD): 1137 x 274 x 383mm Weight: 26.5kg/each Finishes: Black, white, black/walnut
Manufacturer: Elipson Tel: + 33 1 55 09 18 30 URL: elipson.com
Distributor: Avoke Limited Tel: +44(0) 1628 857958 URL: avoke.co.uk