The XMG Fusion 15 is a highly configurable laptop from German brand Schenker. This particular unit has a couple of familiar components: an RTX 2070 Max-Q GPU and a Core i7-9750H processor. The RTX 2070 Max-Q is a cut­back, more efficient version of one of Nvidia's key GPUs. It has the 2,304 stream processors and 8GB memory of the standard mobile RTX 2070, but its clock speeds have been reduced to 885MHz and1185MHz.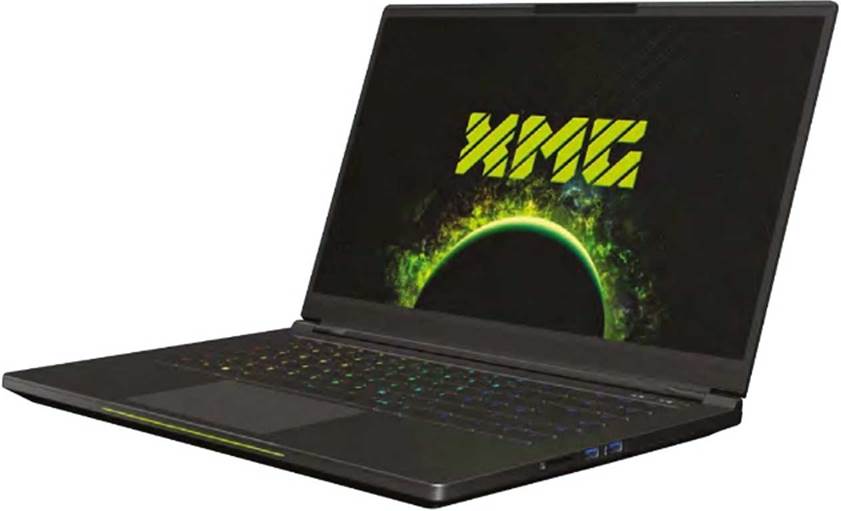 SPEC
CPU
2.6GHz Intel Core i7-9750H
Memory
16GB 2,666MHz DDR4
Graphics
Nvidia GeForce RTX 2070 Max-Q 8GB
Sound
On-board
Screen size
15.6in 1,920×1,080 IPS 144Hz
Storage
1TB Samsung 970 EVO M.2 SSD
Weight
1.9kg
Ports
3 x USB 3.1,1 x Thunderbolt 3/USB
3.1 Type-C, 1 x HDMI 2.0,2 x audio jack, 1xSDXCs
Dimensions (mm)
356x234x20 (WxDxH)
Extras
Windows 10 Home 64-bit, Dual-band 802.11ax WiFi, Bluetooth 5.0, Gigabit Ethernet
Warranty
Two years collect and return
As for the Core i7-9750H, it's a 6-core CPU with base and boost speeds of 2.6GHz and 4.5GHz. It's used in virtually every high-end gaming laptop now. It has enough single-threaded power to avoid bottlenecks, and its cores mean there's ample bandwidth for photo editing and multi-tasking.
Elsewhere, there's 16GB of 2666MHz memory and a 1TB SSD alongside futureproofed 802.11ax Wi-Fi. The memory could be faster, and machines with an SSD and hard disk tend to offer more overall storage space, but they're minor complaints.
In last month's laptop Labs, there were four machines with the RTX 2070 Max-Q or the full-fat version. Three of them used the i7-9750H CPU and their prices ranged between £ and £ – this is a popular price point
The Fusion looks smart but unassuming. Its made from black magnesium alloy, and it has no extravagance – the only logo is a dark black shape on the lid. It's one of the sleekest gaming laptops around and looks a little like a stealth bomber. Build quality is good too. The base is solid with only minor movement when prodded, and the screen is reasonably sturdy. The whole machine is 20mm thick and it only weighs 1.9kg, so its lighter than every RTX 2070-based machine from the Labs.
It has three USB 3.1 ports and a Type-C connection that supports Thunderbolt – a good selection. This laptop also has a card reader, which is becoming rarer.
The keyboard uses opto-mechanical switches – hardware with the moving parts of a mechanical switch, but with a beam of light for actuation. In theory, this means you get the added weight and satisfaction of a mechanical keyboard but with improved response times. The keyboard also has per-key RGB LED backlighting and n-key rollover, but no numberpad.
In practice, the opto-mechanical hardware is mixed. The buttons have more travel than conventional ones, and they actuate quickly – keen gamers will appreciate the speed gain. However, the buttons are light and wobble a little too much. It doesn't inspire confidence when compared to laptops with normal mechanical keyboards, which are heavier and more consistent.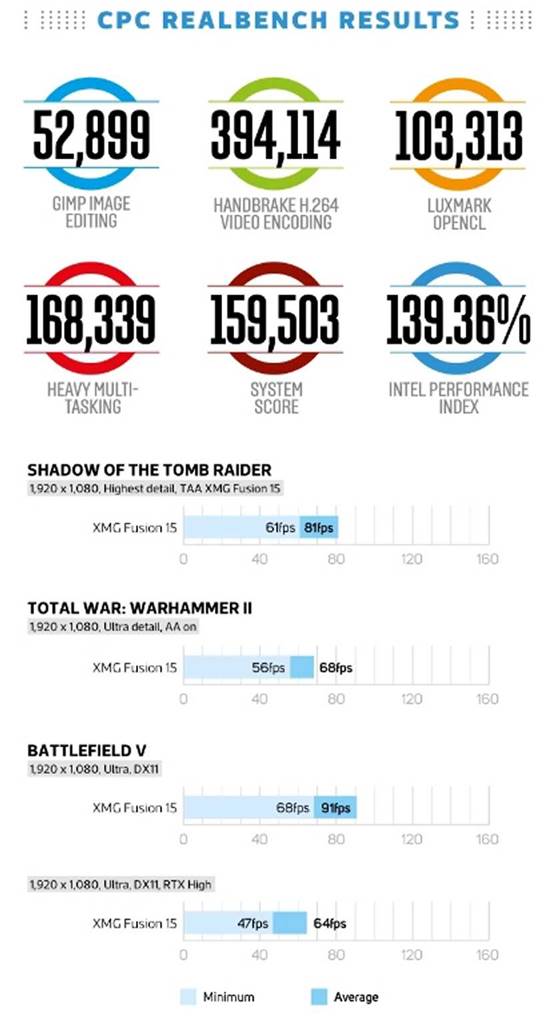 As for the trackpad, its large with a responsive surface and two crisp, shallow buttons. It works well for desktop duties but, as ever, it shouldn't be relied on for gaming – you'll want a proper mouse for that.
XMG offers loads of configuration options. Money can be saved by dropping down to a GTX1660 Ti GPU, or opting for lesser memory and storage allocations. Conversely, it's possible to add more memory and storage, and improve networking. Longer warranties are also available.
Performance
The cut- back RTX 2070 is reliably quick. It ran our test games at 1080p with minimum frame rates between 47fps and 61fps, even with ray tracing enabled. There's enough power to play triple-A games and to play any esports title at 144fps – handy for the 144Hz screen. You'll only get triple-A games at triple-figure frame rates if you tone down GPU settings though.
The XMG is a few frames behind other machines with the RTX 2070 Max-Q, and around ten frames behind laptops with the full-power RTX 2070. So, while its solid, there's room for improvement.
The CPU is consistently at the top table when it comes to i7-9750H speeds – faster than most machines with the same chip. It will avoid game bottlenecks and tackle Office tasks and photo editing better than most gaming laptops.
The XMG is impressive thermally too. The CPU and GPU delta Ts of 59'C and 50'C are fine, and the exterior remains cool. Noise levels are good as well: the fan output is present during gaming, but the XMG remained quieter than the vast majority of gaming laptops. A headset will easily block it out.
The screen's 1080p resolution and 144Hz refresh rate ensure smooth gaming, even though there's no G-Sync. The contrast level of 1,139:1 is good as well, bringing vibrancy and depth to the image. A maximum brightness of 319cd/m2 is more than adequate for most uses and should make this laptop usable in bright conditions, although some laptops do push even higher.
The screen's delta E of 3.09 is good but not great – and, similarly, the colour temperature of 7.006K is a tad on the blue side, but not ruinous. The sRGB coverage level of 84.7 per cent is middling. The XMG's screen has reasonable colours and contrast, so its easily good enough for mainstream gaming – but if you need something for photo editing and the like, you may want to look elsewhere. The speakers are only mediocre too. They're very bass-heavy, but the treble range is muted and indistinct, and the top-end is a little too tinny.
When it comes to battery life, this laptop is fantastic. During gaming, with the screen at 100 per cent and 50 per cent brightness, it lasted for two hours and 23 minutes, and then three hours and two minutes. None of its rivals could last for two hours in those tests. In a work test, the XMG lasted for a mighty seven hours and 35 minutes – more than twice as good as most competitors.
Conclusion
There's an awful lot to like about the XMG Fusion 15. Its battery life is class-leading, and elsewhere this machine serves up solid gaming power, a fast CPU, a clean design and a decent mechanical keyboard for no more extra cost when compared with most rivals. It's thermally impressive too.
It's not perfect. Many other machines with this GPU are faster, and the keyboard is a little too light. The speakers are poor, and the screen is fine but not the best around. Gaming laptops always involve compromise, though, and the XMG does better than most. It's a great option if you need something smart for work and play.
MIKE JENNINGS
VERDICT
XMG FUSION 15 review
Smart and sleek, with good design and battery life - but not the fastest in games.
PROS
Smart, solid, light design
Great battery life
All-round decent performance
CONS
Rival machines are faster in games
Poor speakers
Middling screen quality
Add your review
Best XMG FUSION 15 prices ?

$

119.99
1 new from $119.99
in stock


$

128.99
1 new from $128.99
in stock


$

140.00
1 new from $140.00
in stock

MORE DEALS

See also THE COMPLETE GUIDE TO…OLED laptops