ACER'S POWERFUL, PREMIUM CHROMEBOOK COMES AT A SERIOUS PRICE. Read our Acer Chromebook 715 Review.
JUSTIFYING A NEAR FOUR-FIGURE PRICE TAG IS A TOUGH ASK WITH ANY  CHROMEBOOK. AND WE'RE NOT CONVINCED ACER HAS ENTIRELY PULLED IT OFF.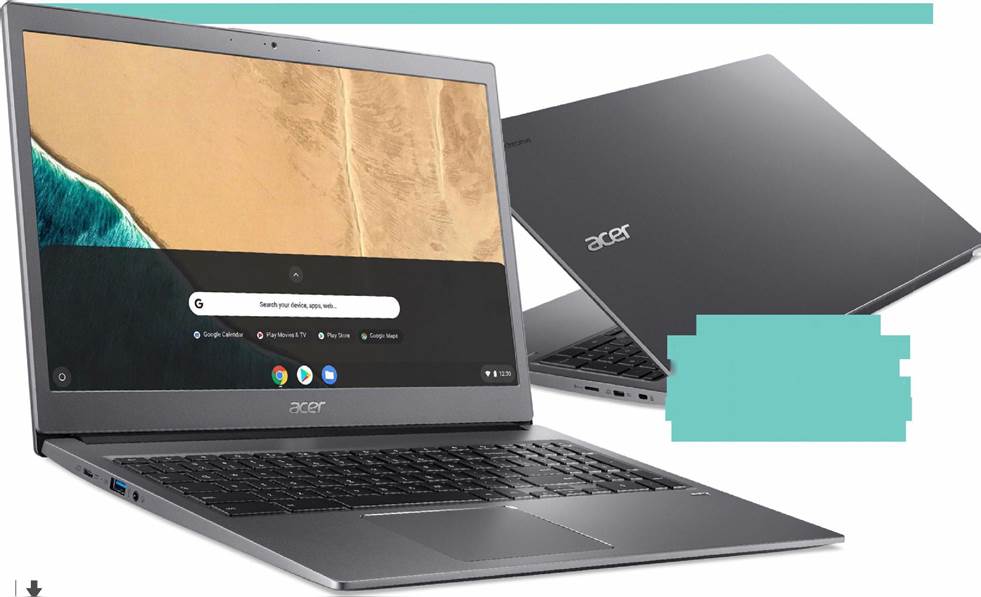 THE NEW ACER Chromebook 715's near four-figure price tag seriously raises expectations for both build quality and specifications. A quick scan of the core features would suggest Acer has met them. The chassis is all-alloy, there's a fast quad- core CPU, an IPS touchscreen and, well, you get the idea.
Take a closer look, however, and you might not be quite so convinced. The Acer Chromebook 715's chassis is indeed all-alloy, for instance, and feels robust. The broad keyboard complete with a full number pad is a nice feature, too. But it's a pretty anonymous and has the air of a mid-market rather than truly premium device.
The Intel CPU is likewise the powerful quad-core Core i7-8650U that turbos up to fully 4.2GHz and is paired with a very healthy 16GB of DDR memory. Just what you'd expect at this price point. What you might not be so impressed by is a mere 128GB of local storage and in low-performing eMMC format at that.
Admittedly, local storage is of much lower priority for a Chromebook where the emphasis is on using Google's various cloud-based services for storage. But if you're going to have a lump of flash memory, having it hooked up via a faster interface would be welcome, especially at this price.
As for the Acer Chromebook 715's screen, on paper it's adequate at this price point, being an IPS panel with touch support and a native 1080p resolution. In terms of the on-paper specs, more pixels and so better pixel density would have been desirable.
All that said, connectivity is pretty good. Both of the USB-C ports, one either side of the chassis, support charging and display output, for instance. Similarly, the 56Wh battery bodes well for battery life given it's support a low-voltage Intel CPU.
The fingerprint reader is another plus, especially for business users, and remains a relative rarity on Chromebooks at any price. There's also a fairly generously proportioned trackpad with a Gorilla glass surface for a slick, smooth feel.
Of course, never forget that there are significant differences between the Chrome OS this laptop runs and the more conventional Windows 10 option. If you haven't tried Chrome OS, you'll find it mostly intuitive, but probably feel like you're being kept at arm's length from both the hardware and the OS's core capabilities.
In short, it's very efficient at what it does best, namely browser-based and cloud-based computing. If you're hooked into Google's ecosystem, you'll very likely love it. And there's usually a way to get any given old school computing task done, even if it's not always obvious. But for true power and flexibility, Windows still rules.
PERFORMANCE & BATTERY
There's an argument for viewing this Chromebook's Intel Core i7-8650U CPU as overkill. If you want high performance, you'll get a Windows laptop. More than any other single component, it's responsible for pushing the 715's pricetag so high. But there's no doubting it delivers the goods. It's a very fast CPU given the thin-and-light laptop remit.
The 16GB of RAM is likewise all you're ever going to need in this type of PC. Actually, it's probably more than you're ever going to need. That's not necessarily true of the 128GB eMMC SSD.
It's not normally part of our laptop test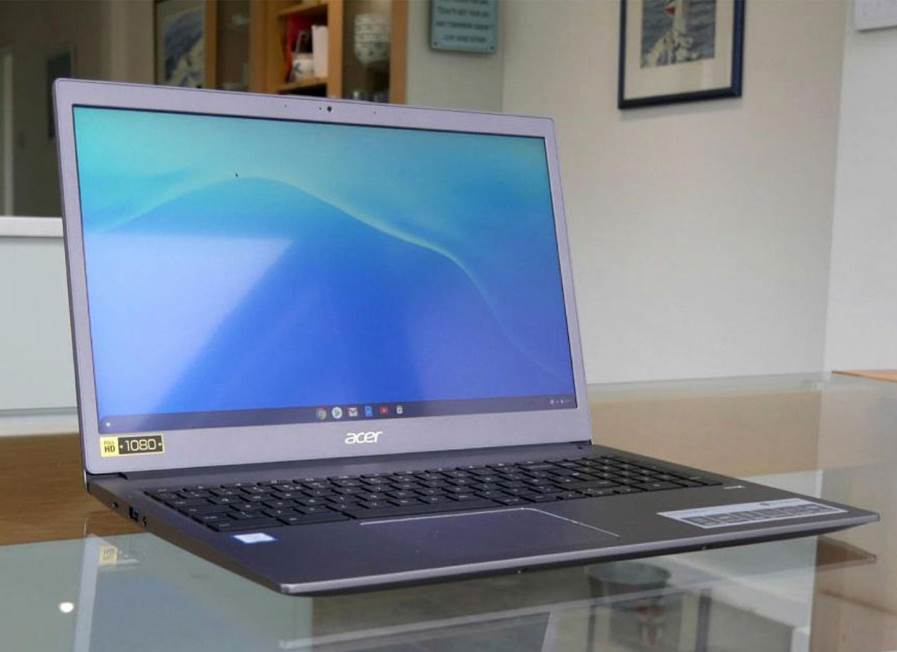 routine, but we extracted some synthetic numbers from the drive and found read speeds of around 250MB/s and writes of 190MB/s. That's pretty poor when the latests M.2 SSD are knocking out multiple GB/s of performance.
Still, there's better news when it comes to battery life, with the 715 delivering over 13 hours of video playback.
The caveat to that is that our testing is completed at 50% screen brightness, at level that's probably unrealistically low given this laptop's dingy screen. But even with a few hours shaved off, this laptop offers true all-day battery life.
VERDICT
There's lots to like from the strong CPU performance and oodles of memory to the robust metal chassis and tireless battery life.
THE INTEL CPU IS LIKEWISE THE POWERFUL QUAD-CORE CORE I7-8650U THAT TURBOS UP TO FULLY 4.2GHZ AND IS PAIRED WITH A VERY HEALTHY 16GB OF DDR MEMORY.
WHAT YOU MIGHT NOT BE SO IMPRESSED BY IS A MERE 128GB OF LOCAL STORAGE AND IN LOW-PERFORMING EMMC. FORMAT AT THAT.
But other aspects undermine its appeal.
The biggest problem is the disappointing screen. Arguably corporate users won't be too worried by that, but will appreciate the excellent CPU performance in certain apps along with the heightened security provided by the fingerprint reader. But even in that context, the screen is off putting.
The weak storage performance and rather conservative, dated design hardly sweeten the deal, either. Again, there will be a niche of buyers for whom that doesn't matter. But the appeal of this portable is narrowing by the moment.
All of which means the Acer Chromebook 715 is tough to recommend. Objectively, it performs well in many areas. Acer offers alternative configurations with a slightly less powerful Intel CPU and 8GB of memory rather than 16GB at a significant savings. In value terms, that makes much more sense. We'd steer you in that direction if the Acer Chromebook 715 is on your shopping list.
[ JEREMY LAIRD ]
Acer Chromebook 715 Review
Best Acer Chromebook 715 prices ?

$

580.03
2 used from $340.00
6 new from $579.98
in stock

MORE DEALS

See also THE COMPLETE GUIDE TO…OLED laptops
CRITICAL SPECS
1.9GHz Intel Core i7-8650U (quad-core, 8MB cache, up to 4.2GHz boost); Intel UHD Graphics 620; 16GB DDR4 RAM; 15.6-inch, 1920 x 1080, IPS display; 128GB SSD (eMMC); 2x USB-C, 1 x USB; 802.11ac Wi-Fi, Bluetooth; HD webcam; 1.95 kg.