One of the major downsides of G-Sync and FreeSync technology is vendor lock-in, since AMD cards won't work at 144Hz with G-Sync screens, and vice versa. ViewSonic has taken a different approach with the VG2401mh, though, which supports a fixed 144Hz refresh rate, regardless of whether your graphics card has an Nvidia or AMD GPU.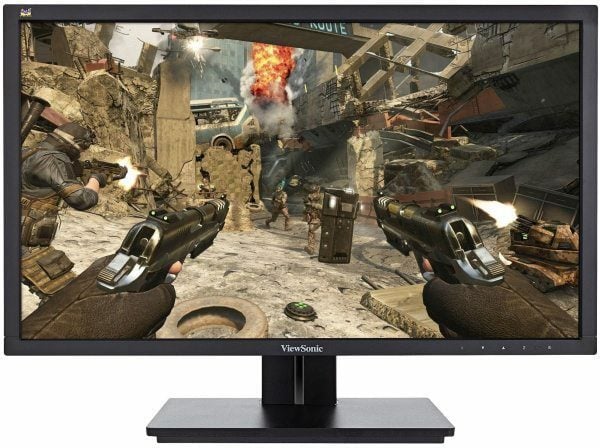 With the notable exception of BenQ's 24in XL2420G, a further advantage of the ViewSonic over the G-Sync screens we've tested in this Labs is more video inputs than a single DisplayPort connector – an important consideration if you want to connect a games console, second PC or Blu-ray player in addition to your main PC.
The VG2401mh uses a 24in 1080p TN panel, with a quoted 1ms response time. Its frame and base are made from a standard dark grey plastic material, with a red stripe running up the stand, brightening what's otherwise a fairly common display design.It presents excellent desktop image quality, with 348cd/m2 brightness and a measured 640:1 contrast ratio. Screen uniformity deviates between 7 and 16 per cent, which is above average for a TN gaming panel too. Power consumption is notably reasonable as well, consuming just 35 W at 100 per cent brightness.
There are dual HDMI1.4 ports, plus DisplayPort and DVI connections. Two USB 3 ports are at the bottom too, and the fully adjustable stand gets full marks. It can be raised and lowered up to 120mm, with a tilt between -5 and 20 degrees, along with 90-degree rotation. There are two 3 W speakers as well, and the option to display a crosshair on screen for assisted aiming in FPS games.
The OSD is controlled by five touch-sensitive buttons, with context-sensitive on-screen prompts to guide you through the menus. The response time is adjustable in the OSD too, although ghosting isn't a major issue on this screen anyway, regardless of this setting. The presets for this setting are labelled Standard, Advanced and Super Fast, with the latter introducing slight artefacts with movement – we found that the Advanced setting offered the best balance.
Compared with displays that adopt both G-Sync and FreeSync, the gaming performance of the VG2401mh measures up well enough to be considered a serious alternative, although there are some areas where you can see the difference between this 144Hz fixed refresh rate gaming monitor and Nvidia and AMD's official adaptive-refresh technologies.At high frame rates beyond 90fps, there are small stutters, although they're hard to detect. At the other end of the scale, frame rates below 40fps introduce some stuttering, even with vsync enabled. Finally, once your frame rate goes above 144fps, you get some horizontal tearing, although the display introduces no perceptible input lag.
That said, gaming at 144Hz is still an impressive effect regardless of whether you opt for the VG2401mh or a screen that supports G-Sync or FreeSync. Both these technologies have a slight performance edge in terms of visual smoothness, but if you want an affordable all-round display that also supports gaming at 144Hz, the ViewSonic offers a great compromise for the sub-£200 price.
The VG2401mh works well at 144Hz regardless of your GPU, with good desktop image quality, little ghosting, a wide range of display inputs and an adjustable stand. If your budget can't quite stretch to a variable refresh rate panel, the ViewSonic is a good budget alternative.A great budget alternative to a sync display, with loads of inputs to boot.
Native resolution 1,920 x 1,080
Display inputs Dual-Link DVI, 2 x HDMI and Display Port
Extras On-screen crosshair, 2 x USB 3 and 2 x 3W speakers