A small speaker for the great outdoors
If Ultimate Ears' adverts are anything to go by, you're only allowed to use this wireless speaker if you're under 25, wear skimpy clothes and like to shout a lot and jump off things. This is not correct. In our tests, the UE Roll 2 worked absolutely fine even for fully dressed, inactive, middle-aged people. Although it's officially available only in Volcano, Atmosphere, Sugarplum or Habanero , you can secretly get it in more sober grey , blue, purple or orange. Like its predecessor , the Roll 2 takes the form of a flying saucer that's slightly wider than a CD, and covered in woven material that looks and feels great. It's very similar to the original version, but it claims to be louder and work over longer distances over Bluetooth (up to 30 metres, or 100ft). You can also use a 3.5mm jack cable for devices that aren't wireless.
It looks gr ea t, works in water, and punches out clear audio
As before, it 's fully waterproof – rated IP X7, meaning it can survive half an hour under a meter of water – and it even comes with a little inflatable ring to keep it afloat beside you in the pool, should you feel inclined. Try not to forget that if you drop it in without this, it'll sink.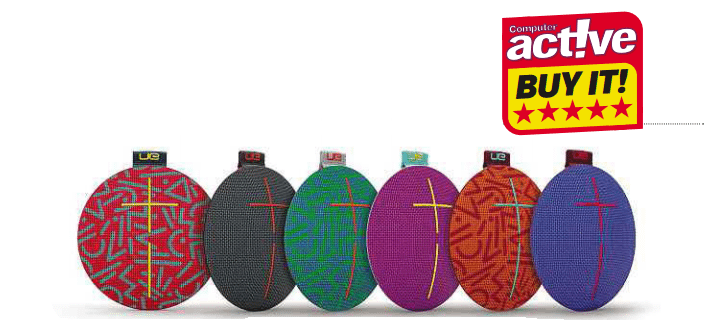 On the back is a big elastic loop that you can easily attach to a rucksack, for example, when taking your music out for the day. Since rain won't hurt it, this means you can carry the Roll 2 outside your bag instead of having to make room inside. The rechargeable battery lasted us nine hours, as promised, and the accompanying app (for Apple and Android devices) lets you pair up another Roll 2, or a Boom 2 for even bigger sound. You don't get huge bass from the single woofer , but two tweeters punch out clear treble to keep music and speech audible.
The UE Boom 2 is the better speaker, and similarly waterproof, but it's heavier and pricier £110. At £80, the Roll 2 is hard to beat as a portable speaker for your phone or tablet.
SPECIFICATIONS
1x 50mmdriv er • 2x 20mmdriv ers • Bluetooth (requires Bluetooth A2DP device) • 3.5mm analogue stereo input • 135x135x40mm (HxWxD) • 0.33kg • Two-year warranty
VERDICT:
This powerful speaker is well made, reasonably priced and delivers great audio. Plus, it's waterproof
ALTERNATIVE:
Braven BRV-1
This smaller IPX7 Bluetooth speak er also sounds good. Pric es vary from £60-100, so shop around