Boost your PC's audio
Remember Thonet & Vander? Every lunchtime on BBC2, the Teutonic crime-fighting duo would solve the trickiest cases of international skulduggery against a backdrop of Europe's most recognizable locations. No, us neither. In fact we made all that up.
Produces a rich, warm sound with a real sense of stereo
Thonet & Vander is actually a little-known German audio manufacturer.
Its latest set of PC speakers is called Rätsel, which means 'puzzle'. It's not particularly puzzling: the 2:1 configuration provides the usual bookshelf-sized left and right speakers, plus a big subwoofer to place on the floor. What is unusual is the separate, smaller box with volume, bass and treble knobs and a handy mute button. A basic remote control duplicates these features.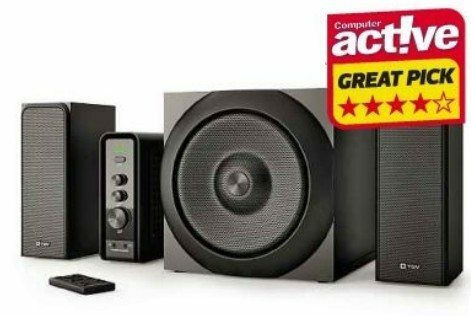 On the back of this are phono stereo inputs for your PC and one other source and traditional bare-wire spring connectors for the speakers. The supplied wires are each only about a meter long, so if you want more separation, you may need to pop to your local Maplin store for more. As indicated by the 'BT in the title, you can also play audio from Bluetooth devices. Power comes from a standard two-pin European plug (you'll need an adapter), with no external transformer.
The plain design of the black, wooden cases looks from a distance like solid hi-fi gear, although the finish doesn't look as good close up. As with many speakers, the subwoofer is the most impressive-looking component and the one least likely to be seen. More importantly, we liked the Ratsel's rich, warm sound, with a real sense of stereo. More challenging music tracks brought some reverberation out of the two speakers, but this was rare.
You could spend a lot less than £130 on a basic set of PC speakers, but the Ratsel's sound quality and convenient controls justify the cost, with the bonus of Bluetooth. If you're not bothered about a subwoofer, consider a powered stereo pair such as the Edifier R1700BT, which have a classic walnut-effect finish. They sound great with music, although they try a bit too hard to pump out bass from their small cabinets.
SPECIFICATIONS
3ln driver and 0.5in tweeter per satellite speaker • 6.5in subwoofer • 7SW RMS •Bluetooth* Satellite speakers: 253x100x111mm; Subwoofer: 2S3x253x36Smm (HxWxO) • One-year warranty
VERDICT:
Impressive and Loud set of speakers for games, films or music with physical knobs and a remote control
ALTERNATIVE:
Logitech Z533
This 2:1 set with a 'hockey puck' wired controller sounds great and looks stylish