Toshiba lures business users with a decidedly utilitarian Ultrabook
Looking at the headline cost, the knee jerk reaction is to wonder who might have the spare cash to blow on what seems to be a well-made but unexceptional Ultrabook. The Toshiba Z30-C-125 isn't made for a typical PC punter, though, it's built for business – where that cost level is justifiable, if not entirely expected.
The review Z30 came with Windows 7 pre-installed, exactly like the average business would like, because many skipped Windows 8.x and would like to put off the move to Windows 10 indefinitely. As hardware specs go, there is plenty of power under the plastic 'Cosmo Sliver' (read: gunmetal) exterior. It's built around a dual-core Core-i7 6500U at 2.5GHz boosting to 3.1GHz, it comes with 8GB of RAM and a 256GB Samsung PM871 MZNLN256HCHP solid state drive. That's a SATA M.2 SSD sadly, not the NVMe variety, but it's still more than quick enough for most users.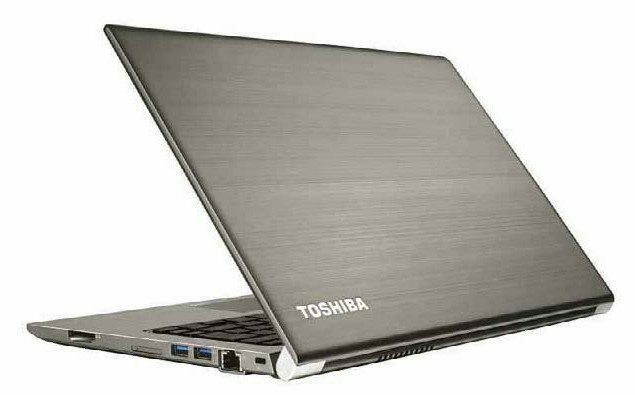 To that, Toshiba has added non-touch 1080p 13.3″ panel, a membrane keyboard, large trackpad and a battery capable of powering this beast for 11 hours if you don't run games on it. With that spec, the Port Z30-C-125 has 'practicality' written through it like 'Blackpool' through a stick of rock.
What I still find difficult to accept, even though I weighed it, is that this relatively powerful system tips the scales at just 1,2kg, making it an ideal train journey companion. However, getting all that technology into such a svelte case was always going to be an engineering challenge, and achieving it has led to the odd sacrifice along the way.
The keyboard has a really nice action but its 87 keys are somewhat horizontally compressed, making it tough to use for those with the shovel-sized hands possessed by this reviewer. The best aspect of it is that it has a backlight. A feature I generally associate with gaming systems, though I can see how one might be useful on a long haul flight, for example.
Equally, the screen is very sharp and has good contrast, but only when you're directly in front of it due to the TN technology used. Poor viewing angles might seem a problem if you're trying to present using one, but I'm sure some paranoid business people might prefer that others can't easily see their screen.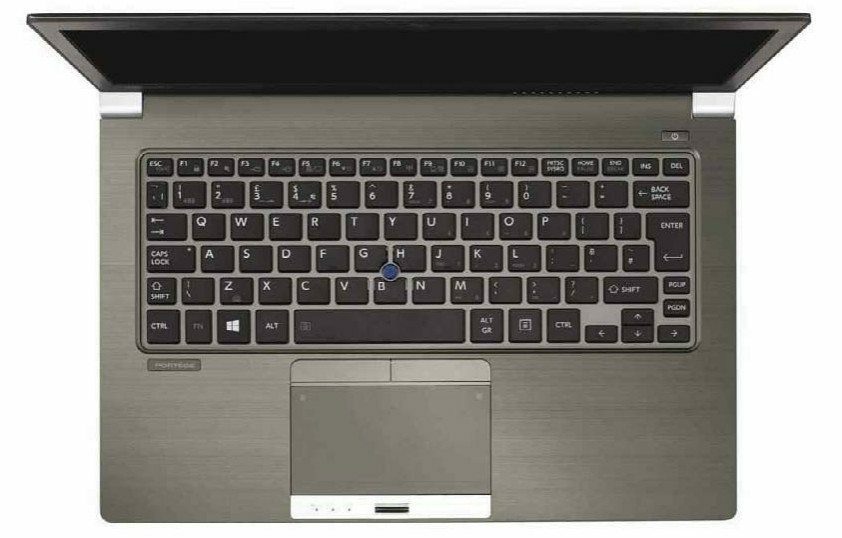 Where this design really delivers is in the number of ports Toshiba blessed it with because, as Ultrabook's go, this has a fantastic selection of them. Along with HDMI and VGA out, the Z30 has a LAN port, SD Card reader, headphone jack and no less than three USB 3.0 ports.
Features
• Windows 7 Professional (available through downgrade rights from Windows 10 Pro on DVD) • 6th Generation Intel Core i7-6500U Processor • 13.3″ Toshiba Full HD TFT non-reflective High Brightness eDP™ display with LED backlighting and 16:9 aspect ratio • 256GB Solid State Drive • Steel grey metallic, magnesium chassis, matt black keyboard • 8,192 (1x) MB, DDR3L RAM (1,600 MHz) • Intel HD Graphics 520 • Maximum Battery Life : up to 11 h (Mobile Mark 2014 running Win10) • Weight : starting at 1.20 kg • W x D x H : 316.0 x 227.0 x 13.9 (front) / 17.9 (rear) mm 
Has 'practicality' written through it like 'Blackpool' through a stick of rock.
For those wanting even more connectivity than that, the underside or the Z30 has a proprietary interface designed for Toshiba's Hi-Speed Port Replicator III. The inbuilt wi-fi is 802.11ac compliant, and you also get Bluetooth 4.0 LE for connecting wireless peripherals, phones, and headphones.
In terms of upgrading, this looks a pretty good prospect if you're determined to get inside. Both the SoDIMM DDR3L memory slots can be accessed, and two M.2 slots. Both, however, require you to take out the 13 screws that hold the back on, (including three hidden under the rubber feet).
Encouraged, you are not. However, as only one slot each is occupied in the default specification, you could expand memory to 16GB and the storage by at least another 500GB if you're prepared to open the machine up, and possibly invalidate the one year warranty.
The flipside of this decent hardware is the way that Toshiba has pre-loaded all manner of junk on to it that no decent IT manager would ever deploy to an end-user. Ever.
In doing this what it has actually done is made what should be a difficult decision about whether to do a fresh installation an absolute racing certainty. If I'd spent this sort of money on a machine, I wouldn't be happy if it turned up pre-loaded with bloatware that I've now got to spend my time to remove.
Less plastic would be preferable, but the Z30-C-125 is a lightweight powerhouse that is great for anyone who works away from the office, mm Mark Pickavance
An effective business Ultrabook with ports a plenty
Toshiba Portege Z30-C-125 Review
An effective business Ultrabook with ports a plenty
Add your review
MORE DEALS

See also THE COMPLETE GUIDE TO…OLED laptops