Notebooks with GeForce GTX 10 Series cards are now the ultimate power in the mobile gaming universe. NVIDIA should be proud of the technology terrors they've constructed. As an example, earlier this year we tested an MSI GS40 Phantom loaded up with the Maxwell-based GeForce GTX 970M. When tested at 1,920 x 1,080, the notebook produced under 60fps in Metro: Last Light and Dying Light, as well as 39fps in the Witcher 3. The MSI GE72VR APACHE PRO were reviewing this month uses a GeForce GTX 1060 (the low-end of the GeForce GTX 10 Series cards) and it easily tops 60fps in Metro: Last Light (66fps) and Dying Light (74fps), while delivering 42fps in Witcher 3.
The GeForce GTX 1060 in the GE72VR APACHE PRO is quite similar to the add-in card for desktop PCs. Both the notebook and desktop GeForce GTX 1060 GPUs feature 1,280 CUDA cores and 6GB of GDDR5 memory clocked at 8,000MHz. The biggest difference is that NVIDIA drops the base (from 1506MHz to 1404MHz) and boost clock (from 1708MHz to 1670MHz) speeds on the notebook version. The large frame buffer makes the GeForce GTX 1060 a capable performer at 2,560 x 1,440, and it'll certainly provide high frame rates at the notebook display's 1,920 x 1,080 native resolution.
MSI combines the incredible gaming performance of the GeForce GTX 1060 with a 17.3-inch, Full HD, IPS panel that produced excellent color quality during our gaming sessions. The rich environment of Witcher 3, for example, appears much more vivid than the TN panel in our test lab. MSI also provides its True Color Technology, which allows you to select among pre-calibrated viewing modes to quickly optimize the display color. We used the Gamer mode for system testing, which ups the brightness and contrast levels.
CPU RANKING 0 = BELOW AVERAGE 2.5 = AVERAGE 5 = PERFECT
Tie GE72VR APACHE PRO is more than adequate with non-gaming duties. MSI equips it with an Intel Core i7-6700HQ that features a 2.6GHz base clock (3.5GHz boost clock) and 6MB of Intel SmartCache. The quad-core CPU also features Hyper-Threading to split workloads among eight processing threads. System memory on this model (the Pro-009) is covered by two 8GB DDR4-2133MHz SO-DIMMs. MSI also offers a Pro-027 model with 32GB of DDR4-2133MHz system memory.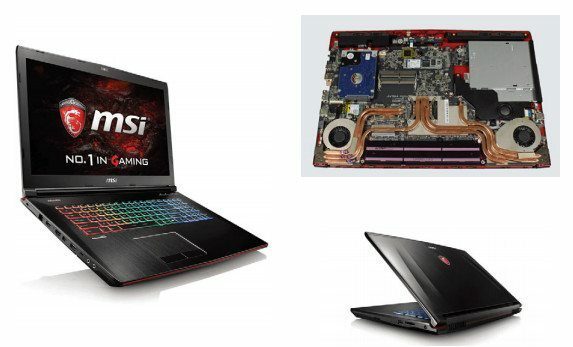 The storage subsystem includes a 256GB Kingston M.2 SATA SSD as the OS drive and a 1TB HGST Travelstar for file storage. The Kingston SATA SSD in our test rig produced Sequential Read rates of only 556MBps in CrystalDiskMark 5.1.2. The notebook does supports PCIe SSDs, but MSI's GE72VR APACHE PRO doesn't include an M.2 PCIe SSD. That being said, there are a few PC boutiques that sell the GE72VR APACHE PRO and allow you to customize the onboard M.2 SSD to a faster, PCIe SSD.
To keep all this powerful hardware cool, MSI employs its Cooler Boost 4, a cooling design that features dedicated cooling for both the CPU and GPU. Chief additions to the cooler setup are six copper heat pipes (three for the GPU, three for the CPU) and two blower style fans that exhaust heat out the back of the laptop. MSI indicates that Cooler Boost 4 provides 20% better airflow than conventional notebook cooling.
The exceptional cooling allows MSI to use a slim 1.14-inch chassis, while keeping the notebook's weight to 5.95 pounds—an impressive feat for a gaming notebook with a 17.3-inch screen. By comparison, the XOTIC PC MSI GT72VR Dominator Pro-015 we reviewed last month (featuring a GeForce GTX 1070 and a 17.3-inch screen) weighed 8.33 pounds and was 1.88-inches thick.
Notebooks with a slim profile sometimes suffer from a lack of connectivity, but that's not the case with the GE72VR APACHE PRO. Ihe right side features a USB 3.1 Type-C port, two USB 3.0 ports, a Killer E2400 LAN port, a headphone jack, a microphone jack, an HDMI 1.4 output, and a mini-DisplayPort 1.2 output. The left side provides a USB 2.0 port, an SD card reader (XC/HC), and the power input.
We briefly covered the GE72VR APACHE PRO's gaming frame rates at the beginning of the review, and it also did well in our other benchmark tests.

32GB Kit (2x 16GB Modules) | DDR4 2666 MHz ( PC4-21300 ) | DDR4 SO-DIMM ( 260-Pin ) | Non-ECC Unbuffered | 1.2V - DDR4 Standard Voltage
High performance Memory RAM upgrade designed for MSI (Micro Star) GE72VR 6RF Apache Pro
Last update was on: 2023-08-05 8:26 pm
32GB Kit (2x 16GB Modules) | DDR4 2666 MHz ( PC4-21300 ) | DDR4 SO-DIMM ( 260-Pin ) | Non-ECC Unbuffered | 1.2V - DDR4 Standard Voltage
High performance Memory RAM upgrade designed for MSI (Micro Star) GE72VR 6RF Apache Pro
Please refer to your system's manual for proper memory seating and channel guidelines
A-Tech provides a Lifetime Warranty for all orders & offers complimentary United States based Tech Support before, during, & after your purchase.
Modules must be ordered and installed in PAIRS for Dual Channel mode. Faster memory will clock down to run at optimal speed depending on processor model installed.
In 3DMark's Fire Strike test, it produced an overall score of 8823, highlighted by the Graphics mark of 10523. Results in Cinebench 15 (672 points) and SiSoftware Sandra's Processor Multi-Media tests (404.77 Mpixels per second) are in line with what we've seen from other notebooks with an Intel Core i7-6700HQ.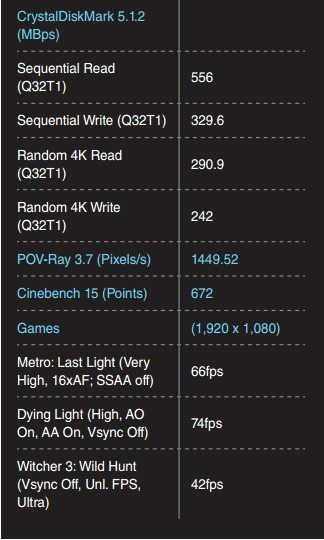 A year ago, you would have likely needed to pony up $2,000 (or more) to enjoy the type of performance the $1,599.99 GE72VR APACHE PRO delivers. And such a system probably wouldn't weigh less than six pounds and feature a slim one-inch profile. In part, the GE72VR APACHE PRO is a testament to the power efficiency of Intel and NVIDIA's latest chips. MSI's Cooler Boost 4 also plays a big part in the lightweight, compact design. If you're looking for a truly portable gaming notebook, the GE72VR APACHE PRO is one of the best options on the market right now.
by Nathan Lake
Specifications:
CPU: Intel Core i7-6700HQ; GPU: NVIDIA GeForce GTX 1060; RAM: 16GB SK Hynix DDR4-2133; Chipset: HM170: storage: 256GB Kingston M.2 SSD, 1TB HGST Travelstar; Dimensions: 1.14 X 16.49 X 11.02-inches; OS: Windows 10 Home 64-bit