Edit, split and merge PDFs without paying for premium software
ApowerPDF
www.apowersoft.com/pdf-editor
There are two options on the ApowerPDF homepage: Launch Online and Download Desktop. Despite appearances, these aren't the same tools. The desktop software is only a trial of a premium product, and will watermark your edited PDFs. The tool we're using here is the online editor, which has no such limits.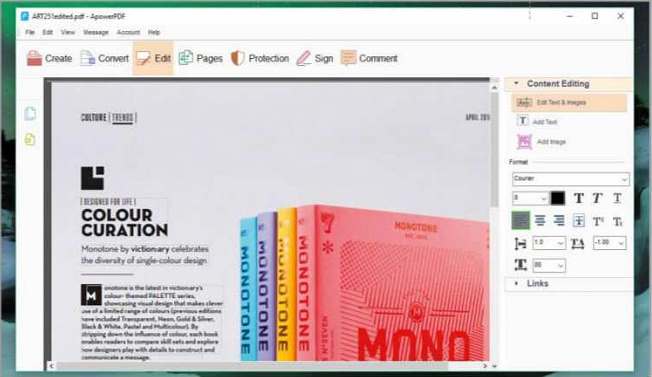 Click 'Launch Online' and you'll be prompted to download and run a launcher app, after which the online editor will launch. You can edit text, add text and images, encrypt documents, convert a PDF to an image and add comments.
You can even create your own PDFs from scratch – a feature you'll usually only find in premium PDF editing software.
Unlike the desktop application, there's no tool for removing watermarks, but that's a minor quibble. ApowerPDF is a remarkable PDF editor; just be sure to use the online edition.
ApowerPDF is powerful, and is a real challenge to some premium PDF software.
RATING 5/5
PDF-XChange Editor
www.tracker-software.com/product/pdf-xchange-editor
If you need to edit the text in a PDF, PDF-XChange Editor is ideal. It lets you retype, delete, and reformat text, and adapts well if the document uses a font that isn't installed on your PC. You can also attach comments, split PDFs, and extract pages.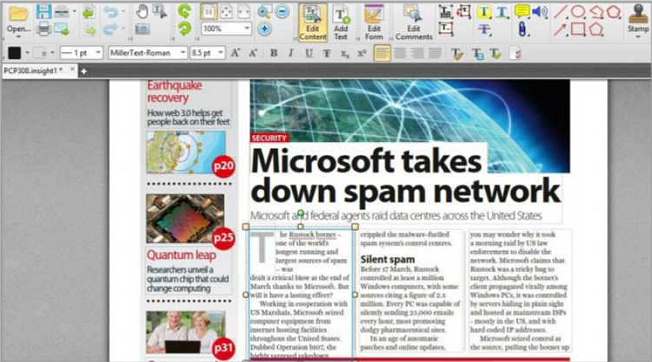 One of PDF-Xchange Editor's best features is the ability to use Optical Character Recognition (OCR) to recognise text in scanned documents – ideal if you only have a printout rather than the original file.
Some of the features visible in the menus and toolbars are only available in the premium version of the software, but you can easily hover your mouse pointer over an icon to find out if it's included.
If you go ahead and use a premium tool anyway (adding shapes or new text boxes, for example), your document will be watermarked. Look out for a warning message underneath the main toolbar before saving your work, just in case.
PDF-XChange Editor makes it easy to edit text in a PDF – there's no need to convert it.
RATING 4/5
Sedja
www.sejda.com/pdf-editor
Sedja is a free online PDF editor that offers an excellent range of tools, with just one caveat: if you're still working after three hours and haven't saved your document, it will be deleted automatically. It's quite a generous time limit, to be fair, but worth bearing in mind if the PDF you're editing needs a lot of work.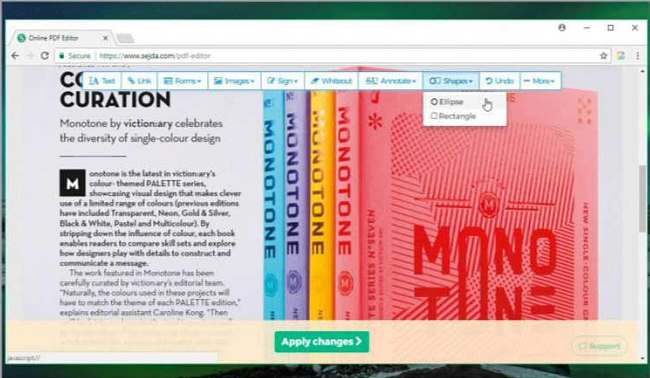 You can add text, images and links, sign documents, add annotations, and insert ellipses and rectangles. There's also a 'whiteout' option, although this simply draws a white rectangle – it doesn't remove any data. There's no Optical Character Recognition (OCR) either, so you won't be able to edit text in scanned PDFs.
When you've finished editing, click 'Apply changes' and you'll be able to download the document, send it to Dropbox or Google Drive, delete it, or access a shareable link. The link expires after seven days, however.
Sedja is a free online PDF editor that offers cloud storage for your documents.
RATING 4/5
PDFescape
www.pdfescape.com/
There are two different versions of PDFescape. The first is a free web app; and the second is a premium desktop program. Here we're using the online editor; if you decide to download the desktop app, you'll only receive a trial of the premium edition.
PDFescape's online editor lets you create new text boxes on a PDF page, but unfortunately there's no way that you can edit any existing text. You can create simple geometric shapes, however, and – as with Sedja (above) – add white rectangles to obscure parts of a document when it's printed.
The online version does enable you to select a picture from your PC, then drag a rectangle to insert it, though. And you can insert text fields, too, enabling you to create simple forms – a rare and welcome feature for an online PDF editor, even if the free app isn't as fully featured as some of its rivals.
PDFescape is premium software with a price tag to match, but the online tool is free.
RATING 3/5