SUPERAntiSpyware 6 Review
Boost your security with a tool to provide a second line of defence
Malware like spyware, viruses, Trojans and other threats is showing no signs of diminishing, so security software is still essential on Windows PCs, despite attempts by Microsoft to make the operating system more secure. SUPERAntiSpyware has just been updated to version 6, and it aims to protect your PC from spyware.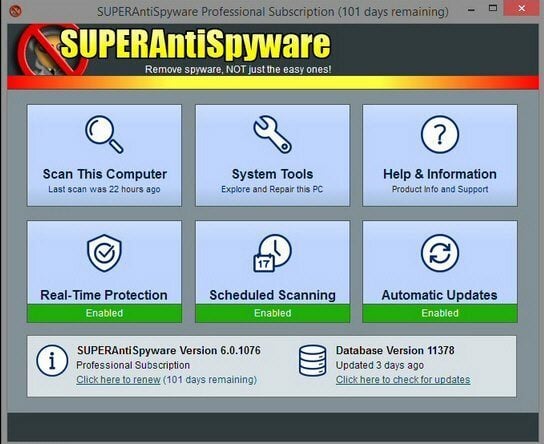 All security programs detect spyware as well as viruses these days, so you may question whether an extra spyware tool is necessary or wonder whether it's good enough to be used on its own. The answer is Yes and No. This is not intended to be your only defence against all types of malware, but rather a second line of defence. It is designed to work alongside your regular software and provide extra protection.
The free version provides manual scanning of the disk drive, whereas the Pro version includes real-time protection, automatic updates and scheduled system scans.The interface, which has been redesigned in this latest version, is easy to use. The home screen has tiles for scanning, tools, setting up schedules, updates and configuring real-time protection. The scan options include the usual complete, quick and custom scans. You can also right-click files in Explorer and launch a scan. Version 6 has faster scanning, and there's an option in the settings to activate Scan Boost. It can be low or high, and it basically uses multithreading to speed up scanning. The scanning options are very similar to anti-virus software, so you can ignore non-executable programs, ignore or scan zips and so on. Files can be set as trusted, folders can be excluded and so on.
The new System Investigator tool in SUPERAntiSpyware 6 is useful for analysing what's running with Windows and determining whether items are safe or unsafe. You can choose which areas to analyse, such as start-up items and browser plug-ins, or analyse everything. A report is shown after each category has been analysed, and it categorises items into safe, unsafe and unknown lists. There are useful options, such as ignoring items scanned previously and just listing changed ones.When unknown items are found there are thumbs up and down buttons, and you can click them yourself to indicate safe or unsafe files. You can also see how other people have rated it. It's basically crowd-sourced security advice. This is a useful tool for monitoring changes to the system and getting opinions on strange files that appear on your PC.
Additional tools enable you to fix registry damage caused by malware. It resets a whole range of items like Task Manager, the Run box, IE home page, the system tray, certain faults with the internet and network connection, and more. Files that can't be deleted can be forcibly removed too.The free version of SUPERAntiSpyware 6 is definitely worth having as a manual scanner and second opinion. There are some useful extra facilities in the Pro version. For that price, it's hard to ignore.
Roland Waddilove
Anything that's cheap and increases security can't be bad.