Speedlink Xilu Speaker Review – Speedlink is quite famous now for its line of mobile, Bluetooth speakers. The Portajoy, Playawave and Amparo range are all considered as some of the best portable speakers for your phone or tablet.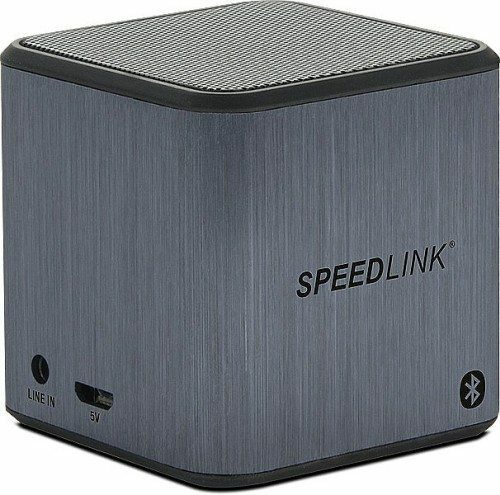 This time round, we have the company's newest portable speaker on test, the Xilu. This miniature cuboid speaker measures just 50 x 50 x 50mm and weighs a mere 8g, but it manages to belt out a decent 2.3W RMS power from the driver that's positioned at the top of the unit.
Obviously you're not going to get the kind of quality a serious audiophile would appreciate, but if you just want a tiny speaker at your side, it works extraordinarily well. Since it's Bluetooth, connecting to the speaker is as easy as scanning and pairing via your phone or tablet. It has a rough range of around ten metres, so it can easily cover most of an average sized house and garden.
The internal li-ion battery takes a couple of hours to fully charge, as indicated by the small LED at the bottom of the Xilu, and once fully charged it'll happily last several hours before needing to hook up to a USB power source once more.
The design is simple enough. The sides of the Xilu are made from brushed aluminium, with the Speedlink logo at the front. And there are line-in and micro- USB power ports on one side and an power switch on the rear. The top houses the mesh- covered driver, as we previously mentioned, and the bottom features four small rubber feet, along with a basic control dial for volume, play/pause/stop and track forward and back.
Finally, the Xilu has one more trick up its sleeve. The integrated microphone allows you to intercept calls while listening to music. While it's a little tinny in the voice department in terms of answering a call, you can still be understood clearly by the person on the other end of the line.
In the box, you'll get a limited half-metre micro-USB cable and a similarly sized 3.5mm audio cable, along with the instructions, quick installation, info guide and so on.
Considering its size and obvious limitations, the Xilu actually sounds quite good.
You lose a lot of the throaty bass you'll get from a larger speaker, but it's loud enough to enjoy without having to strain your hearing or leaning into it to hear what's playing. It's also remarkably clear, without any hint of distortion when the volume levels are at the maximum. It's quite unusual to
If you just want a tiny speaker at your side, it works extraordinarily well
find a small portable speaker that doesn't distort at louder volumes, so the Xilu must have some good quality components hidden within the 50cm shell.
The Xilu isn't the cheapest Bluetooth portable speaker we've ever come across; however, it's really quite good. If you're looking to replace a static set of speakers for your kitchen or you want something a little louder for your tablet and phone, then the Speedlink Xilu is well spent. mm David Hayward
Speedlink Xilu Speaker Review: DETAILS
Manufacturer: Speedlink
Website: goo.gl/FIEMBO
Requirements: USB power source, Bluetooth device for best results
– It may be small, but the Speedlink Xilu packs a decent audio punch
Speedlink Xilu Speaker Review: Verdict
A handy little portable speaker, with some decent audio