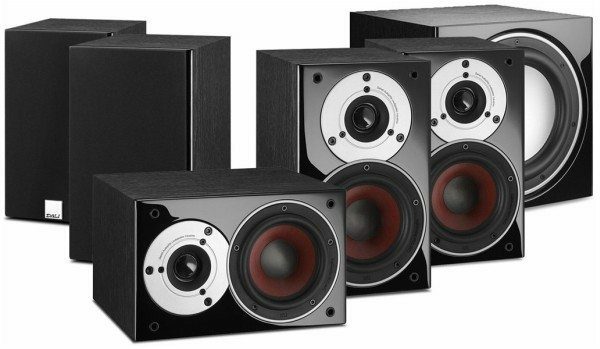 Pico is a scaled-down version of DALI's impressive Zensor 1 standmount, cramming the same driver technology into a box that's around 30 per cent smaller. With its dinky dimensions and attractive design, it could be a good bet if you want to squeeze a full 5.1 system into a small or medium-sized living room.
Two pairs of Picos are used as the front and rear speakers in this 5.1 package, with the matching Zensor Pico Vokal on centre channel duties and the E-9 F subwoofer bulking up the bottom end.
DALI is best known for opulent, distinctive speakers like the stunning Fazon F5 and Epicon 8, but these see the company in a restrained mood. The boxy cabinets and minimal style flourishes – beyond the silver DALI badge – mean they lack individuality. Still, these aren't ugly speakers – the cabinet is clad in black ash vinyl (it also comes in light walnut and white vinyl) with a gloss-black baffle and silver driver surrounds.
The compact size makes them easy to place, with a bass reflex cabinet that benefits from on- or near-wall placement (there are keyhole mounting brackets on  the back) and which further boosts their viability in cramped rooms.
Build quality is as good as could be expected for the money. The bodywork is robust and hefty, but there are a couple of concessions to the budget price tag – the vinyl veneer is inevitably less fancy than the lacquers found higher up DALI's range, while the removable cloth grille is held on by plug fixings and not magnets.
The Picos use the same driver array as DALI's Zensor 1, namely a 4.5in wood fibre cone mid/bass driver and a 1in soft textile dome tweeter.
At 230mm wide, the Pico Vokal is an unusually-shaped centre speaker with a refreshingly small footprint. It's horizontally configured and styled to match the others, plus uses the same drivers to ensure tonal uniformity – although it doesn't add a second midrange driver like many centre speakers.
DALI's subwoofer of choice is the E-9 F, which isn't designed for this system but fits in well aesthetically. It's a stocky, compact cube with a fetching combination of black ash vinyl and gloss black. On the front is a 9in aluminium woofer, backed by a magnet system with a four-layer long-stroke voice coil. A down-firing bass port lets you place it against the wall, another bonus if space is tight.
In the engine room is a 170W Class D amp, with a built-in limiter to protect against overloading. On the back you'll find a bunch of controls, including volume, crossover and phase, alongside LFE and line inputs.
This 5.1 system may be small in stature but delivers a big soundstage. I played The Incredible Hulk on Blu-ray (DTS-HD Master Audio 5.1) and there's no shortage of scale and dynamics as Hulk takes on Abomination in the movie's raucous climax. Jeeps and cars are hurled down the Harlem streets with a deep rumble, and explosions feel deliciously visceral. When the two behemoths thunder towards each other at high speed, their footsteps are tight and punchy thanks to the subwoofer's agility.
However, the sub does a lot of the system's heavy lifting. The other speakers don't contribute much deep bass of their own, borne out by a claimed low frequency response of 62Hz – above the region where much of a movie soundtrack's rumble is typically located. This isn't unusual for a sub/sat array, but I found the potent E-9 F could easily overpower the other speakers and proved difficult to integrate. Frequent adjustment was required to find a satisfying balance, and I only found it with the level near minimum. Placing the Picos a few centimetres from the rear wall also helps matters.
That aside, there's much to admire about the system's performance. The Picos have a smooth, easy tone and a wonderful sense of refinement – the soaring strings as Banner falls from the helicopter sound rich and silky. Push the volume up high and they demonstrate remarkable composure, ensuring that mids and highs remain even and well-rounded.
The array is also a dab hand with detail, easily drawing out the movie's sonic minutiae. Even in the midst of Hulk and Abomination's smackdown, you can hear the lively fizz of snapped electrical wires and the tinkle of shattered car windows. The clarity and openness of the Pico's soundstage is stunning.
Such refinement doesn't come at the expense of attack or impact. Indeed, when Hulk starts clobbering Abomination using two halves of a car as makeshift boxing gloves, the clatter of metal is fierce and purposeful without making you wince.
There's a wide, immersive soundstage on show here, with accurately placed effects enhanced by fluid movement between speakers. This is particularly impressive across the front L/C/R soundstage, with the Pico pair forming a solid and cohesive alliance with the Vokal centre.
That said, dialogue reproduction could be better. Speech is easy to follow and William Hurt's lines are laced with gruff detail, but voices lack the full-bodied 'in-the-room' authority you get from larger centres.
DALI's Pico 5.1 system has much to recommend it, not least its compact, living room-friendly looks and refined sound quality (which sounds particularly good with two-channel music, actually – the sassy jazzfunk of Dave Grusin's Modaji really sparkles). It ekes out tons of detail from movie soundtracks and the fantastic E-9 F subwoofer delivers depth and scale in spades. However, the latter can overwhelm the other speakers without judicious tweaking.
It's an enjoyable listen, then, but this is a very crowded market and there are more cohesive compact 5.1 systems out there with better-matched subs – including the likes of Tannoy's HTS-101 XP and Mission's cube-designed M3. Grab an audition.
DRIVE UNITS: 1 x 1in soft textile dome tweeter; 1 x 4.5in wood fibre cone mid/bass driver
FREQUENCY RESPONSE: 62Hz-26kHz
DIMENSIONS: 230(w) x 141(h) x 196(d)mm
DRIVE UNITS: 1 x 9in long-stroke aluminium driver
FREQUENCY RESPONSE: 37Hz-200Hz
DIMENSIONS: 288(w) x 307(h) x 311(d)mm
CONNECTIONS: LFE input; phono line-level input.