Sony Catalyst Production Suite Review – Andy Shaw looks at a video-editing suite that lets you transform your high-definition footage into a professional-looking film
Sony's Catalyst software sits somewhere between Windows Movie Maker (which is surprisingly good for a free program), and the kind of software you would find in a professional TV-editing suite. It's pricier than the basic tools for home-movie makers but not so costly that only a professional video editor would be willing to pay for it.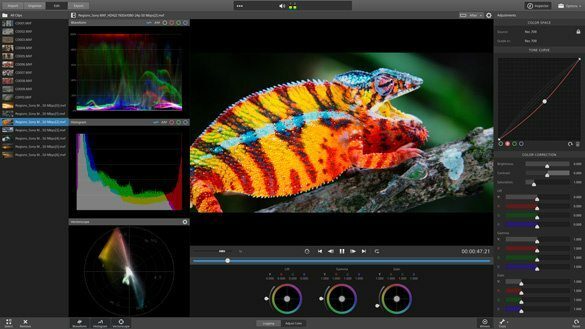 While it looks very similar to standard video-editing software, with a large preview window, a timeline for dropping clips into and a media browser for selecting the shots you want to use, there's very little clutter. It has a bare minimum of toolbars and menus, which means the interface looks fantastic and is surprisingly easy to use. It's designed for a touchscreen, but is just as enjoyable to operate with a mouse.
The Suite comes in two parts: Catalyst Prepare and Catalyst Edit. The Prepare tool is used to get your video ready for the editing process and it works in much the same way as an image editor. It lets you perform basic fixes, such as rotating footage that's the wrong way up, and use sophisticated tools for adjusting colour and other effects to make each shot look exactly as you want it.
Once you've carried out all your tweaks in the Prepare tool, you can move on to Catalyst Edit. This is where you arrange your prepared footage into a finished video and render it into your chosen size and file format.
The Edit tool provides some excellent intuitive touches for creating professional-looking videos with as little fuss as possible. If you drag a video next to another in the timeline, for example, you'll get a simple cut. Drag the edge of one over the edge of another and they'll automatically cross-fade between the two, while the rest of the clips will shuffle up to fill any gaps. And if you want to fade out, just select the Fade tool and start dragging back from the end of the clip. There's also a title editor that lets you drop in text, which you can manipulate in the same way as the clips.This is an intuitive, elegant system, that doesn't overload you with endless pages of transition options and special effects. However, if your idea of classy editing is to make one scene move to the next using a shower of exploding pixels or a set of double doors opening, this isn't the product for you.The software can accept and produce videos up to 4K (3,840 X 2,160 pixels), so it's a good companion program for an ultra high-definition camera, although you could argue that, for the price, it should still offer all the tools you find in cheaper products. We think that the clean and uncluttered interface makes the editing process a joy, but not everyone will want to pay this much for a program that doesn't provide every tool and effect that's out there.
Sony Catalyst lets you make professional-looking videos without having to get to grips with every possible tool in an unwieldy and cluttered interface. Between its Prepare and Edit tools, you have all you need to assemble good-looking videos from your footage. Don't expect the wealth of transitions and templates you see in cheaper software, though -Catalyst is sparse on fancy effects. This adds to its air of sophistication but may leave you wondering what you're paying all that extra money for.