Software & Apps: You Should Never Download
Just because a program is popular, doesn't mean it deserves to be. Wayne Williams explains why you should steer clear of certain software and suggests free alternatives that do a much better job
For you recommend the best new, free software to download to help you make the most of the web on your PC and mobile device. But what about all those programs and apps that don't meet our high standards, yet are still installed by tens of thousands of users every week?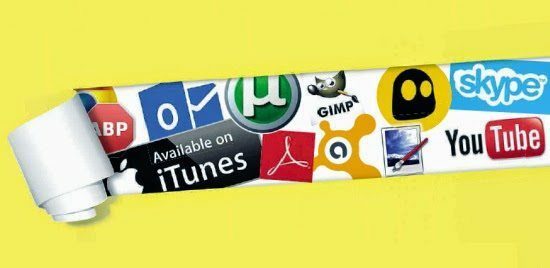 Normally, we wouldn't waste space covering them, but in this feature we make an exception by naming and shaming the 25 most overrated tools for your computer, phone and tablet. We also recommend the best free alternatives to these duds and explain how you can remove unwanted software for good.
Fewer and fewer people are syncing their Apple products through iTunes these days, because it's become too much hassle and it's easier to use iCloud. If you don't have an iPhone, iPad or Mac, then there are definitely better tools around for managing your audio and video, which aren't as bloated, slow and resource hungry as iTunes. Apple's software isn't particularly intuitive either, and by adding more features over the years (many of which you probably never use), it now feels messy and over-complicated..
You can use your iPhone or iPad to manage content directly, but if you want a versatile free music manager for your PC, then we'd recommend MusicBee (getmusicbee.com), which lets you manage large music libraries, add and edit metadata, rip CDs, synchronize connected devices, stream songs from web radio stations and music blogs, create party playlists, display lyrics and add more features via plug-ins. Unlike iTunes, these useful tools don't come at the expense of performance..
While it could be argued that any protection against malware is better than no protection at all, there really is no point installing Microsoft Security Essentials. In recent tests conducted by Dennis Technology Labs (www.dennistechnologylabs.com), Microsoft's software finished joint last, dealing with just 68 per cent of threats targeted at the test PC. As poor as that might sound, it's a marked improvement over the 56 per cent it managed in the previous test. In fact, according to our sister title PC Pro, Microsoft itself has admitted that Windows users should install an anti-virus program above and beyond Security Essentials, describing its protection as merely a "baseline" that will "always be on the bottom" of anti-virus software rankings.
Avast Free Antivirus (www.avast.com) is a far better and more reliable solution than Security Essentials. In the same Dennis Technology Labs' tests, it protected PCs from 98 per cent of threats, making it the best free tool that was tested. Its Smart Scan feature runs through all the available scans in sequence and lets you resolve any problems with a single click. There's a handy Home Network Security scanner which scans your local network for potential vulnerabilities, and a Browser Cleanup tool that removes any dodgy add-ons.
Adblock Plus does a great job of blocking adverts in your browser, provided you have a PC with good performance and plenty of memory. Otherwise, it can slow down your system by hogging your computer's resources. Tests have shown it can often use more memory than Firefox, which is well known for being a memory hog. Adblock Plus has told us that it's working on fixing the problem.
Another problem is that Adblock Plus lets through 'acceptable' adverts that are on its whitelist, which some big companies, including Google, Microsoft and Amazon, have paid to be included on. You can disable this feature, but not many users will know how to do this.
We like uBlock (chrismatic.io/ublock) for Chrome, Firefox and Safari, a fast and lightweight alternative to Adblock Plus that's just as reliable (it uses the same blocking lists). It doesn't have as many features, but all you probably want it to do is keep the ads away, and it certainly does a good job of that.
PC Pitstop's PC Matic is probably the most useless all-in-one system toolkit around. It promises to clean up and speed up your PC, but although you can run scans with the free version of the software, it won't actually perform any repairs. Instead, you're required to upgrade to the full version of PC Matic for a year before it will make any improvements to your system.
Synei System Utilities (www.synei.com) offers a handy 1-Click Maintenance mode and individual tools for tuning up your computer, defragging your hard drives, cleaning memory and fixing Registry errors. It also has a clever Turbo Mode feature for when you need an instant performance boost.
Microsoft's video-editing tool hasn't been updated for a couple of years, and is starting to look its age. It lacks the sophisticated features of other, similar programs and its editing tools are mostly basic one-click effects that don't offer much control over the results.
Another drawback is that you can only install Movie Maker through the Windows Live Essentials bundle, which requires you to deselect other unwanted programs, and gives you Windows Photo Gallery whether you want it or not.
VSDC Free Video Editor (bit.ly/vsdceditor371) is a fully non-linear video editor that, unlike Movie Maker, is updated regularly. Its wizard-based interface makes the process of adding scenes and transitions to your timeline quick and easy, and it offers a good selection of audio and video effects, including Auto Contrast, Temperature, Sharpen, Blur and Old Film, which you can use to improve and enhance your movies.
Adobe Reader does a fair (if often slow) job of displaying PDF files, but the web-based installer tries to add an optional offer (McAfee Security Scan Plus), which you might miss and end up saddled with. At nearly 50MB, the program is also rather bloated, but its main problem is that it's generally not secure. A recent report by security experts Secunia (secunia.com) showed the software was riddled with vulnerabilities, which makes it a prime target for hackers. Secunia also found that 62 per cent of users never bother to patch the software when updates become available, which makes running it even riskier.
There are plenty of PDF tools that are faster and safer than Adobe Reader. One of the best is Foxit Reader (www.foxitsoftware.com), which is very lightweight and packed with useful features. As well as opening PDF files to view, you can use the software to edit PDFs and create new ones from scratch in several different ways. You can sign your PDF documents, add stamps and watermarks, and share PDF files via email and social media sites.
The hugely popular BitTorrent client now comes bundled with junk that you have to decline during the installation process. Recently, this has included a Litecoin (similar to Bitcoin) miner called Epic Scale, which harnesses your PC resources to create the virtual currency. Some users claim that this unwanted extra was installed on their systems without their knowledge, although uTorrent denies this is the case.
Other problems with the torrenting tools include too many obtrusive adverts (these can be disabled if you know how), and some features that are only available in the paid-for edition, such as the ability to convert files into a mobile-friendly format.
We're big fans of qBittorrent (www.qbittorrent.org), which is a free, lightweight BitTorrent client that's available for Windows, Mac OS X and Linux. The program has a uTorrent-style interface and is packed with features. You can control qBittorrent remotely through its web interface; use the bandwidth scheduler to start downloads at convenient (and speedy) times; and download multiple files in sequence. Although qBittorrent doesn't offer all the features of uTorrent, it also doesn't come bundled with unwanted junk or advertising..
EaseUS Data Recovery Wizard Free
This comprehensive recovery tool can restore accidentally deleted files and items lost due to crashes or malware, and rescue data on faulty partitions. However, the free version is limited to recovering just 1GB of data, which might be enough if you only need to rescue some documents or a few photos, but otherwise massively reduces its usefulness..
Recuva (www.piriform.com) finds and restores missing files without imposing any annoying restrictions. It offers a simple wizard mode that guides you through the recovery process, or you can switch to the Advanced Mode if you prefer a more hands-on approach.
This program offers more than 30 one-click solutions for common PC problems. However, the software doesn't fix many of the problems it lists on the front screen. Although the program is able to fix certain PC problems, there are much better solutions around.
Windows Repair (bit.ly/winrepair371) can fix a bunch of common Windows problems, and comes with a simple wizard interface that guides you through its fixes (or you can just skip straight to the Repairs area, if you prefer). As well as fixing problems you're aware of, the software can check for other potential issues with your system.
We know that Internet Explorer is an easy target, but plenty of people are still using Microsoft's browser, which is loopy when there are much better alternatives available. While Internet Explorer 11 is a marked improvement over previous versions of IE, it doesn't display every web page properly, and you don't get syncing or multi-user support (when running it on Windows 7 or earlier). As for add-ons to enhance the browser with extra features, you'll be lucky to find more than three!Chrome (www.google.com/chrome) is an obvious alternative. It offers everything you'd want from a modern browser including the ability to back up and sync settings, and a large selection of add-ons, web apps and themes. Chrome is updated continually, too, so new features and improvements are arriving all the time. You should also try Mozilla's Firefox browser, which is equally good.
There are plenty of excellent free disc-authoring tools to choose from, but CyberLink Power2Go Essential isn't one of them. To be more accurate, it's a great program for 15 days until the included trial of the full version runs out, leaving you with a very basic burning program that constantly pesters you to upgrade to the paid-for edition. It also comes bundled with unwanted junk that you'll need to decline during the installation process.
CDBurnerXP (cdburnerxp.se) is a free application that can burn data and audio CDs, DVDs and Blu-ray discs; create and burn ISO image files; create bootable discs; and more. It's updated regularly (the latest build appears in the Updated section of this issue's Best Free Software), and is fast and reliable. Also, because there's no commercial version, the free edition has all the available features and won't nag you to upgrade.
GIMP (GNU Image Manipulation Program) is a powerful photo editor, but it's unnecessarily difficult to use. Thankfully, the recent addition of a Single-Window Mode means you're no longer stuck with an interface made up of separate floating windows positioned over your Desktop, but it's still a mess and nowhere near as intuitive as it should be.
Paint.net (www.getpaint.net) is the closest alternative to GIMP, and one of the best free photo editors around. It offers a wealth of advanced features including layers, levels, unlimited undo history, magic wand, clone stamp and red-eye removal. There are loads of effects you can use to enhance your images, and it supports third party plug-ins, too. Best of all, its interface is very straightforward and the program is very easy to use.
Hotspot Shield hides your location to make it appear as if you're browsing from elsewhere (so you can access geographically restricted content, for example). However, the free version bombards you with adverts and the software is unnecessarily obtrusive. You don't get much control over where you appear to be browsing from, and if you try to change countries, you'll be prompted to upgrade to the paid-for edition. Also, browsing while protected is very slow.
CyberGhost (cyberghostvpn.com) is a much better program than Hotspot Shield. Its biggest restrictions are that you have to wait for a free slot to become available before you can start browsing, and you need to reconnect every three hours. However, once you are connected, there are no ads to get in your way; you're granted unlimited traffic and bandwidth; and you can connect to a choice of 37 servers located across 15 different countries.
RealPlayer has long had a bad reputation and, although it's certainly not as awful as it once was, there are many better alternatives available. RealPlayer Cloud lets you upload and share videos, music and photos between all your different devices, but it's slow, can only handle certain video formats and offers a limited amount of free online storage. It also comes with unwanted bundled extras.
VLC Media Player (www.videolan.org) can handle any type of audio or video file and it's available for Windows, Mac OS X, Linux, Android and iOS. It can stream content, convert files, record your Desktop, play internet radio, add effects to videos and much more. It's also very lightweight.
Although it does a good job of converting video files, Freemake's tool now adds a logo to videos that are longer than five minutes, unless you pay for the optional Gold Pack (which also has additional features not included in the free edition). It's also prone to crash during conversions.
Icecream Media Converter (icecreamapps.com) is a slick and user-friendly conversion tool that can handle all the major audio and video formats. It can batch-convert multiple files, and download and convert YouTube videos, too..
For some unknown reason, Microsoft is slowly ruining its Skype app for iPhone and iPad; the latest version is buggy and important features are missing. Notifications often don't appear, or appear too late to be of any use, and the user interface is poorly designed. Android users needn't feel smug, though, because their version has its own set of problems making it almost as bad as the iOS version.
Google Hangouts (www.google.com/hangouts) is now a faster and more reliable communication tool than Skype, and you can use it to chat with friends on any device. You can send text messages, or engage in video and voice calls..
It's designed to make "shopping easier and more convenient than ever", but the Tesco Groceries app's frequent crashes and the fact that items in your basket occasionally go missing makes shopping a frustrating experience. We also don't like that the tablet version of the app now only displays in landscape mode.
MySupermaket – Shopping List (bit.ly/mysupermarket371) lets you build and manage your grocery list, checking for the best deals across multiple supermarkets. You can use it to do your shopping online as well.
This app is designed to play media found on BBC websites. In theory, when you tap to play audio or video, it will open in this app. In practice, often nothing happens, and videos don't display.
Although it doesn't do the same job, BBC iPlayer (bit.ly/iplayerandroid371) is a much better tool for watching videos and listening to audio from the BBC. Annoyingly, you need to install BBC Media Player to play iPlayer shows, but once you've done this, you won't need to fiddle with it again.
There's nothing wrong with a commercial company including ads in a free app, but Sky News has so many that it quickly becomes annoying. If you want to watch a news clip, you have to sit through an unskippable advert first, and the ads are sometimes longer than the actual news story itself! Stories load very slowly and sometimes not at all..
If you want to keep abreast of the latest news without adverts getting in the way, then the BBC News app (bit.ly/bbcnews371) is a much better choice, although the recent redesign, which made everything look bigger, won't be to everyone's taste.
ITV's on-demand app is buggy (on both Android and iOS), frequently stops working and for no apparent reason refuses to load certain shows. It's no surprise that there are loads of unskippable adverts but that doesn't excuse the frequent and lengthy buffering delays or the lack of Chromecast support.
BBC iPlayer is a far superior option, but you can only use it to watch BBC programmes. You can use TVCatchup (bit.ly/tvcatchup371) to watch live television broadcasts on all channels but, despite its name, the app doesn't let you see on-demand content.
Google recently updated its YouTube app for iOS, and the result is a total mess. Lots of users are finding that it freezes for ages, crashes or won't play videos at all. Although it's the current version (at the time of writing) that's particularly awful, Google seems to have been making the app worse with each new update. The interface isn't especially intuitive either.
You can watch YouTube videos in the mobile version of Chrome (bit.ly/chromeios371). Like the YouTube app, this also lets you stream videos directly from the browser to your Chromecast so you can watch them on the big screen.
The official Microsoft Outlook app for Android phones and tablets is very slow, and lacks quite a lot of features. For example, the option to permanently delete messages doesn't work in the current build and it's generally rather buggy.
You can either use the stock email app on your phone, or install myMail (bit.ly/mymail371). The latter lets you manage all your email accounts, including Outlook.com, in one place, and benefits from a stylish design. It also offers real-time and customisable push notifications.
The Travelodge app was finally updated recently after being untouched for three years, but the company still hasn't got the knack of how mobile sites are meant to work. Why else make it so difficult to search for a hotel? And, when you find one you want to book, it opens the Travelodge site in your browser rather than letting you do everything in the app.
Covering more than 430,000 hotels worldwide, the Hotels.com (uk.hotels.com/page/app) app provides a quick and easy way to find accommodation. It's fast and accurate; lets you sort its results by price, star rating and guest rating; and offers a 10-per-cent discount when you book a room from your mobile device.
National Rail Enquires for iPad
If you want to know if a train is on time, or if there are any disruptions to be aware of, then steer clear of this app. The information it offers is good – if you get to see it – but the app itself is glitchy, there's no portrait mode and, if you change the font in any way (make it bold, for example), the text won't display properly.
You can use the app from
Thetrainline (bit.ly/trainline371) on iOS, Android and Windows Phone to plan your journey, buy your tickets and check live train times. We actually find it quicker to use than Thetrainline website, especially because you can buy tickets up to 10 minutes before boarding.
The official Ryanair app lets you find cheap flights, then check in on the move and get your boarding card delivered directly to your phone. That's the theory, at least, but the latest version has removed the login feature, so you have to repeatedly re-enter your flight information.
SkyScanner – All Flights (bit.ly/skyscanner371) compares millions of flights with all the major airlines and presents you with the quickest and cheapest options. You can also book flights directly from the app.