Choose the right version of software. Read our SHOULD I PAY FOR NordLocker Personal.
Free trial: N/A
What you need: Windows 10 or 11, or macOS
Protecting your files against loss, theft and corruption is no easy task – do you trust them to an online-storage service such as Google Drive or OneDrive, or encrypt them on your PC using a specialist tool such as VeraCrypt? NordLocker offers the best of both worlds by securing your sensitive data in encrypted 'lockers', which can be stored locally and synced in the 'cloud'. This allows you to access your files from anywhere through the NordLocker website and its desktop and mobile apps, and share items with other people.
To get started with NordLocker, download its free Windows app and create an account – you don't need to provide any personal information aside from your email address and a password. Click 'Open NordLocker Launcher' and enter a master password to encrypt and decrypt your files. You'll also be given a recovery key that lets you access your account if you forget your master password.
Once you're signed in, simply drag and drop files and folders you want to encrypt into the central area of the window. You can then create lockers (see screenshot) to move items into and decide whether to store these on your PC or online in NordLocker Cloud.
You get 3GB of web storage for free, but upgrading to NordLocker Personal increases this to 500GB. Much as we like the service, we don't think this is necessary unless you have huge amounts of data that needs encrypting, such as lots of private videos. The paid-for plan doesn't offer any extra features – aside from '24/7 priority support' (the free version still offers email support) – or boost your security. Besides, if you start running out of space, you can either delete files from your lockers, export them back to your computer or store them locally instead of online.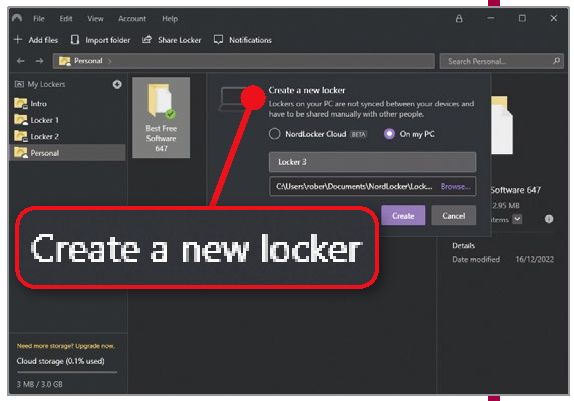 OUR VERDICT: Don't pay for it
The free version of NordLocker will be adequate for most home users. Upgrading has no advantages other than a lot more storage, and it's not worth paying £ a month – or nearly £ a year if you pay annually – for hundreds of gigabytes of space you'll never use.