The Sennheiser HD 598 – a part of the company's much lauded HD range – is a pair of over-ear headphones and an updated version of the HD 595 which has been around for years. It looks much flashier than its predecessor – in fact, it is one of the most eye-catching of all Sennheiser HD headphones – but for people who are willing to spend $ on headphones, sound quality is probably more important than looks.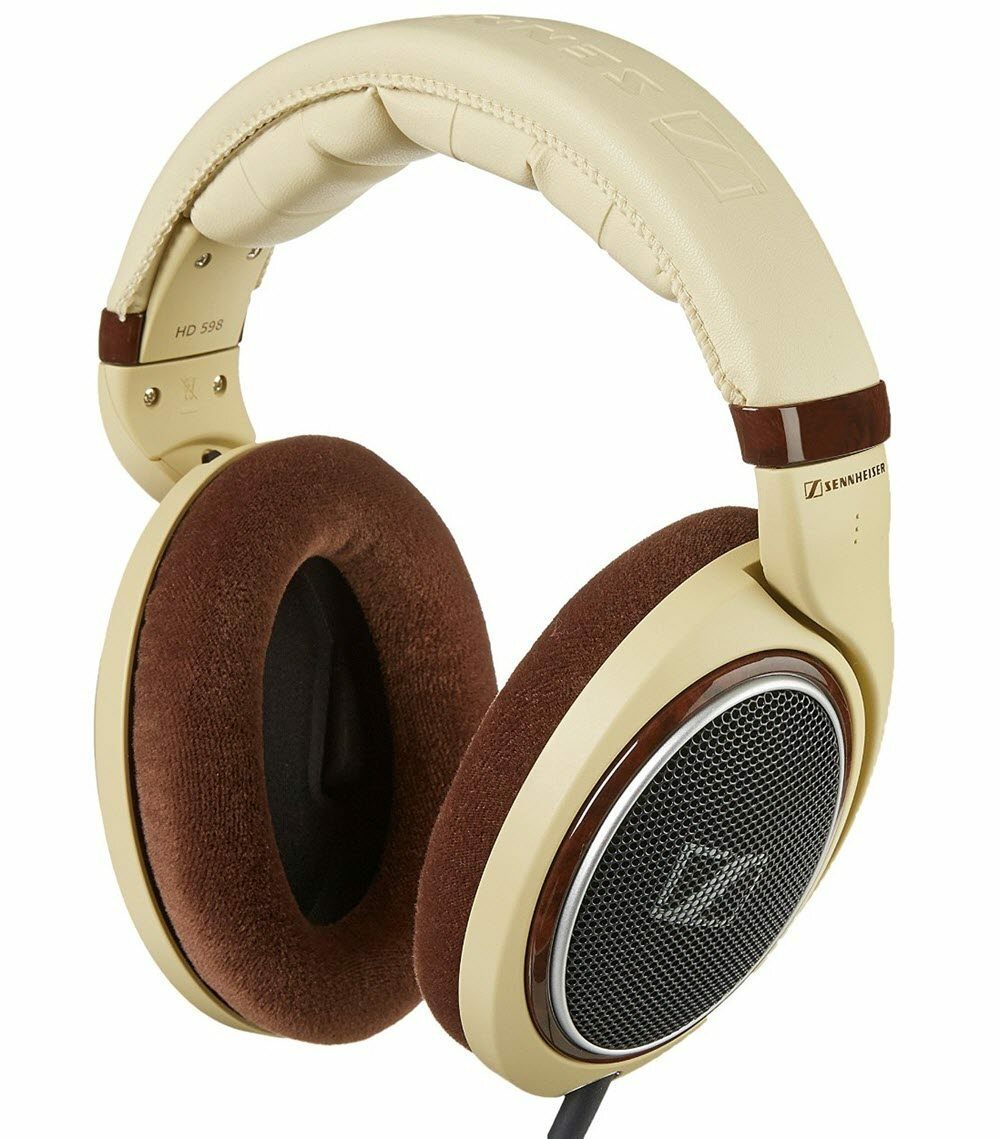 Being a part of the illustrious HD line – the Sennheiser HD 800 is one of the best headphones money can buy – the HD 598 has a lot to live up to. But, how well does it perform in the real world? Read our review to find out.
This open-backed headphone is one of the most eye-catching models Sennheiser has produced in the recent past. The cream and brown color scheme of the HD 598 lets it stand out from the myriad of black-and-gray cans that populate the market. Whether that is a good thing is a completely personal decision. The main body is made using plastic and the headband is well padded using actual leather, which gives it a premium look. The speaker grilles are surrounded by a glossy wood veneers which are purely aesthetic.
Even with the new design, the HD 598 weighs just as much as the older HD 595. Thanks to the velour ear pads, the lightweight body, the padded headband and the overall design. Even though they do apply a slight amount of pressure to the sides of the head, it is nothing to worry about, and you can wear these can comfortably all day and all night.
Most of the HD 598 is made using high quality plastic. It feels just as strong and stable as you would expect from a headset in this price range. The fact that Sennheiser has gone with actual leather for the headband, instead of the usual faux-leather, adds durability. But it does mean that you have to take extra care of the material.
The HD 598 comes with a 3m long removable cable. The part that connects to the headphone has a 2.5mm jack with a simple lock mechanism which ensures a stable connection. The other end has a 6.3mm jack. Sennheiser has added a 3.5mm converter which you can use to connect to your portable devices. The cable is coated with rubber-like plastic which could get tangled up easily.
Open-backed headphones, like the HD 598 or the Beyerdynamic T90, tend to produce a more airy sound with a lower bass, when compared to models with a closed back. But, HD 598 bucks the trend somewhat by producing bass that should satisfy most people. Sound quality is excellent throughout and even when connected to an old iPod, they do justice to bass heavy tracks. They are very versatile and produce immersive sound no matter what you are listening to. The soundstage is wide and has a great amount of depth.
Even though the HD 598 does not require an amp to work well – it has a rated impedance of 50 ohms – adding one does produce significant improvements – most notably in the high end. Classical music, for example, sounds good without an amp, but with one, there is a noticeable change. Even explosions and bass-heavy tracks sounds better when paired with an amplifier.
If you are considering using the HD 598 as an all-purpose pair of headphones, you should note that like all open-back cans, they leak sound significantly and people around you will be able to hear what you are hearing. Moreover, noise from outside could seep in as well.
Apart from the 3.5mm converter, there are no other accessories of note with these headphones. Unlike many other brands which pack two cables, Sennheiser has only packed one 3m cable which is too long for use while commuting. This further underlines the fact that the HD 598 is designed for indoor use.
Excellent sound quality
Powerful bass
Versatile
The Sennheiser HD 598 has a bold color scheme which is sure to attract attention. But, even if you have any issues with the design, all will be forgotten once you start using these excellent pair of headphones. They are extremely versatile and sound great no matter what you are listening to. They are extremely comfortable to wear as well, which is always a good sign. Pair them with a decent headphone amp to utilize their full potential.

The HD 598 headphones are open back, over ear, audiophile grade headphones that combine exceptional sound and comfort.