Samsung SR75 4K UHD Space Monitor
A giant leap?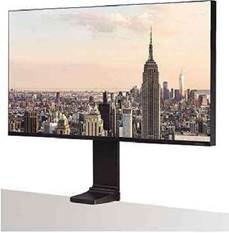 Disappointingly, the Samsung Space Monitor isn't South Korea's answer to the US's Space Force. It's just a PC screen that comes on a desk clamp instead of a stand. This is the 32in version, with 4K resolution to take advantage of all that space. There's also a 27in with 2560×1440 pixels but a higher 144Hz refresh rate for gamers. The 32in's 60Hz refresh rate is perfectly fine, though, and you get a huge area for your Windows desktop or your favourite films.
Saves desk space while adding Windows desktop space
With 40 per cent more square inches, the larger model makes the most of Samsung's design concept: to minimise the impact of a big screen on your desk space. A slim, square-edged case with extremely narrow bezels minimises its apparent size. It's hinged to the Space damp on a minimalist metal arm into which you can neatly tuck the cables. A combined power and data cable is included for the HDMI 2 port, the only other option being a mini DisplayPort input.
The double hinge is flexible… in some ways. Unlike with traditional monitor arms, there's no swing element, so you can only clamp it to the back of your desk, not a side edge, and you do need a substantial horizontal lip to clamp it to, which can be up to 90mm thick. You can push the monitor away from you and it'll sit perpendicular to the back of the desk; as you pull it towards you, it gets lower. Whether the height is right when the distance is right depends on the depth of your desk. There's some tilt adjustment too, but that's not really enough. You can't pivot the screen to portrait, and although you can bring the bottom edge right down to the desktop, you can't tip it back very far, nor is it a touchscreen.
At about £ more than other 32in 4K screens, we hoped for better than average image quality. Our meter found the SR75 could display a wider range of colours than sRGB, but hadn't been calibrated to use this effectively. Accuracy was fine, not great, with a washed-out look that we could only improve by adjusting the gamma setting, which threw the colours further of! With brightness also dropping off up to 18 per cent at the corners, this is a decent screen for general use but not ideal for photo or video editing,
SPECIFICATIONS
32in VA LCD • 3840×2160-pixel resolution • HDMI and mini DisplayPort inputs • 557x 625x391mm (HxWxD) • Two-year warranty
VERDICT
Samsung SR75 4K Review
It's only slightly overpriced, but the arm isn't as versatile as we'd have liked and it's a shame picture quality isn't better controlled
Add your review
Best Samsung SR75 4K UHD prices ?
Space-Saving Design
When not in use, the Samsung Space Monitor pushes back to sit flat against a back wall and leave your entire work surface clear. When it's time for use, simply pull the Space Monitor towards you and adjust to your preferred viewing position.
Maximized Desk Space
Samsung Space Monitor lets you use more of your work space. In side-by-side comparison on a 47.2 inch x 19.7 inch (120cm x 50cm) desk, the Space Monitor provides up to 40 percent more usable surface area than a conventional monitor of equivalent size (Samsung SD850).
4K Ultra HD
With 4x the pixels of Full HD, the 31.5" Space Monitor delivers more screen space and amazingly life-like UHD images. View documents and webpages with less scrolling, work more comfortably with multiple windows and toolbars, and enjoy your photos, videos and games in stunning 4K quality.
Concealed Cables
Samsung Space Monitor stand neatly conceals its power/HDMI Y–cable in recessed chases to prevent tangling and keep your work space...
£

460.33
2 used from £405.09
20 new from £460.33
in stock


The monitor that returning the desk space and clean desk environment to consumers, clips on to the back of the desk, adjust forward while working, then move back into storage position. LED-lit, 31. 5

MORE DEALS

ALTERNATIVE
Samsung LU32J592UQUXEN
A similar screen, though not as elegant, with FreeSync; you could replace the plastic stand with an arm