The latest addition to Samsung's Galaxy Book range of laptops is this second-generation model. It's an attractive laptop-tablet, with a touchscreen that can open like a laptop with the keyboard in front, be folded further back into a tent position for watching movies and TV, or flipped right back on to itself to work in tablet mode. This is a more affordable version of the Galaxy Book2 Pro 360 that we reviewed in Issue 633. Read our Samsung Galaxy Book2 360 Review.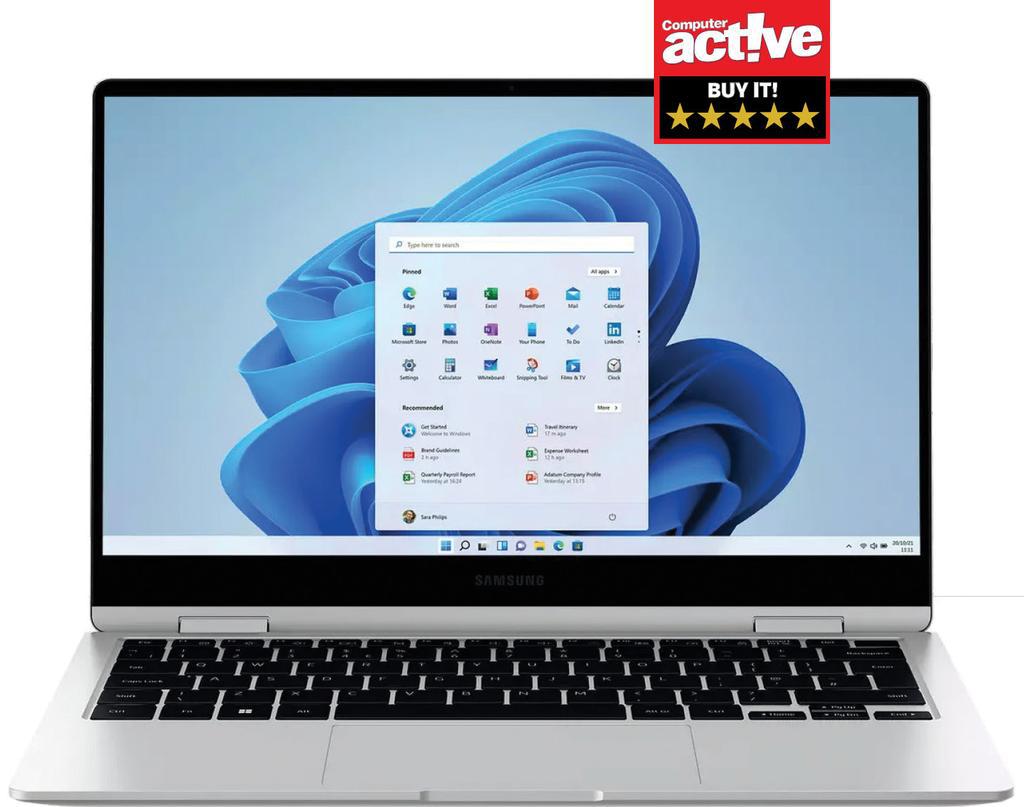 For a while, it was on sale for £ which is a great price for such an elegantly designed and versatile device. Indeed, we considered naming it our new favourite laptop, replacing Lenovo's Yoga Slim 7 (see page 30). However, within a few days it had increased to £ which makes it just a little too expensive to oust the Yoga. It's a great choice though if you can afford it, and deserves five stars, with a new 12th-generation Intel i5 processor that means it will stay faster for longer than than the Yoga Slim.
"Has a striking screen, with vivid colours and great clarity"
The Book2 360 is lighter and slimmer than many rival laptops, weighing just 1.16kg and measuring a mere 12.9mm thick. Compare that to the current MacBook Air, for example, at 1.29kg and 16.1mm thick. It's closer in design to the Acer TravelMate Spin P4 (reviewed in Issue 633), though this folds up to a chunky 18mm.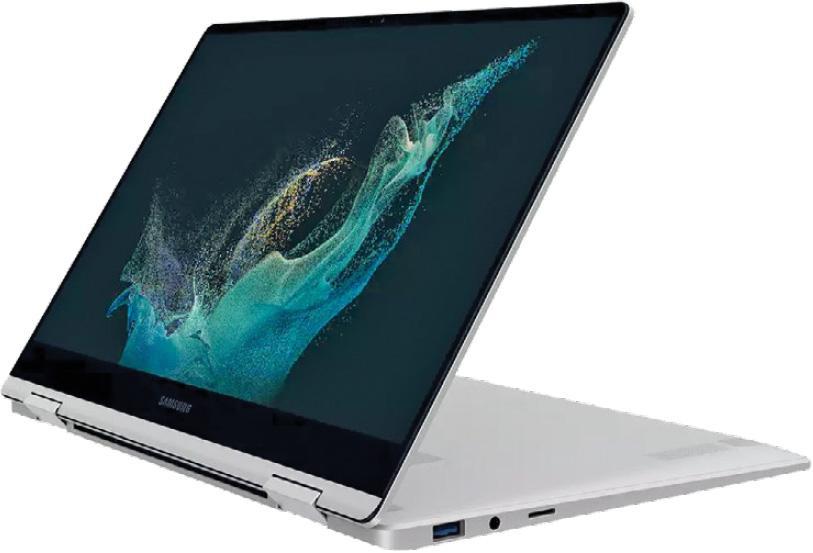 Its most striking feature is the eye-catching AMOLED screen. At first glance, the specs may not sound particularly impressive, with the 13.3in screen offering an adequate resolution of 1920×1080 pixels, but thanks to the AMOLED technology it provides excellent image quality, with crisp, vivid colours, and a level of clarity and detail that looks higher than its 1080p resolution would suggest.
Samsung doesn't quote a figure for the brightness level of the screen, but to the naked eye the screen seems to match those of more expensive rivals, such as Apple's MacBook Air and Samsung's own Pro version.
Many lightweight laptops have to compromise on connectivity to keep their weight and thickness down, but the Book2 360 manages to provide two USB-C ports (one of which is Thunderbolt 4 compatible) and one USB 3.0 port, along with a microSD card slot, combination audio in/out, and even HDMI for hooking up an external monitor. There's also Wi-Fi 6 and Bluetooth 5.1 for wireless connectivity. Our only real complaint is that the 720p webcam isn't great – producing a slightly grainy image that looks washed out in bright daylight.
The Intel Core i5-1235U processor is accompanied by 8GB of RAM and a 256GB hard drive. This produces a respectable performance score of 5,022, faster than the Acer TravelMate Spin P4's 4,497 for only a few pounds more. It's not ideal for gaming with its built-in graphics hardware, but it's more than adequate for web browsing or office software. The battery life is impressive too, lasting 11 hours 10 minutes in our video-playback test.
SPECIFICATIONS
Ten-core Intel Core i5-1235U processor • 8GB memory • Intel Iris Xe graphics • 256GB SSD • Wi-Fi 6 • Bluetooth 5.1 • 1x HDMI port • 2x USB-C ports • 1x USB 3 port • 1x audio in/out port • 1x microSD card • Windows 11 Home • 12.9x304x202mm (HxWxD) • 1.16kg • One-year warranty www.snipca.com/42370
VERDICT
ALTERNATIVE
Acer TravelMate Spin P4
If you'd prefer a bigger screen, this has a marginally larger 14in version, but it isn't as fast