We awarded the original Microsoft Surface Laptop Go four stars and a Recommended award back in Issue 596. Two years and one pandemic later and Microsoft has now launched its sequel, predictably named the Surface Laptop Go 2. For anyone not familiar with the original, this is Microsoft's most affordable Windows laptop, which starts at £ for a basic model with an Intel Core i5-1135G7 processor, 4GB of RAM and 128GB of storage. The mid-range model costs £ and has 8GB RAM and 128GB storage.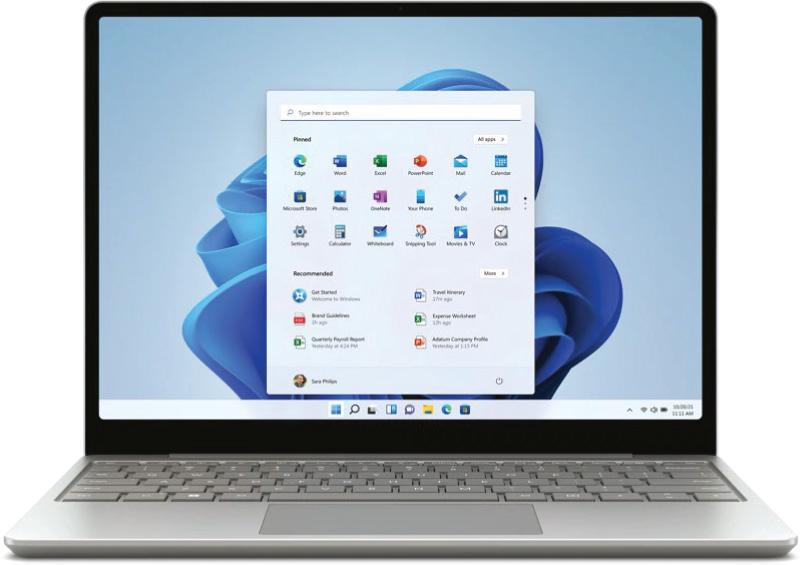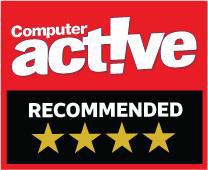 "A petite laptop that only has room for a 12.4in screen, but it's a bit of a corker"
Our review unit (at £) is the top of the range and increases RAM to 8GB and storage to 256GB, though the processor is the same across all three models.
The i5-1135G7 is an 11th-generation processor, so one behind the current cutting-edge 12th-generation models you'll find on more expensive new laptops. However, in our performance tests, it achieved a multi-core score of 4,214, which compares well with the 3,237 of the previous model with its 10th-generation chip.
In the PCMark 10 benchmark, which tests more components, it scored 4,537. This is less than the Acer TravelMate Vero (reviewed in Issue 634), which managed 5,148, though the Vero is larger, has more memory and costs around £ more. It's also still a shade behind the Ryzen 7-powered Lenovo Yoga Slim 7, which remains our current favourite laptop (see page 30).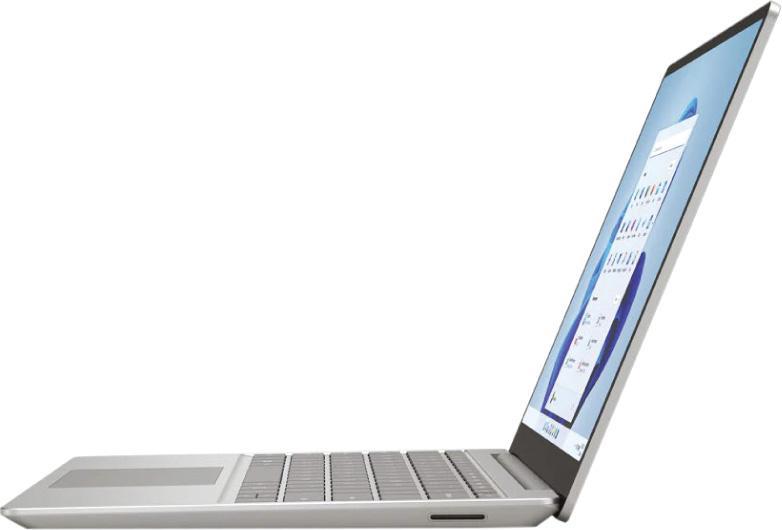 The Go 2 is particularly petite, weighing just 1.1kg and measuring 15.7x278x206mm (HxWxD). These dimensions only leave room for a 12.4in screen, but it's a bit of a corker. The bezels around the edge are narrow and inconspicuous, while the touchscreen is bright and vivid. Its brightness level peaked at an impressive 363cd/m2 when we tested it, while it also managed to reproduce 98 per cent of the sRGB range and 78 per cent of the more demanding DCI-P3 colour standard.
In our PCMark battery test it lasted between seven and eight-and-a-half hours across a number of different tests. In the real world, that equates to around eight to nine hours of light use, which isn't brilliant but should get most people through most of the day.
SPECIFICATIONS
Four-core Intel Core i5-1135G7 processor • 8GB RAM • Intel Iris Xe graphics • 12.4in 1536×1024-pixel touchscreen • 256GB SSD • Wi-Fi 6 • Bluetooth 5.1 • 1x USB-C port • 1x USB 3.0 port • Windows 11 Home • 15.7x278x206mm (HxWxD) • 1.1kg • One-year warranty
VERDICT
Microsoft Surface Laptop Go 2 Review
Microsoft's most affordable laptop performs well at its highest specification, but it's not enough to dislodge our current favourite
Add your review
Best Microsoft Surface Laptop Go 2 prices ?
MORE DEALS

See also THE COMPLETE GUIDE TO…OLED laptops

ALTERNATIVE
Lenovo Yoga Slim 7 £ The AMD Ryzen 7 version of this model is more powerful and slightly cheaper