This is the latest model in a long line of Lenovo Android tablets, following on from a former Buy It! favourite of ours, the Lenovo Tab P11 Pro. However, this new tablet will be judged against Samsung's Galaxy Tab S8, which – as you'll see on page 30 – has been our favourite Android tablet since we reviewed it in Issue 634. Read our Lenovo Tab P12 Pro Review.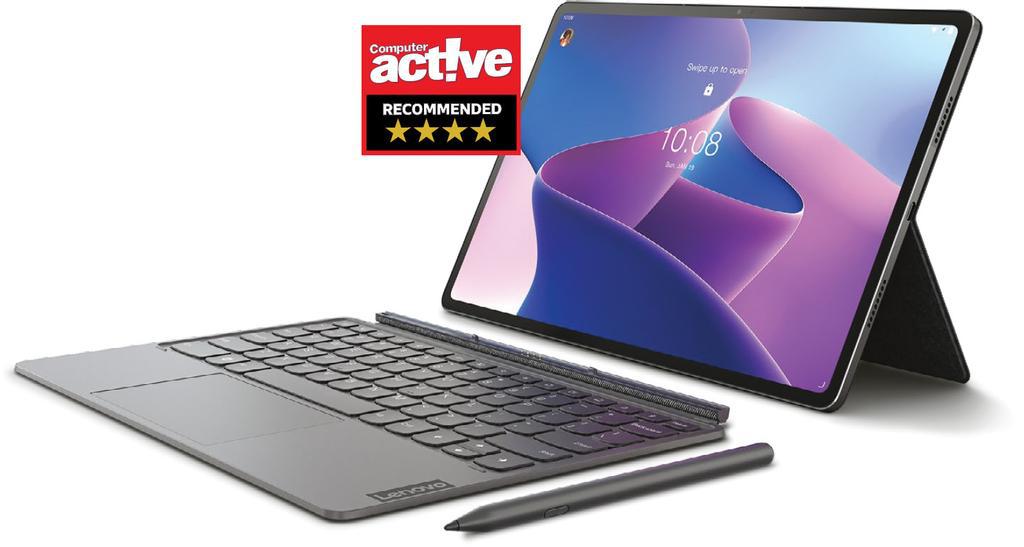 "A larger AMOLED screen makes this ideal for watching movies and TV shows"
Lenovo has upped the ante with the Tab P12 Pro's screen, which has increased in size to 12.6in, 1.6in bigger than the Galaxy Tab S8. Both use a 2K resolution (2560×1600 pixels), so the Tab S8 looks sharper. However, the Tab P12 Pro uses AMOLED technology, which is superior to the IPS used by Samsung. It's brighter, and provides better contrast, while supporting HDR10+ and Dolby Vision, which we're more used to seeing on OLED TV screens. If you want a tablet for watching films and TV series, this is an excellent choice.
Where Lenovo's tablet lags behind is in performance. It's powered by a Qualcomm Snapdragon 870 processor, alongside 6GB of RAM and 128GB of storage. This immediately seems light on raw power compared with the S8's newer Snapdragon 8 Gen 1 processor and 8GB of RAM. Our performance benchmark tests confirm this, with Lenovo's multi-core result coming in at 2,918. That's one of the best scores we've seen on a machine running the Snapdragon 870, but it's a fair way behind the Tab S8's 3,228 result.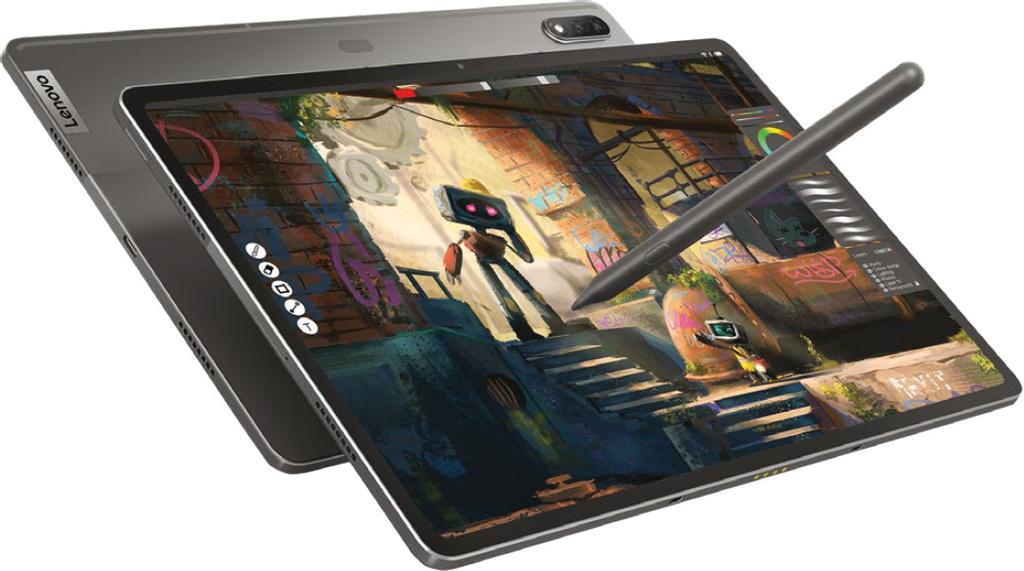 That said, the Tab P12 Pro felt smooth and fast during testing. We didn't experience any noticeable slowdowns, even when using more demanding apps and games. Indeed, were it significantly cheaper than the Tab S8 we might be prepared to give it the nod over its rival, but for a similar price we prefer Samsung's tablet.
Lenovo's tablet is bigger than its rivals (5.6x286x185mm), though it's very thin and weighs only 565g. It has a fingerprint scanner and USB-C port, but no 3.5mm headphone jack. The bezels around the screen are wafer thin, with the front-facing camera positioned in the top border (when held in landscape orientation).
On the rear, there's a significant camera hump and a magnetic strip that holds (and charges) the supplied stylus. Unlike with some tablets, which hold the stylus in a specific spot, you can slap Lenovo's on quite a wide holding area. This does mean you can't lay the tablet down flat when the stylus is attached, which is annoying. The Tab P12 Pro has also missed a trick or two when it comes to software. It uses the stock Android operating system (with no customisation by Lenovo), which isn't the best option for tablets. We're still waiting for Android 12L, which Google is designing specifically for tablets and will hopefully improve things, but it's too early for this tablet and it shows. With most Android apps still configured for smartphones, it lags well behind Apple's iPadOS.
It also lacks intuitive features for the included stylus. This is in stark contrast to Samsung, which adds its own tablet-friendly skin to Android and has an admirable record of supporting its excellent stylus with software like its own note-taking apps. It's great to have the stylus included in the price, but a shame that the optional keyboard (pictured above) costs an extra £
SPECIFICATIONS
Eight-core Qualcomm Snapdragon 870 processor • Adreno 650 graphics • 6GB RAM • 12.6in 120Hz 2560×1600-pixel resolution touchscreen • 128GB storage • 13-megapixel rear camera • 8-megapixel front camera • Wi-Fi 6 • Bluetooth 5.2 • USB-C connector • Android 11 • 5.6x286x185mm (HxWxD) • 565g • One-year warranty
VERDICT
Editor choice
Lenovo Tab P12 Pro Review
A great screen if you want a tablet for watching TV and movies, but its performance and software lag behind Samsung's latest
Add your review
Best Lenovo Tab P12 Pro prices ?
$

178.88
1 new from $178.88
in stock


$

184.22
1 new from $184.22
in stock


The Lenovo Tab P12 Pro doubles as a wireless second screen for your laptop while also supporting touch and pen input, thanks to Lenovo Project Unity. A perfect entertainment, gaming, and productivity powerhouse that's built for use outdoors and indoors, with an all-day battery and bright 12.6"...

MORE DEALS

See also THE COMPLETE GUIDE TO…OLED laptops
ALTERNATIVE
Samsung Galaxy Tab S8 £ This has a smaller screen, but is a better performer in benchmark tests