Samsung C49J89 Review
So you said you wanted widescreen…
Stop that. It's silly. This, we wager, is roughly what goes through your mind as you regard Samsung's latest ubertron, the C49J89. It isn't just physically huge in objective terms, measuring 49 inches across its outrageously ample diagonal. It's also visually vast, thanks to its extreme 32:9 aspect ratio. Surely, this isn't sensible?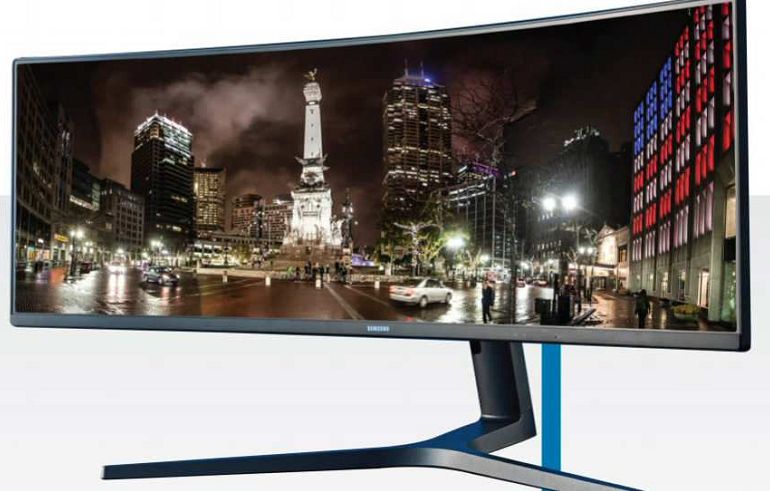 But hold on. When the first super wide 21:9 aspect monitors appeared, opinion was divided. Now they're relatively mainstream and extremely popular. Could familiarity normalise the C49J89's even wider proportions in a similar manner?
Hold that thought as we run through the key speeds and feeds. Panel-wise, we're talking 49 inches of VA shizzle with an 1800R curvature. It's good for a static contrast ratio of 3,000:1, which is nice, and peak brightness of 300cd/m2, which is less stellar in this brave new age of HDR. Indeed, this reveals the key difference between the C49J89 and its otherwise similar Samsung sibling, the CHG90. The C49J89 lacks support for HDR visuals.
That said, it does pack a pretty nifty set of broader capabilities. For starters, it runs up to 144Hz refresh, which isn't necessarily what you'd expect for a monitor aimed at productivity. Next up is a built-in KVM switch, giving you lots of options for hooking up multiple machines to drive the display. USB-C connectivity is another bonus, allowing a single cable to both drive the display and charge a laptop.
The C49J89 also supports Samsung's DeX Station interface, enabling you to dock your Samsung phone with the monitor, mirror its interface and use a keyboard and mouse to control the whole shebang. But the key specification, the one that really defines this screen, is the native resolution of 3,840 x 1,080. The horizontal figure is the same as a standard 4K or UHD display, but the vertical is just half the 4K standard. In simple terms, you have a pair of 1,920 x 1,080 FullHD monitors sitting side by side.
The upside is that you're getting that with absolutely no divide, no bezels between two displays; just one glorious, gently curved expanse. The first downside is that this is not a cheap display, and those 1,080 vertical pixels are a major limitation compared to, say, a pair of cheap 1440p panels, much less dual 4K monitors, both of which are very much doable for similar or less cash than the C49J89.
The next is that, while 3,840 pixels sounds like a lot, spread across a 49-inch diagonal, they make for a pretty large pixel pitch.
A Retina-style display this most definitely ain't.
In other regards, the panel quality is decent. Granted, the viewing angles are limited compared to the best IPS monitors. And it lacks pizzazz next to the latest quantum-dot and HDR- enabled screens. But that 3,000:1 contrast ratio makes for nice, deep blacks and the colours are pleasing, if not punchy.
However good the panel quality, the form factor and resolution are what this screen is about. For gaming and movies, it's suboptimal. There's almost no video content this wide, and most games don't offer a field of view that makes the most of the aspect ratio.
For productivity, the C49J89 makes abetter case for itself as an alternative to a dual-monitor setup. But even  there, the lack of pixel density and vertical resolution are problematical.
The earliest 21:9 monitors suffered from a similar lack of pixels, but even with more pixels, the appeal of ultrawide 32:9 monitors is likely to stay narrow.
[Jeremy Laird]
Verdict
Features 3.5/5
Performance 3.5/5
Value 3.5/5
While very large and impressive, this ultrawide monitor is perhaps a bit too pricey for its niche size.
3.5/5