Martin Pipe gets to grips with Pioneer's UDP-LX500. A player for all seasons?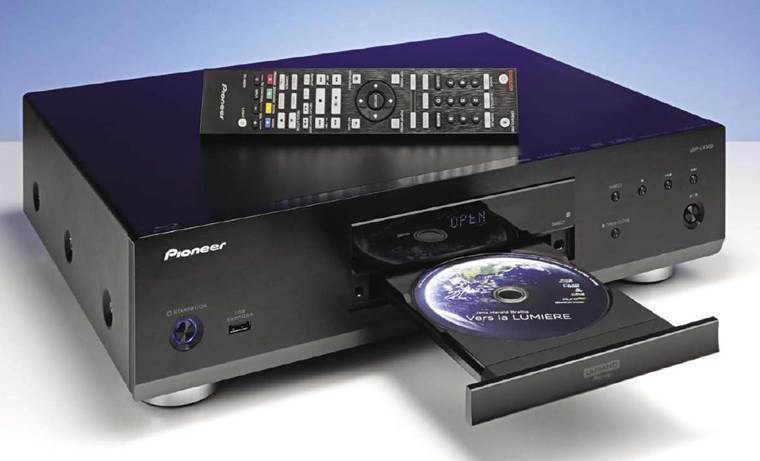 Until quite recently, Oppo was the default choice when it came to high- performance Blu-ray and universal disc players. But despite having the quality market largely to itself, Oppo dropped a bomb last April. It announced that it would be ceasing development of disc players to concentrate on mobile phones. Since then, hi-fi and AV enthusiasts around the world have been seeking out worthy successors.
Recently, Pioneer launched two new Ultra HD universal Blu-ray players – the UDP-LX500 and UDP-LX800. Both LX500 and LX800 only have stereo analogue audio outputs; multichannel listening necessitates an HDMI connection to your AV receiver. I'll discuss this shortly.
Will these new Pioneers fill the gap once occupied by Oppo's offerings? The general consensus among home-cinema enthusiasts is that they do, but I will look at what the UDP-LX500 is like with music.
This machine is particularly desirable as an audio source as it will play DVD-As and SACDs, both stereo and surround, in addition to Blu-ray audio discs. Music stored on USB devices, audio CDs and CD/DVD-ROMs are also within the LX500's grasp, while an on-board DLNA client will pick songs from your servers. Formats listed as compatible include MP3, FLAC, WAV, AAC, DSD64/I28, MP3 and OGG Vorbis. The machine is compatible with hi-res FLAC/WAV files with 24- bit quantisation and sampling rates of up to 192kHz.
Needless to say, Pioneer's DLNA implementation also covers video (MPEG/WMV/MP4/AVI/FLV) and photos (JPG/GIF/PNG); the disc player will handle DVD-Video, video CDs and the full gamut of visual Blu- ray content – including 3D and 4k titles. Many user-recordable formats are catered for (CD-R/CD-RW/DVD- R7DVD-RW/DVD+RW) although DVD-RAM isn't on the list.
The LX500 is compatible with the latest and greatest video technologies such as Ultra-HD Blu- ray, 36-bit colour depth, HDR (high dynamic range) and low-latency Dolby Video; different visual 'preset modes' are provided for SDR (standard dynamic range) and HDR.
It is of course compatible with the accompanying hi-res soundtracks (e.g. Dolby True HD and DTS Master Audio) as well as 'legacy' ones like DVD-type Dolby Digital and DTS.
The LX500 is definitely visually-smart in a conservative and understated way; it could easily be mistaken for a I990s-vintage CD player, with its front-loading mech and fluorescent display. Only the USB socket gives the game away! It is however awkward to make out the black buttons on the black front panel. Until familiarity sets in, you might accidentally engage 'direct' mode – a video-free mode, optimised for music playback via the analogue audio outputs – when your intention was to eject a disc! To drive the sophisticated LX500 fully its remote control is essential.
There are two HDMI ports around the back. One will carry both sound and vision, while the other is sound-only. When I first installed the review sample, my AV receiver (an Onkyo TX-NR906) was resolutely silent. It turned out the previous user had disabled audio on the main HDMI port. I found an 'HDMI Mode' option in one of the settings menu had been set to 'separate'. After correcting this, all was well. Having separate audio and video HDMI outputs allegedly helps to maintain performance, and may also be of practical benefit if your amplification doesn't support the later versions of HDMI needed for 3D, 4k and so on.
There's an Ethernet jack (no wi-fi) for network playback and BD- Live functionality, a RS232 port for remote control, the aforementioned two-channel analogue audio output (no analogue video outputs) and a grounding terminal referred to as 'zero signal'. This 'barrel-only' (the
In the middle is the transport, beneath which is a screened section containing the player and video circuitry. On the lower right is the switched-mode power supply; its opposite number is the audio board, which is based on the premium 'Velvet Sound' AK4490EQ DAC from AKM.
centre-pin is unconnected) socket would be connected via a phono- to-phono cable to a spare input or output on the rear panel of your audio gear, bringing the LX500 to the latter's ground potential; I note that although the LX500 has an IEC mains socket, it lacks an earth pin and so it's 'floating'.
USE AND PERFORMANCE
On the whole, the LX500 is straightforward to set up and use – the menu system seems to be logically- structured, just as it should be given all of the numerous cutting-edge options related to audio and video alone! I see that technological progress has manifested itself elsewhere – the user interface is a lot more responsive than earlier high-end players I've tried. Modern electronics is highly-integrated, with fewer chips doing more. Even so, I was surprised to note how much empty space there is in this player – which is heavy at I0kgs, on account of the metalwork that Pioneer has used to keep things stable.
Which brings us to the audio side of things. Oppo players were among the first to exploit the ESS Sabre range of audio DACs. In its LX500, Pioneer is championing an alternative high-performance device, AKM's two-channel premium 'Velvet Sound' AK4490EQ. This will accept 11.2MHz DSD and 768kHz/32-bit PCM signals, is claimed to offer a I20dB dynamic range and boasts five digital filter modes (Pioneer's
setup menus provide three – sharp, short and soft – that are, under most circumstances, too subtle to distinguish between). Mounted on an audio board, the chip is surrounded by high-quality surface-mounted passive components and NE5532 op amps – abundant in professional gear.
Let's start with the visuals. They are quite the best I've thus far seen from a domestic disc player.
DVDs are given a new visual sheen, and even sub-standard discs (home movies, for example) look better, with more vivid colours and less digital noise. Regular Full-HD discs I tried were delivered with clarity and depth.
The landscapebending of Inception was, for instance, as astonishing as I remember from cinematic viewing. This player also did justice to the film's bombastic DTS HD-Master multichannel sound track; it swung dynamically as required and in sound staging terms managed to convince via my Onkyo receiver and Rogers 'speaker system.
There may not be multi-channel analogue outputs, but those with surround-sound DVD-A discs and

The sensibly laid-out remote has a dated appearance. It's easy enough to use and the buttons are backlit for easy location in the dark.

Two HDMI outputs – allowing audio and video to be carried via separate digital paths – are provided, although the UDP-LX500 only caters for stereo analogue audio. The 'zero signal' is, basically, an earthing terminal. Conventional digital terminals are present for external DACs, and for non-disc playback there are Ethernet and USB ports. No digital inputs though; it cannot be used as a DAC.
SACDs will be able to enjoy them via HDMI if the LX500 is partnered with suitable off-board equipment. You can configure the player to send the disc's audio bitstream to your amp via HDMI. Good news if it can deal with DSD natively – as my venerable Onkyo can! Some 24- bit transfers of old quadraphonic material were played. Among this was The Friends of Distinction cover of Light My Fire, from the 1969 album Highly Distinct – I've never heard it sound so gutsy…or soulful; it's a little bright, but that's probably down to the original recording. Its interesting (and highly discrete) quad mix emerged intact too. The player also did justice to the subtle 5.1 surround mix of reggae-tinged Message in a Bottle, from The Police compilation-SACD Every Breath You Take – The Classics. The allimportant bass was well-defined, and backed up by percussion that was well-timed.
To check out the analogue two-channel performance, I drove a Chord Etude power amp (reviewed elsewhere this issue) and Quadral Aurum Wotan VIII speakers, via a 'passive pot' box (volume control). CD material initially impressed; a 2010 Chandos recording of the BBC Philharmonic playing works by Britten was given the necessary intensity, verve and excitement. In particular, the four Sea Interludes (from the opera Peter Grimes) are full of atmosphere and detailed across the tonal range. Oddly, the lush Trevor Horn production of Seal's 'The Beginning' seemed a tad congested and lacking in guts although the lead vocal retained its emotional impact. Despite Pioneer's claims, the DLNA player rejected DSD64 content. However, my 24/96 FLAC of Jethro Tull's Thick as a Brick rewarded me with its analogue warmth, strong dynamics and instrumental texture. Supertramp's Breakfast in America, on Blu-ray audio, also sounded superb; standing out above all else is the sheer clarity.
CONCLUSION
As a home cinema source, there is much to recommend the Pioneer UDP-LX500 – it doesn't really have much competition. To get the best from it, though, you'll need a decent processor and amplification – especially when it comes to surround. The lack of multichannel analogue outputs means it's not the best choice for owners of older gear (especially quadraphonic). In terms of its analogue terms, the UDP- LX500 puts up a good fight – but a decent purpose-designed CD player will be more transparent.
MEASURED PERFORMANCE
With CD frequency response measured flat to 21kHz and distortion at -60dB came in at 0.3%, a tad higher than the 0.22% that's usual, mainly due to noise. As a result EIAJ Dynamic Range measured 97dB, a reasonable figure if below the 102dB possible from quality hi-fi DAC chips. Output from the phono sockets was high at 2.3V. With CD a decent performance all round.
FREQUENCY RESPONSE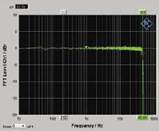 DISTORTION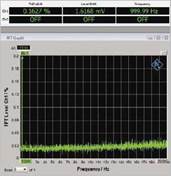 Distortion (-60dB, 24bit)          0.16%
Dynamic range (EIAJ)             102dB
Output                                      2.3V
Noise                                    -100dB
With hi-res read from a USB Flash Drive the picture changed in unusual fashion. With 24/192 WAV a Format Unsupported message appeared. However, 24/96 was played, yielding mediocre results. Distortion measured 0.16%, EIAJ Dynamic Range 102dB – no better than CD – whilst frequency response was flat to 46kHz, close to the theoretical limit. Curiously, output fell to 1.6V maximum, making it -3dB down on CD, suggesting a separate section for hi-res or USB processing level misaligned with the CD section.
In similar fashion SACD also gave 1.6V out at full scale, making it -3dB quieter than CD. Distortion at -60dB measured 0.33% and EIAJ Dynamic Range a poor 99dB, where 110dB is possible (Arcam CDS50). Frequency response extended to 35kHz before rolling down fast to 48kHz, suggesting the Pioneer internally converts DSD to 24/96 PCM; pure DSD processing does not give a brick-wall cut-off.
The UDP-LX500 offers mediocre audio quality in measured terms, little better than CD when playing hi-res from Flash Memory or DSD from SACD.
Frequency response (-1dB) 4Hz-46kHz
PIONEER UDP-LX500
EXCELLENT – extremely capable.
VALUE – keenly priced.
VERDICT
PIONEER UDP-LX500 Review
Sure, it's not perfect - the sadly-extinct Oppos are a hard act to follow. But if you want a flexible disc player that can handle just about anything, this Pioneer warrants serious consideration
PROS
broad disc compatibility
picture quality
can sound convincing
CONS
no analogue multichannel outputs
DSD DLNA issues
no analogue video outputs
Add your review
|
Read reviews and comments
MORE DEALS

Pioneer
+44 (0)203 936 8086 www.pioneer-audiovisual.eu