If you think Switzerland is all watches and Toblerone,  here's an elegant floorstander to change your mind
Swiss brand Piega has been in business for 30 years but has only now officially come to the UK, enlisting a number of specialist audio retailers to demo its wares.
The regular Classic 5.0 tower will set you back, but this model is a little pricier because of the optional Makassar piano lacquer finish, which is very lovely.
The Zurich-based company has two notable claims to fame. First, its Linear Drive Ribbon (LDR) coaxial tweeter was the first ribbon unit that could reach low enough to handle some midrange duties – an ability that obviates the need for a dome/ribbon hybrid, as favoured by DALI. Secondly, it produced the first commercially available aluminium-housed hi-fi loudspeaker back in 1989 and seamless alloy enclosures continue to be used in its more expensive designs.
Not the Classic 5.0, though, which uses a conventional square-cornered wood and fibreboard enclosure with a single, rear-firing reflex port. But it does have Piega second-string Air Motion Transformer (the AMT-1) ribbon tweeter. Although it has a narrower bandwidth than the LDR, the AMT's core design is much the same and employs an extremely thin pleated and partially embossed foil diaphragm.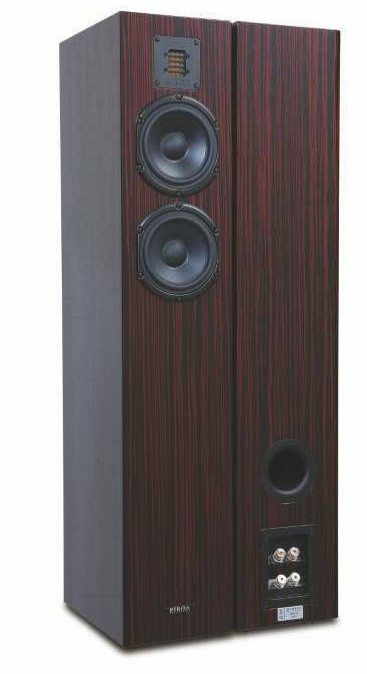 Lower frequencies are handled by a pair of 130mm mid-bass drivers in a 2.5-way configuration. They're quite heavy for their size, at 20kg apiece, while the bi-wireable binding posts – although positioned a little too close together – are well made.
Sound quality From the first few bars of the delicate orchestral strings that open the Van Morrison track, it's clear the Piega is transparent and focuses well. The sound is true and natural, and the ribbon tweeter's portrayal of fine detail meshes seamlessly with the larger sonic picture rather than being brightly lit. Van's gravelly vocal is slightly prominent in the mix, but there's a real sense of soundstage depth, too. Lower frequencies aren't the heftiest, but they are reasonably well extended and controlled.
Dynamics seem a little sat on compared with the best in group – the DALI and Revel in particular – but Oscar Peterson at his least excitable is treated with great care and insight.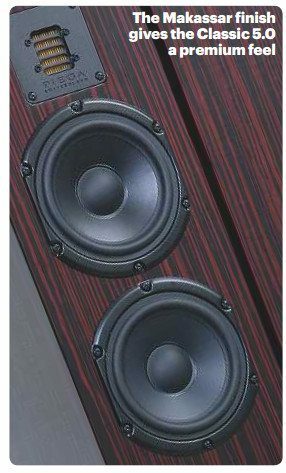 Piano tone is pristine and harmonically replete and there's an overarching sense of order and correctness to the piece. Meanwhile, the integration between the ribbon and dynamic drivers seems flawless.
The Piega's pleasing combination of refinement and resolve again comes to the fore with Yes and Owner Of A Lonely Heart. There's a lot going on – not least with Trevor Horn's acoustically diverse sampled inserts – but there's no sense that anything is missing or indistinct. Maybe things do get a little too silky with the slickly produced Marcus Miller cut, but then that was more likely his intention when he was sitting on the other side of the mixing desk.
ALL IN THE NAME
Piega is the Italian word for folded.
So it's no surprise that when the company came to hi-fi in 1986 with a box of fresh initiatives and materials, its big idea was a new type of ribbon tweeter. Called the Linear Drive Ribbon, it evolved into a treble/ midrange ribbon system and then into what is claimed to be "the world's first coaxial ribbon system".
The practical upshot was a large ribbon panel that reached down far lower than conventional ribbon tweeters, allowing much easier integration with dynamic drivers that could be freed to do what they do best (bass and lower midrange). What seems particularly Swiss, however, is the hours of intricate, painstaking labour that's poured into making every ribbon. The work is so precise and exacting, it can only be carried out in a room with carefully maintained climatic conditions at Piega's factory in Horgen.
PRODUCT
Piega Classic 5.0
ORIGIN Switzerland
TYPE 2.5-way floorstander
WEIGHT 20kg
DIMENSIONS (WxHxD) 180 x 930 x 280mm
FEATURES
●AMT-1 ribbon tweeter
●2x 130mm mid/bass drivers
●Quoted sensitivity: 91dB/1W/1m (4ohm)
DISTRIBUTOR
Piega Loudspeakers (UK) Ltd
Verdict
Piega Classic 5.0 review
Attractive well-engineered floorstander with an open and well-tempered sound
PROS
Transparent, precise and organised sound; lovely build
CONS
Not the strongest dynamics
Add your review
|
Read reviews and comments
MORE DEALS