PHILIPS 349X7FJEW Review – THE PHILLIPS 349X7FJEW has won a Red Dot Design award, and it's not hard to see why: this ultra-wide 34in, 3,440×1,440 display looks fantastic. We're not always fans of curved displays, but the 349X7FJEW's gentle sweep looks absolutely gorgeous. The subtle curvature used here is enough to add a bit of design interest without distorting the picture.
A glossy white frame neatly complements the screen, while its ultra-thin side and top bezels are barely visible. There are no buttons to ruin the front of the screen, with a single joypad behind the display. It's easy enough to use this to navigate through menus.
Then there's the stand, with its silver prongs jutting outwards in a V shape. You'll have to sacrifice a fair bit of desk space for it, but there's enough space between the feet to fit in a USB hub or other bits.
The stand is also eminently practical, allowing you to put the base of the monitor between 75mm and 230mm above your desk.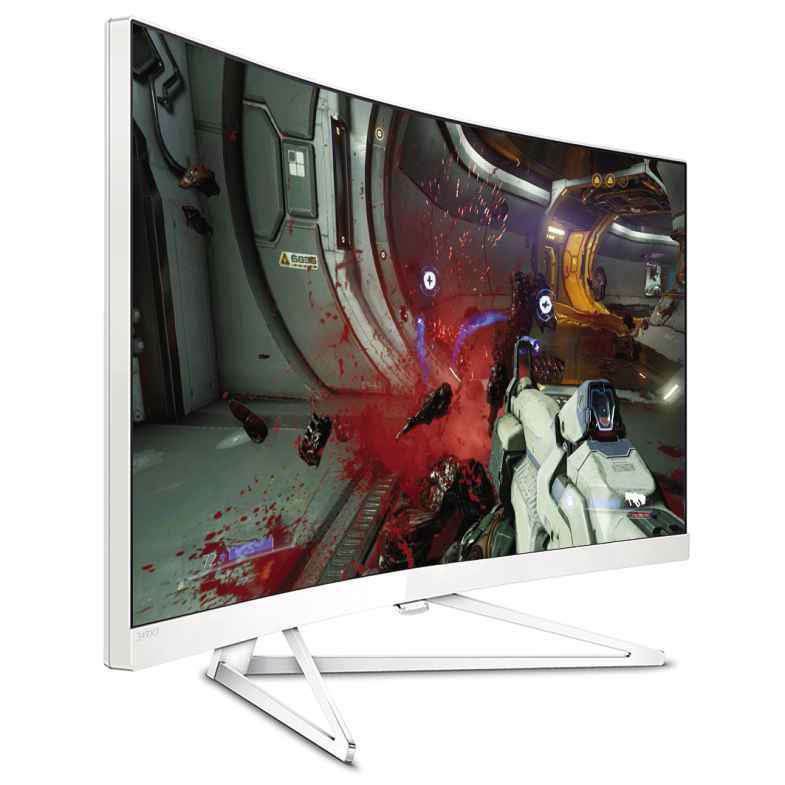 There's no portrait mode, but the stand allows a good deal of swivel so that you can line the screen up for the perfect viewing angles.
If you don't want to use Philips' stand, the 349X7FJEW has a VESA mount at the back.
This is recessed into a square cutout, which our wall mount wouldn't fit into. You'll need to measure any stand carefully to ensure compatibility with this model.
PHILIPS 349X7FJEW Review: CONNECT FOUR
Around the back, you get all the ports you'll need. To use the monitor at its full resolution at 100Hz, you need to use the HDMI 2.0 input or DisplayPort input. There's a secondary HDMI 1.4 input for older devices, although you'll be limited to a resolution of 2,560×1,080 at a reasonable refresh rate.
There's also a four-port USB3 hub, which is handy to boost the number of ports you have.
They're a little hard to reach around the back, so we found them better placed for devices that you don't need to unplug a lot. One port supports fast charging for USB devices, too.
As good as the display looks, it's the image quality that is of paramount concern. Philips has used a VA panel, which should mean better contrast than an IPS panel, although color accuracy is usually a little worse.
Measuring the display, we found that it could produce a healthy 98.3% of the sRGB color gamut. Out of the box, the 349X7FJEW is set to a brightness of 246.13cd/m2, producing a black level of 0.1241cd/m2 and a contrast ratio of 1,984:1.
Calibrating the display, we dropped the brightness to a more reasonable 120cd/m2.
This time around, we measured sRGB coverage at an almost-perfect 99%, with the DCI P3 color gamut coming in at 81.6%.
That's pretty impressive going.
PHILIPS 349X7FJEW Review: DELTA BLUES
However, with a calibrated delta-E of 1.85, the 349X7FJEW's color accuracy lags behind more professional monitors, so it's not ideal for photo or video editors that need spot-on color reproduction.
Calibrated, black levels dropped to an inky 0.065cd/m2, while contrast remained similar at 1,832:1. It was good to see that the color temperature of 6,524K was pretty close to the ideal of 6700K.
Display uniformity is very important, and the 349X7FJEW is rather good. The central parts of the image differ little, and even the 'worst' parts of the screen were only around 10cd/m2 dimmer than the center. That's excellent, showing this display is evenly lit.
The 349X7FJEW did a great job with our test images. Inky blacks and bright whites meant that we saw a lot of detail, even in the murkier parts of images. Colors were rich and vibrant, without proving to be over the top or too outlandish. Ultimately, it's a very nice display to look at day in, day out.
This size screen works perfectly with the high resolution. While a 34in 4K monitor is huge, an ultra-wide screen is that bit slimmer, so doesn't feel as bulky. As a result, you get a nice wide image with plenty of room for two applications side by side, but you don't feel dominated by the screen. Even so, you may want to use Windows 10's scaling options if you find that text is a little hard to read.
This kind of resolution is also handy if you want to use the monitor's Picture-in-Picture (PiP) or Picture-by-Picture (PbP) modes, displaying two inputs at once.
PHILIPS 349X7FJEW Review: SMOOTH MOVER
For gamers, AMD's FreeSync is built in, giving adaptive frame rates between 40Hz and 100Hz. You'll need an AMD Radeon GPU to use this mode, but the benefits are immediate and apparent, with a smoother image free of tearing or ghosting. At 100Hz, the Windows desktop feels that much smoother, too.
A LowBlue mode dials down the blue in the image, which can help you sleep better at night. It's a fiddle to turn it on, and you're unlikely to need it given that Windows 10 Creators Update has a similar mode built in, which can also activate automatically at night.
If you're after a superb-looking ultra-wide monitor that's great for gaming, the Philips 349X7FJEW ticks a lot of the right boxes.
A slightly lower price and lower delta-E figures would make it even better, though.
[David Ludlow]
PHILIPS 349X7FJEW Review: VERDICT
A gorgeous-looking display with solid image quality, but color accuracy could be better
Best PHILIPS 349X7FJEW prices ?
MORE DEALS

PHILIPS 349X7FJEW Review: Specifications
SCREEN SIZE 34in • RESOLUTION 3,440×1,440 • SCREEN TECHNOLOGY VA • REFRESH RATE 100Hz • VIDEO
INPUTS 1x DisplayPort, 1x HDMI 1.4, 1x HDMI 2.0 • WARRANTY Two years RTB