PC Specialist's Defiance VIII Pro is one of the cheapest laptops we've seen with Nvidia's new mobile GeForce RTX3070, and in this case it runs with its stock specification of 5,120 CUDA cores, 8GB of GDDR6 memory, and base and boost clocks of 1100MHz and 1620MHz.
Spec
CPU
2.2GHz Intel Core i7-10870H
Memory
16GB 2666MHz DDR4
Graphics
Nvidia GeForce RTX 3070 8GB
Screen
15.6in 1,920 x 1,080 IPS 240Hz
Storage
1TB Samsung 970 Evo Plus M.2 SSD
Networking
Dual-band 802.11ax Wi-Fi, Gigabit Ethernet, Bluetooth 5.1
Weight
2kg
Ports
3 x USB 3.2 Gen 1, 1 x USB 3.2 Gen 2 Type-C/Thunderbolt, 2 x audio, 1 x HDMI, 1 x mini-DisplayPort, 1 x micro-SD slot
Dimensions (mm) 358 x 238 x 20 (W x D x H)
Operating system Windows 10 Home 64-bit
Warranty
Three years labor, including one year parts and one month collect and return
The rest of the spec isn't groundbreaking, but it's reasonable at this price. The Intel re i7-108705H runs at 2.2GHz with a turbo speed of up to 5GHz, and has six Hyper­Threaded cores. There's also 16GB of dual-channel DDR4 memory clocked to a middling 2666MHz. Storage comes from a 1TB Samsung NVMe drive with solid read and write speeds of 3,520MB/sec and 3,070MB/sec, and networking is handled by Gigabit Ethernet and dual-band Wi-Fi 6.
The Defiance is also enormously customisable: you can choose from dozens of memory and storage options, downgrade or upgrade the graphics, improve the networking, and choose keyboards in different languages. The Defiance also comes with a three year labour warranty with a year of parts coverage, which is better than the one year deals included with most big­brand machines. It's possible to buy the Defiance as a 17.3in model as well.
The Defiance uses a chassis made by Taiwan-based Clevo. It excels in practical areas: it has three USB 3.2 Gen 1 ports and a faster USB3.2Gen2 Type-C port that supports Thunderbolt. There are also mini-DisplayPort and HDMI outputs, a micro-SD card reader and two audio jacks, plus a webcam. Most rivals at this price only have single audio jacks, no mini-DisplayPort and no card readers – and many miss out on webcams too.
The Clevo chassis isn't always impressive. It looks plain, with a body made from matt black metal and no visual flair. Build quality is also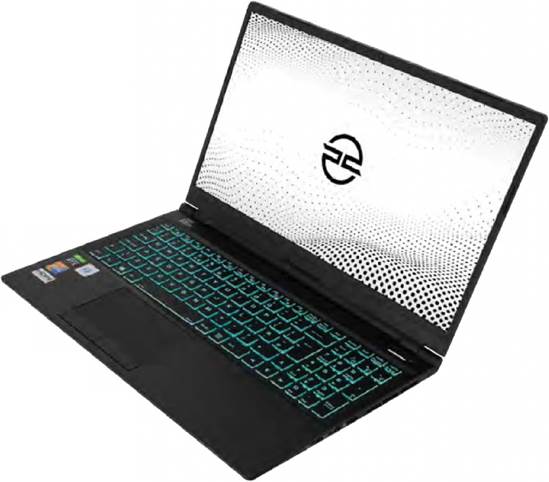 mediocre, with too much movement in the keyboard deck, the underside and the back of the screen. On the plus side, it's easy to get inside the chassis – you don't need any Torx screwdrivers – and the pairs of SODIMM and M.2 connectors are accessible. The Defiance weighs 2kg and is only 21mm thick, which makes it lighter than most rivals.
The keyboard has a numberpad and a decent layout, and the keys have acceptable travel and speed, so they're fine for mainstream gaming and typing, although they're light and wobbly. The RGB LED lighting is also only single-zone, has no effects and only offers 15 shades. Meanwhile, the trackpad is fine for Windows use, but its buttons are soft and tall, so a USB mouse will be far better for gaming.
Performance
In our tougher game tests, such as Cyberpunk 2077 and Assassin's Creed Valhalla, the RTX 3070 delivered 1080p 99th percentile minimums of 45fps and 41fps with games at their highest quality levels, so you'll get smooth gameplay without compromise – only a few minor tweaks will get averages beyond 60fps. The Cyberpunk 99th percentile result didn't drop when we activated Medium ray tracing with DLSS either.
The RTX 3070 compares well with the older RTX 2070. In Shadow of the Tomb Raider, the Defiance's 99th percentile result of 32fps was 99fps beyond the last RTX 2070 laptop we reviewed. The Defiance impressed in the less demanding Doom Eternal too, where its 99th percentile minimum and average frame rates of 121fps and 183fps were around 10-30fps beyond the RTX 2070 – less demanding esports games should properly be able to take advantage of the 240Hz display.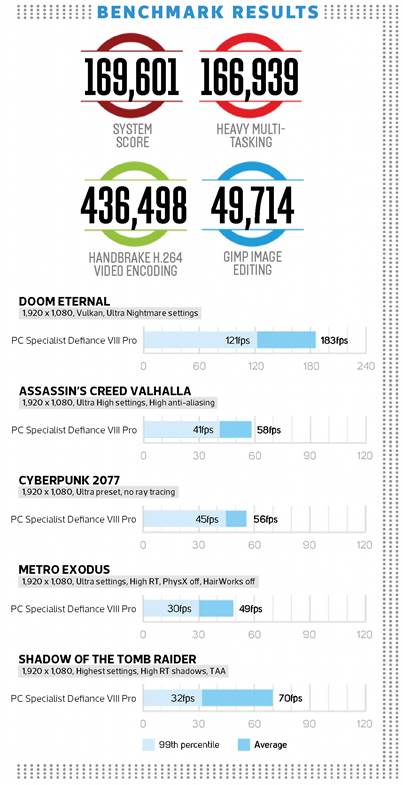 That refresh rate isn't paired with active sync, but the Defiance's display still delivers smooth gameplay in fast ­paced titles. The brightness of 308cd/m2 is good enough for indoor use, and the contrast ratio of 1,062:1 delivers decent vibrancy and depth. The delta E of 1.6 is good and the sRGB coverage level of 95 per cent is solid, but the colour temperature of 7,272K is cool. That's not ruinous, though, and the PC Specialist's panel is easily good enough for everyday gaming and work – just don't expect it to hold up for colour ­sensitive workloads.
Meanwhile, the processor is only ordinary these days – its overall result of 169,601 is outpaced by last year's AMD Ryzen 7 4800H, and laptops such as the Asus TUF Gaming A15 now come equipped with a Ryzen 7 5800H and an RTX 3070. The Core i7 CPU is still fine – it won't cause gaming bottlenecks and it will easily handle everyday workloads and photo editing, but it's now outclassed by the AMD competition.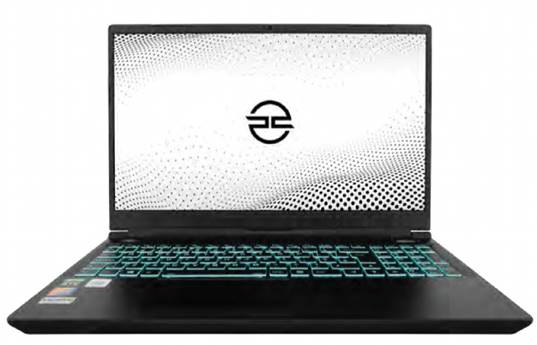 The PC Specialist is mixed thermal performer too. When gaming, noise levels aren't bad – a headset will easily mask the moderate output – and the GPU regularly boosted to clock speeds beyond 1650MHz. The Defiance was quieter when handling both single- and multi-threaded workloads, too. The GPU's peak delta T of 51°C is fine.
However, the CPU ran a little hotter: during a multi­threaded work benchmark it peaked at 68°C and then slowly throttled to an all-core speed of 2.9GHz, which is short of the chip's theoretical all-core Turbo peak of 4.2GHz. In a single­ threaded test, the CPU was faster, so the Defiance is clearly better suited to gaming and single-threaded tasks, rather than large multi-core workloads.
Don't expect much from the speakers either – they're loud, but tinny, with high-end distortion, little depth and no bass. The included SoundBlaster Atlas app has profiles for different game genres, but they make no real difference. A headset would be much better. Finally, when gaming, the battery lasted for just under two hours, and its lifespan extended to four hours when working, which is reasonable for a gaming laptop.
Conclusion
The Defiance has enough gaming power to handle any 1080p gaming scenario and it serves up a good display, solid connections and a low price. The lower price does mean an underwhelming case, CPU, and keyboard though – problems that could be solved by spending a bit more cash. We'd recommend splashing out a little more money if you can find it, but if not, the Defiance remains a decent option for affordable, unfussy mainstream gaming.
MIKE JENNINGS
VERDICT
PC Specialist Defiance VII Pro Review
Decent gaming speed, a solid display and a low price, but it's a bit rough around the edges.
PROS
Solid 1080p gaming speed
Customizable spec
Very affordable
CONS
Mediocre chassis
Middling keyboard
Terrible speakers
Add your review
MORE DEALS

See also THE COMPLETE GUIDE TO…OLED laptops