SUPPLIER overclockers.co.uk
Positive
Fantastic GPU
Huge CPU power
Impressive design
High-end components
Negatives
Poor keyboard and trackpad layout
GPU isn't 4K-capable
Some heat issues
Expensive
Spec
CPU 3.3GHz AMD Ryzen 9 5900HX
Memory 32GB 3200MHz DDR4
Graphics Nvidia GeForce RTX 3080 Mobile 16GB
Screen 15.6in 3,840 x 2,160 IPS 120Hz; 14in 3,840 x 1,100 IPS touch-screen
Storage 2 x 1TB Samsung PM981 PCI-E 3 NVMe SSDs in RAID 0 configuration
Networking Dual-band 802.11ax Wi-Fi, Gigabit Ethernet, Bluetooth 5.1
Weight 2.5kg
Ports 3 x USB 3.2 Gen 2, 1 x USB 3.2 Gen 2 Type-C/DisplayPort, 1 x audio, 1 x HDMI, 1 x micro-SD slot
Dimensions (mm) 260 x 268 x 21 (W x D x H)
Operating system Windows 10 Home 64-bit
Warranty One year parts and labor return to base
Asus' Zephyrus Duo SE GX551 is one of the first RTX 3080 laptops to come out the door, and Nvidia's Ampere-powered portable GPU has a fearsome specification, including 6,144 CUDA cores and a 1545MHz boost clock and even up to 16GB of GDDR6 memory in the version used here. The mobile RTX 3080 is 2,560 CUDA cores short of the desktop card, but it's still mighty for a mobile chip.
This laptop also uses AMD's latest Zen 3-powered Ryzen 9 5900HX laptop CPU, with eight SMT-enabled cores and 4.6GHz turbo peak. The GX551 has 32GB of 3200MHz DDR4 memory and a 2TB RAID 0 storage array, comprising a pair of 1TB Samsung PM981 NVMe PCI-E 3 drives. The array delivers stupendous read and write speeds of 6,961MB/sec and 5,499MB/sec, but its striped configuration means data isn't protected if one drive fails. Meanwhile, networking comes from dual­ band Wi-Fi 6 and Gigabit Ethernet, but there's no 2.5Gbps Ethernet.
The Asus also has three USB 3.2 Gen 2 ports and a Type-C connector, plus several ports are installed at the rear, so cable tidying is easier when you're at a desk. The power connector sits awkwardly about halfway down the left-hand edge, though, and most of the USB ports sit towards the front, so cables could obstruct your mouse. It's also disappointing to see just a micro­SD card slot, not a full-sized SD reader, and there's no webcam either.
The Duo's defining external feature is the ScreenPad Plus, which is installed in the base and pitches upwards when the laptop is opened, to improve viewing angles and cooling. It sits below the main display, which is a 15.6in IPS panel with a 120Hz refresh rate, a 4K resolution and Pantone certification – alongside a 3ms response time.
The 3,840 x 1,100 touch-screen has a customisable shortcut dock,
alongside dedicated apps for games such as League of Legends, Fortnite and CS:GO. The ScreenPad is useful in creative applications too – you can move timelines and controls to the touch-screen or use it for secondary apps.
The second screen and beefy internals mean the Duo's physical design is inevitably compromised though. The 21mm thickness and 2.5kg weight are decent considering what's on offer and the build quality is superb, but conventional laptops are slimmer and lighter. There's also no getting around the price for the second screen. Drop the ScreenPad and compromise on the CPU and you can find RTX 3080 machines from £.
The biggest compromise concerns the keyboard and trackpad, which are both pushed to the front. The trackpad is too narrow, with soft buttons. The keyboard is cramped, and the buttons are fast but soft, while their 1.4mm of travel is mediocre. Asus tries to address layout issues by including a wrist rest, but it can't be secured to the laptop and it's too small. For mainstream use on a desk, the keyboard is passable, but more space and snappier typing would be preferable at this price.
The RTX 3080 scythed through games at 1080p – it returned 99th percentile minimums of between 43fps and 98fps in our core titles, as well as Metro Exodus with High ray tracing, and the frame rates remained playable with ray tracing and DLSS enabled at 2,560 x 1,440.
Sadly, though, the GPU doesn't have enough power to play demanding games at the screen's native 4K resolution. The RTX 3080 was only playable in Cyberpunk 2077 at Ultra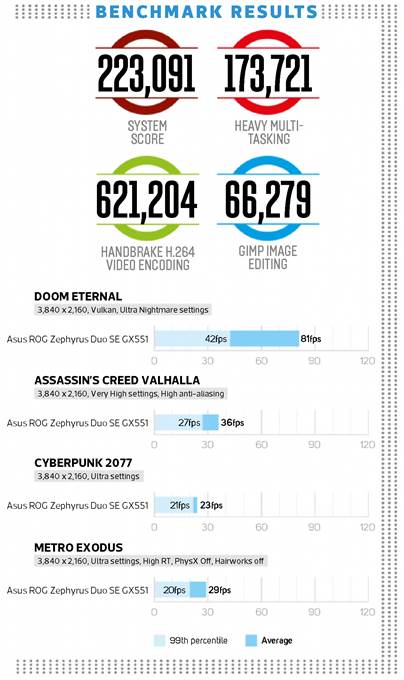 settings if we enabled DLSS (without ray tracing), and its Assassin's Creed Valhalla minimums dipped below 30fps.
The new AMD CPU is a monster though. The single­threaded image editing score of 66,279 is almost 10,000 points beyond the results from any Intel laptop chip, and its Handbrake video encoding result of 621,204 trounces any competition. The Duo will handle 4K video work and other high-end content-creation tasks with ease.
The Asus produces fan noise when gaming, but it's no worse than other high-end laptops. During work tests, the processor hit a single-core peak of 4.5GHz and an all-core turbo peak of 4.1GHz. It attained a delta T of 72°C, which is the CPU's maximum temperature, but clock speeds never declined and there was never any instability.
The processor is limited to drawing 50W when the GPU is active, and this means the CPU throttles to 3.7GHz on all cores during graphical workloads. Asus has clearly had to do some work to keep the thermals balanced, but no matter what the task, the noise levels are reasonable and there's always enormous power available.
The biggest problem is heat. During gaming and CPU­intensive workloads, hot air is vented from the right of the machine and the underside becomes too hot to touch.
Thankfully, system stability never suffered, and this laptop will rarely leave a desktop anyway. Expect to be desk­bound because of the battery too. While the Duo lasted for three hours during work, it barely made it through an hour of gaming.
Meanwhile, the main panel has a 1,144:1 contrast ratio and a 6,740K colour temperature, and it renders 100 per cent of the sRGB and Adobe RGB gamuts. The only issue is the delta E of 4.33, which is good rather than great, but this display is generally bold, punchy, and excellent for gaming and work. The ScreenPad has lower contrast and poorer colours, but accuracy is more important on the primary panel. The two 4W speakers and two 2W tweeters are great too – they're loud and clear, with balanced bass and a crisp top end.
The Zephyrus Duo has more power than any other laptop we've tested. The dual-screen design can be useful in some scenarios, and the machine is surprisingly slim. The second screen is hardly an essential, though, and it hampers keyboard and trackpad quality. Also, the GPU can't handle demanding 4K gaming, and the Asus is expensive and sometimes hot and loud. If you've got money to burn and you'll benefit from the second screen, then the Asus is an impressive showcase of new technology, but most people will be better off saving a big chunk of money and buying a conventional laptop.
MIKE JENNINGS
World-beating power and innovative design, but it's also expensive and the design could be improved in some key areas.
PROS
Fantastic GPU
Huge CPU power
Impressive design
High-end components
CONS
Poor keyboard and trackpad layout
GPU isn't 4K-capable
Some heat issues
Expensive
Add your review
Best Asus ROG Zephyrus Duo SE GX551 prices ?
MORE DEALS

See also THE COMPLETE GUIDE TO…OLED laptops