Toshiba's laptop division turned into Dynabook a couple of years ago, but the X40-J range is the first to introduce a change in the overall design. It retains an attractive if understated dark-blue finish, but there are now thin silver outlines on the power key and trackpad. These match the silver metal hinge, which stretches almost the entire width. Also, while it sticks to a familiar aluminium chassis, the plastic base has a classy pinstripe effect. Read our Dynabook Portégé X40-J-11C Review.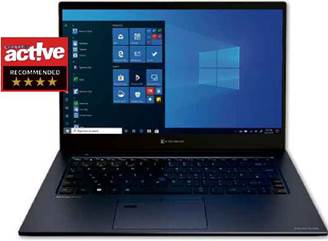 A solid, quiet laptop that makes light work of everyday tasks
For a 14in laptop, it's compact, thin and reasonably light at 1.4kg. It performed well in our Windows-based tests, which was something of a surprise because it comes with only 8GB of memory (we'd usually prefer 16GB). We also tested the speed of the SSD in isolation and, while it proved perfectly fine at reading data (ie, opening it) it was a little slow when writing it (ie, saving). This didn't slow it down in everyday tasks, however.
Better still, this solid performance isn't accompanied by the constant sound of noisy fans, which kicked in rarely during our tests and remained pretty quiet when they did. This may not provide enough cooling if you're going to put huge demands on the laptop, but for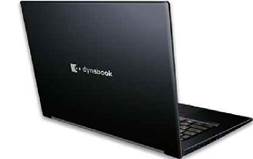 office work and web browsing it's perfectly adequate.
However, it didn't fare so well in our gaming tests, despite using Intel's Xe graphics hardware, which offers decent gaming performance on other laptops. We found that frame rates were around half of what we've seen on similarly priced rivals.
The touchscreen bends back 180 degress (though not 360 degress for a full tablet-type experience) and benefits from an effective anti-glare coating, which cuts out reflections. What you don't get is anything close to the full range of sRGB colours, with only 54 per cent displayed during our tests. As a result it looks drab when placed next to superior screens, though It's fine in isolation, helped by decent levels of contrast and brightness.
The keyboard is backlit, well designed and quiet to type on. Touch typists will have no problem, but we found the keys to be a little light on resistance. However, the spacebar is a little too short – occasionally we missed it while typing – and you might find that the trackpad, which measures 100x58mm, is too small for the way you work.
The 720p webcam comes with a privacy shutter and is built into the top of the screen. Like the screen, its colours lack punch, but the overall quality is impressive and the dual microphones do an excellent job of capturing voices. The speakers are also far better than you might expect from a laptop that isn't specifically designed for entertainment. However, they are built into the front underside of the chassis and we found that our wrists smothered their output when we were typing.
The laptop has two USB-C ports on the left, along with an HDMI output and microSD card slot. There are two USB 3.0 ports on the right edge. There's no Ethernet port but hopefully the built-in Wi-Fi 6 will make up for that.
SPECIFICATIONS
Quad-core Intel Core i7-1165C7 processor 8GB memory • Intel Xe graphics • 14in 1920×1080-pixel IPS touchscreen • 256GB SSD 720p webcam • Wi-Fi 6 • Bluetooth 5.1 • 1x HDMI port • 2x USB-C ports • 2x USB 3.0 ports Windows 10 Pro • 17.9x323x220mm (HxWxD) • 1.4 kg • One-year warranty
VERDICT
Dynabook Portégé X40-J-11C Review
A competitively priced laptop that a drab screen apart, provides quality In all the right places
Add your review
Best Dynabook Portégé X40-J-11C prices ?
MORE DEALS

See also THE COMPLETE GUIDE TO…OLED laptops
ALTERNATIVE
Lenovo Yoga Slim 7
Using an AMD processor Instead of an Intel one makes this a significantly more affordable 14in laptop