Too cool for school. Read our Dell Latitude 3300 Review.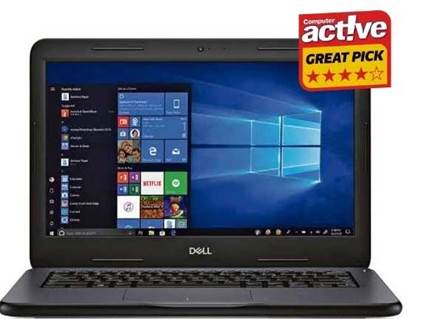 Bornean Orangutans. Hawksbill Turtles. Yangtze Finless Porpoises. Bezels. They're all in danger of extinction. If the border around the screen of the typical premium laptop gets any slimmer, it might disappear completely. Fortunately, a few traditional laptops are still being bred in captivity, and this one is a surviving example of the kind of PC that once roamed Europe, the Middle East and Africa. At least, that's the division of Dell that's selling it.
Despite the compromises, you'll struggle to find a better performing laptop at this price
Designed and priced to appeal to the education market, the Latitude 3300 has a 13in screen squeezed into a chassis the size and weight of – well, a Min laptop. That leaves plenty of room at the top for a webcam, which gave us a clear picture for video chats even in low light. Its resolution is a fairly coarse 720p, but a 1080p Full HD camera would have been pointless considering that the screen can only show 1366×768 pixels. That's low by today's standards, but sharper at this size than Full HD on a 21.5in monitor.
Brightness, contrast and colour accuracy are all mediocre, but that's as we'd expect in this price bracket; it's adequate for general use and the occasional Netflix programme.
The case is a far cry from the glut of top-end slim aluminium models,  featuring black  plastic, some more black plastic and a bit of grey plastic. But it feels a lot less upsetting when you drop it on the floor, something that's relatively unlikely thanks to rubberised highlights. It's not quite as tough as it looks: the lid will bend if you twist it (don't) and the base has a little bit of give in it when you hammer the keyboard.
The keys themselves aren't the most robust, either, with short travel and an unconvincing clack – but considering Apple's MacBook Fro, one of the priciest laptops on the market, has had notorious keyboard quality problems, we can't complain too much about a machine costing 600 quid. We did manage to type without much trouble, and the touchpad, which has an old fashioned grainy feel rather than a glassy finish, worked smoothly, without any accidental activations.
Inside is no bargain-bin Celeron or Pentium processor, but a capable quad-core i5-8250U that wasn't held back by overheating in our tests. Accompanied by 8GB of memory and a 256GB SSD, it'll keep everyday Windows
SPECIFICATIONS
1.6GHz Intel i5-8250U quad-core processor • 8GB memory • 256GB SSD • 13.3in 1366×768-plxel screen • Webcam • USB-C port • 2x USB 3.0 Gen1 ports • 802.11ac Wi-Fi • Bluetooth 4.2 • Gigabit Ethernet • MicroSD card slot • HDMI output • Windows 10 Pro • 22.3x330x230mm (HxWxD) • 1.6kg • One-year warranty
10 tasks running smoothly even if you like to flick between programs or leave a lot of web-browser tabs open. Serious 3D gaming isn't happening, but simpler activities won't tax it. And at just over nine hours in our video-playback test, battery life is very practical.
Despite the compromises, you'll struggle to find a better performing laptop at this price. Acer's Swift 3 has a Full HD 15.6in screen and is now discounted to just £ with similar memory and storage and an AMD Ryzen 7 2700U chip – a better configuration at a lower price than when we tested it. But it's heavier and has just over a third of the Latitude 3300's battery life.
VERDICT
Best price
Dell Latitude 3300 Review
With a decent processor and surprisingly long battery life, this is a good basic all-round laptop
Add your review
Best Dell Latitude 3300 prices ?
$

180.00
1 new from $180.00
in stock

MORE DEALS

See also THE COMPLETE GUIDE TO…OLED laptops
ALTERNATIVE
Similar specs and a sharper screen, but it weighs 2.1kg and the battery lasted just over three hours