A fast Windows 10 laptop for less than you'd expect.
When you think of a laptop nowadays, you probably think of something like a MacBook Air. Incredibly slim, conveniently light, and neatly carved out of a single piece of aluminium. Everything is perfectly designed and engineered into place. And that's where it's staying, because you can only buy a MacBook Air with a minimal set of features, and not even a trained engineer could shoehorn in anything else.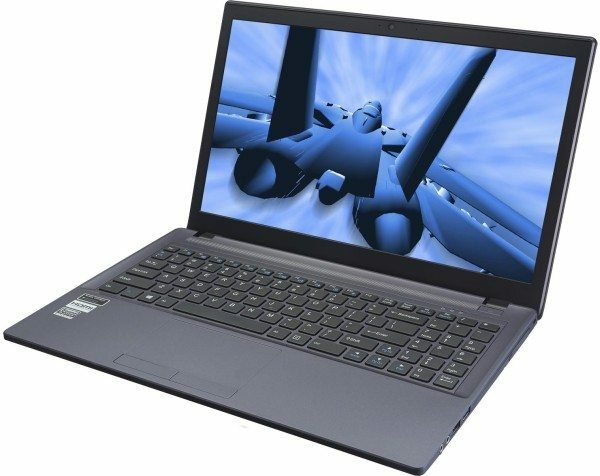 This isn't that kind of laptop. The Cosmos IV is a chunky black plastic slab, its industrial lines clumsily interrupted by ports, grilles and sockets. From the side, the lid looks like someone found a Mk2 Ford Escort bonnet in a skip and bent it to fit their Volvo. The DVD drive fascia is nearly the right shape, but the wrong color. Nobody uses the analogue VGA monitor port any more, and it's too big for modern laptops – but they've wedged one in anyway, as well as the HDMI socket that supersedes it. Now that Wi-Fi is standard, most laptops leave you to use a USB adapter if you want a wired network connection – but the Cosmos IV has an Ethernet socket too. And in case two USB 3.0 ports aren't enough, there's also an eSATA interface for fast external storage. You might think all this makes the Cosmos IV a bit of a mess, or you might just be grateful that all these features still exist. This is a machine made in the old-fashioned style, and that means you get to choose what goes inside as well as what's on the outside. PC Specialist builds each unit to order, and installs your preferred version of Windows, including Windows 10. We picked what we reckoned was the best-value configuration, and it makes up in performance what it lacks in portability. A quad-core Intel i5 processor from the latest Skylakeseries is more than adequate for web browsing, video and multitasking between several office apps. A sensible 8GB of memory ensures there's little hesitation even when returning to a program that's been idle for some time. This is helped by Windows being installed on a built-in 128GB SSD, which is much quicker than a mechanical hard drive. About 70GB is left free for more programs and files, and for the rest of your stuff there's a 1TB hard drive installed too. That bulky case begins to make sense. And there's more, because they've also crammed in a proper graphics card, the Nvidia GeForce 940M, with 2GB of its own memory. That means you can run 3D games in Full HD, at least with their quality settings turned down a bit, and even the fanciest new titles will work if you compromise on resolution. You'll want headphones or speakers for this PC, because the built-in audio is poor. But the usefully big 15.6in 1920×1080-pixel screen is bright and vibrant, with dark blacks for high contrast. The keyboard isn't backlit, which will be annoying when you need to work or play in dim light, but feels pleasant and accurate to type on, and we found the touchpad, a frustratingly weak point of some affordable laptops, very responsive. Intel's Skylake chips are designed for power efficiency, but the Cosmos IV's battery still lasted us only four-and-a-half hours, and that would plummet with heavy use of 3D graphics. It's really too heavy to carry around regularly anyway, but quite practical to move around the house or take on trips in the car. And, if you squint, it doesn't look that awful. For the money, you'd be pushed to find a more capable laptop. It's neither the prettiest nor the most portable laptop, but the performance is hard to beat in this price bracket.
2.3GHz Intel i5-6300HQ quad-core processor • 8GB memory • 128GB flash storage • 1TB hard drive • Nvidia GeForce 940M graphics • 15.6in 1920×1080-pixel screen • Webcam • 802.11n Wi-Fi • Bluetooth 4.0 • 1x USB 2.0 port • 2x USB 3.0 ports • Gigabit Ethernet port • HDMI port • Windows 10 • 31x374x252mm (HxWxD) • 2.5kg • One-year warranty.