The Apache Pro is an eminently powerful, if rather expensive, gaming laptop
MSI'S GAMING LAPTOPS are all built into the same hulking black chassis, and the GE72 6QF Apache Pro is no different. The brushed-aluminium finish looks familiar, as do the crimped lid and red splashes. It's an aggressive look typical of gaming laptops and goes some way to matching the imposing size. Weighing a significant 2.7kg and at 27mm thick, the GE72 isn't designed for portable use, but it's actually 2kg lighter than the Asus G751JT.
The 17.3in screen is the reason for the large footprint. Its 1,920×1,080 resolution is the minimum we'd expect from a screen this size, and the anti-glare coating reduces distracting reflections. Black levels are deep at 0.37cd/m2, and a peak brightness of 330cd/m2 is high enough for outdoor use at a pinch. Contrast was lower than we'd have liked, with a ratio of 808:1, but images and video had enough punch. At 86% of the sRGB gamut, colour accuracy is fine for gaming but below what you'd want for professional work.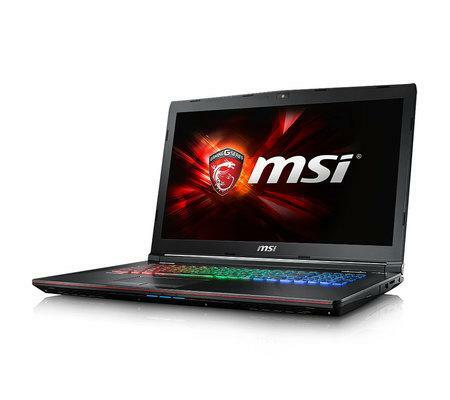 The built-in speakers are surprisingly impactful, with real presence and volume. A headset is still the best option for gaming, but the GE72 is fine for casual listening.
SKY'S THE LIMIT
MSI has made the switch to Intel's Skylake chips for the GE72, opting for a quad-core ¡7-6700HQ that runs at 2.6GHz and can boost to 3.6GFIz. It's paired with 16GB of 2,133MHz DDR4 memory, and delivers a respectable performance jump over the Flaswell processor in last year's GE62. Scores were impressive across the board, with 116 overall versus 105 from the Haswell laptop, but Skylake excels at multitasking and video encoding in particular.
The GE72 uses an Nvidia GeForce GTX 970M with 3GB of GDDR5 memory for its all-important gaming performance. It performed as well as other 970M-equipped systems, scoring 84.5fps in Dirt Showdown at 1,920×1,080 and Ultra graphics, and 30.5fps in Metro Last Light at 1,920×1,080 with SSAA enabled. Turning this off made the frame rate leap to 5Sfps.
In our battery benchmark, the GE72 lasted 2h 40m which is about average for a gaming laptop under light use. Battery life will be a fraction of that when gaming, though, so you'll definitely want to plug the laptop in for anything other than web browsing.
A 128GB SSD and 1TB hard disk are included as standard, and although other configurations offer up to four PCI-E SSDs, they become eye-wateringly expensive. The SSD boot drive could have been bigger: with Windows 10, our benchmarks and a few games installed, we were very short of space.
MACRO MANAGEMENT
Gaming peripheral maker SteelSeries supplies the backlit keyboard. The keys have just enough travel and feedback to aid accuracy, and they're well spaced, so you won't mishit keys as you frantically mash at the keyboard during an intense gunfight. It offers the macro customizations you'd expect of a gaming keyboard – available through preinstalled software – but there are no dedicated macro keys. We've seen these on gaming laptops from Gigabyte, and with plenty of room on the G72's chassis, a vertical row of macro keys would easily have fit in. Without them macros are fiddly to use. The customisation software extends to customising the colors and brightness levels of the backlit keys.
The touchpad is reasonably sized and set off-centre to the keyboard, but it's unlikely to get much use in games, where a USB mouse makes more sense. Even in day-to-day use it was a little frustrating, with occasionally unresponsive multi-finger gestures and a rough finish.
The usual ports are provided, including two USB3 ports and a single USB2 port. A new inclusion is a USB 3.1 Type-C port, which brings the GE72 up to date and will be useful if you have newer devices that use the connection. There's also Gigabit Ethernet, 802.11ac Wi-Fi and Bluetooth 4.1. You can connect a separate display through HDMI or Mini DisplayPort, and audio is handled through a microphone and headphone jack that doubles as an optical S/PDIF for up to 7.1 audio. A convenient SD card reader is included and there's even room for an optical DVD-RW drive, too.
There's a lot to like about the GE72 6QF Apache Pro. It's powerful, which is no surprise considering its high specification, and has plenty of connections, as well as some useful extras for gamers. The only real negatives are its design, which is beginning to feel a little basic, and the miserly SSD storage. Compared with some of its rivals, such as the Gigabyte P37W and Asus G751)T, it's otherwise better specified and good value. It will be interesting to see what MSI's competitors can do with their new Skylake laptops but for now, the GE72 is an impressive yardstick.

SPECIFICATIONS
PROCESSOR Quad-core 2.6GHz Intel Core ¡7-6700H
RAM 16GB
SIZE 383x260x27mm
WEIGHT 2.7kg
SCREEN SIZE 17.3in
SCREEN RESOLUTION 1,920×1,080
GRAPHICS ADAPTOR Nvidia GeForce GTX 970M
TOTAL STORAGE 128GB SSD, 1TB hard disk
OPERATING SYSTEM Windows 10 Home 64-bit
PARTS AND LABOUR WARRANTY Two year collect and return