IMAGE EDITOR – Paint.net 4.0.21
What you need: Windows 7.8.1 or 10 (v1607 and higher)
We love Paint.net. It's free and offers tons of advanced image-editing tools in an easy-to-use interface. It also has an active, friendly online community (https://forums.getpaint.net), and lots of user-created content, including tutorials and plugins.
The latest version (4.0.21) offers a Dark theme that brings Paint.net's look bang up to date and also makes it easier to focus on the photos themselves. We show you how to enable this in the mini-workshop below.
Other improvements include support for high-DPI screens and the ability to view File Explorer thumbnails for TGA and DDS file types. The new release also fixes several bugs, including one that previously risked data loss when saving files larger than 4GB.
Perhaps the most important change is one that you may not even notice. Paint.net is now powered by Microsoft's updated .NET Framework 4.7 software environment, which makes programs safer and more powerful. If you don't already have .NET Framework 4.7 installed on your PC, you'll be prompted to download it when you install Paint.net 4.0.21.
It's worth pointing out, however, that the move to 4.7 may have an impact on compatibility, depending on the version of Windows you're running. The original version of Windows 8 and any version of Windows 10 before the Anniversary Update (1607) aren't supported.
The new version of Paint.net is available to download from the link above or via the Windows Store. Just remember that while the 'classic' desktop version is free.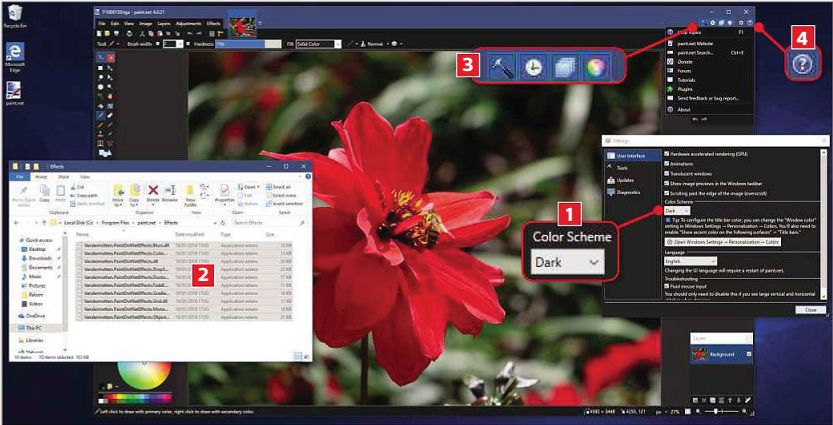 1 To enable Paint.net's new Dark theme, click the settings (cog) icon in the top-right comer, click the User Interface tab, then select Dark in the Color Scheme dropdown menu.
2 There are loads of great free plug-ins for Paint.net available from www.snipca.com/26788. Download any you want, unzip them and move the 'dll' files to the C:\Program Files\paint.net\Effects folder.
3 By default, Paint.net displays the Tools. History, Layers and Colours palettes in the four comers of the program window, but you can move them anywhere or turn them on and off with these buttons.
4 For quick access to Paint.net's forums, plug-ins and tutorials, click the question-mark icon and select the link you need. You can also report bugs to the developer from here.