IN BRIEF
The OpenSUSE Project is making big changes, so this will be the penultimate release. Still, it's hitting with a strong finish, including an intuitive installer and a cornucopia of desktop environments. Read our OpenSUSE 15-5 Review.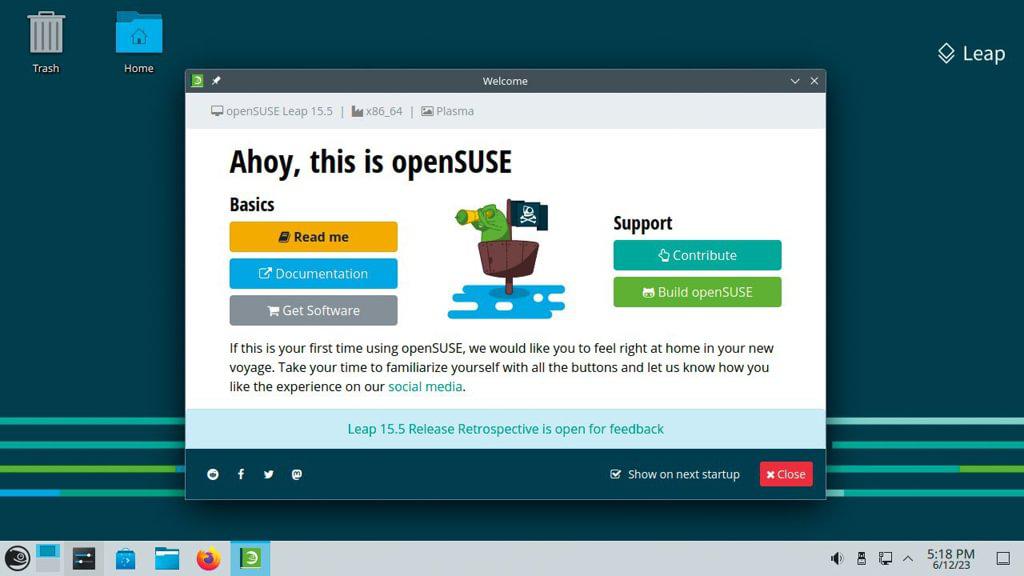 SPECS
CPU: 1.6GHz
Mem: 1.5GB (2GB recommended)
HDD: 16GB
Builds: x86_64, ARM, S390, RISC-V, Power
The OpenSUSE project is a community programme T sponsored by SUSE Linux and other companies. Its fruits are the free and open source RPMbased OpenSUSE Linux distro.
OpenSUSE itself is based on the most recent version of SUSE Linux Enterprise (in this case v15, Service Pack 5). This is available both as a tested rolling release (code name Tumbleweed) and a stable annual release (code name Leap).
This review focuses on the latest Leap of OpenSUSE, which will be the penultimate fixed release version, as the project switches to a new distribution model. The good news is that the repositories for OpenSUSE Leap and SUSE Linux Enterprise (SLE) have been merged as of v15.13, so contain the same source code and binary packages whether you're using the free or premium version.
To take OpenSUSE for a spin, you must choose between the heavy offline ISO installer, which weighs in at 4.7GB, or the featherweight 200MB network image.
The OpenSUSE project has three main goals. Two of these are to make OpenSUSE the easiest Linux for anyone to obtain as well as make it the world's most usable Linux distro and desktop environment for new and experienced Linux users. Given these admirable goals, we were keen to fire up the installer. This is provided by YaST2 (Yet Another Setup Tool), which invited us to enable the online repositories to run updates during the install process.
The installer offered us a choice of the Plasma, Gnome or Xfce desktop environments during setup. This might explain the colossal size of the offline installer if it contains multiple desktop environments.
We chose Plasma, as a little bird told us that this is v5.27, which is the Long Term Support version. The installer also provided a handy list of all packages to be loaded before proceeding. Rather helpfully, the installer also offered us a chance to read the release notes as it was working. This was where we found out that the Gnome To Do utility has been replaced by Endeavour.
We also discovered the latest version of OpenSUSE checks third-party kernel modules have been properly signed for security reasons. The latest version of Vim is also now preinstalled, with improved performance.
On first boot, the welcome page offered a helpful read-me file to master OpenSUSE basics, as well as links to download further documentation and software.
This is where we learned about OpenSUSE's commitment to free software, which means if you want proprietary programs such as Chrome, you need to download them manually from the website.
Web browsing is provided by Firefox v102.12.0esr (Extended Support Release), while the default search engine is the privacy-conscious DuckDuckGo. The KDE Panel also includes a useful Get Plasma Integration button, which links to the relevant Firefox add-on.
Productivity is handled by LibreOffice (v7.4) and email by KMail. Multimedia playback is covered by the redoubtable VLC Player (3.0.18) and images can be opened with KDE's own Gwenview.
As with its premium bigger brother, OpenSUSE comes with v 5.14.21 of the Linux kernel. It also comes with v3.6.15 of Python 3, although the developers claim that users will soon have a fully usable Python 3.11 stack in parallel to this.
The OpenSUSE project states that users can expect 18 months of support for v15.5, which will carry them over nicely until the final Leap release, v15.6, in June 2024. The rolling Tumbleweed release will continue to be supported for the foreseeable future.