What you need: Windows 10 or 11
As we revealed in our 'Your favourite programs of 2021' round-up in Issue 622 (page 63), O&O AppBuster was Computeractive readers' most downloaded program last year. So we're delighted that this excellent free tool has been updated for 2022, in its first major release for nearly three years, to make removing Windows junk easier than ever.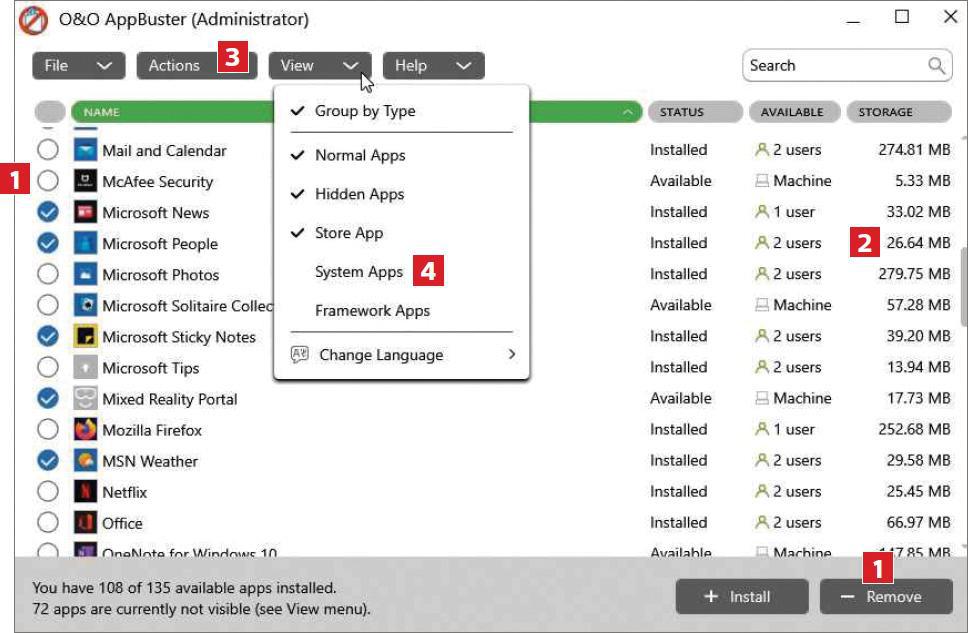 Unsurprisingly, the biggest change in O&O AppBuster 1.1.1340 is that it now supports Windows 11 as well as Windows 10. When you run the program (it doesn't require installation), it will automatically detect which version of the operating system you're using and list all the apps installed by Microsoft and your PC's manufacturer. It found 108 apps on our old Windows 10 laptop and 69 on our Windows 11 machine, including tools we never use such as 3D Viewer, Groove Music, Microsoft People, Mixed Reality Portal and Xbox Console Companion.
O&O AppBuster's layout has been refined, but not redesigned, to help you browse this long list of apps more quickly, so you can select items you don't want and click Remove to uninstall them. As before, you can choose whether to remove apps for only the current user, all users or your entire computer, and create a system restore point in case you decide you need them later. It's also possible to uninstall hidden apps and view unremovable system apps.
One handy new feature saves your settings to a user profile, so you don't have to reconfigure them each time you use the software, while another improvement automatically updates the status of listed apps as soon as you uninstall or reinstall them. Simplicity has always been O&O AppBuster's big strength, so we're pleased the developer hasn't added unnecessary options and kept this powerful junk remover free of clutter.