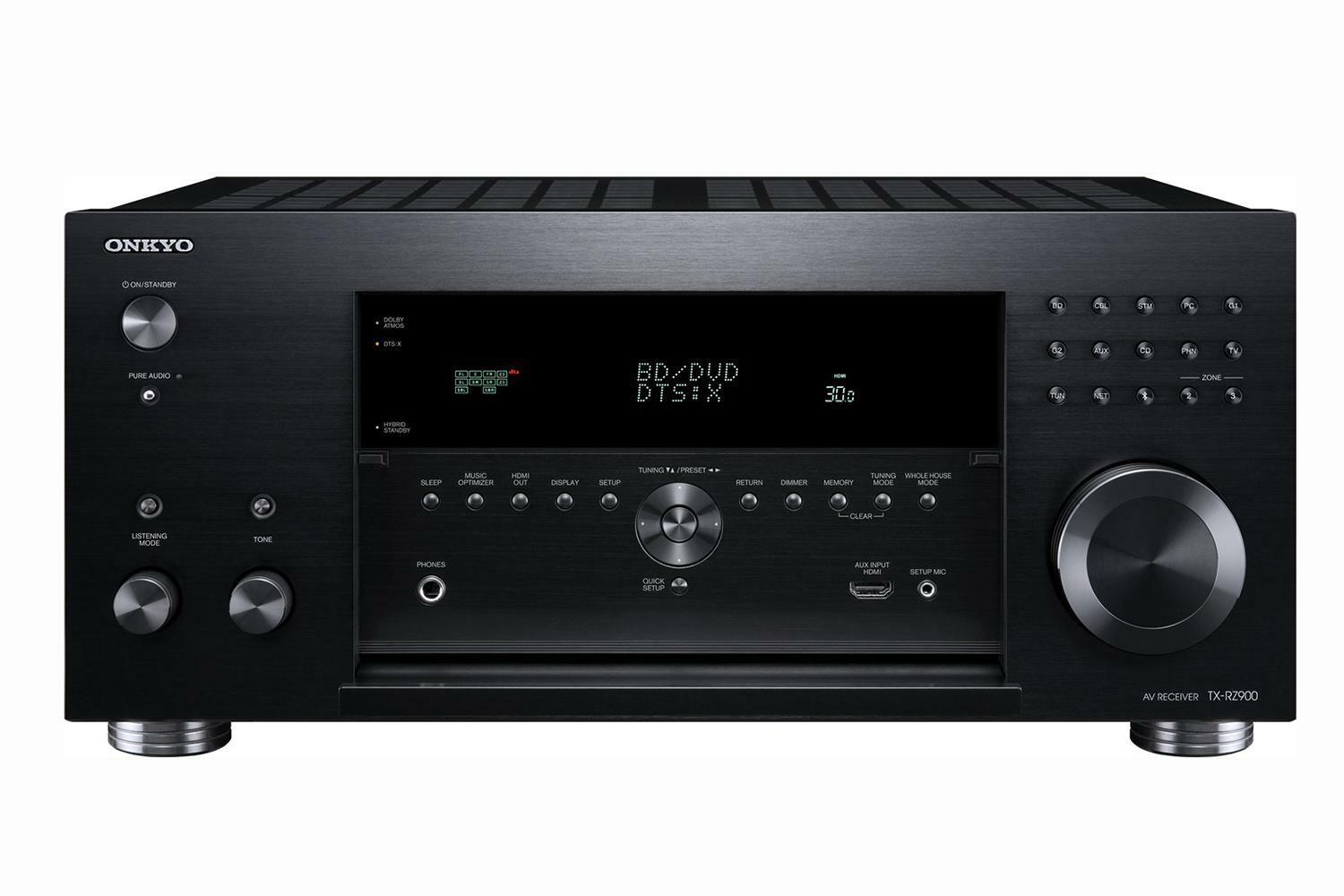 Producing a test report on a "flagship" A/V receiver is always a bit of a high-wire act. On one hand, the receiver represents the top of the line: Maximum power, maximum features, and maximum performance are all expected—and generally delivered. On the other hand, cruiser-class designs rarely offer much of real importance that a model two or three jumps down any given maker's line doesn't also do quite competently—and for roughly half the price, which means it's the model that most folks eventually buy. This leaves the hapless reviewer with the unenviable choice of either damning with faint praise or condemning excellence for its expense.
That said, Onkyo's latest isn't literally top-of-the-line; a couple of preexisting, fully 11.2/9.2-channel models carrying higher MSRPs remain on the company's Website. Nonetheless, I will lead with this advice: If a flagship (or flagshipconsort) model incorporates a feature or real utility you need—in the TX-RZ900's case, this might be Zone 2 HDMI-out—go for it in good conscience. Otherwise, "just because" is probably as good a rationale as any; it's always nice to know you bought the best.
The Setup
Although it's heavy enough at 40 pounds—much of that due to a special toroidal power transformer touted as a boon to sound quality—the newest Onkyo is half the weight of some A/V flagships of yore, so I managed to unbox it and hoist it atop my rack without sustaining permanent injury. The receiver's black-monolith looks are squarely handsome, but its tiny gold-onblack panel graphics proved entirely illegible without strong light and reading glasses. And while the central, drop-down door that conceals secondary controls moved smoothly and closed crisply enough, its closed-position stops—a pair of foam blocks glued to the subpanel—seemed rather inelegant when it was open.
Three important features, the first two also present on newer Onkyo models well down the lineup, highlight the TX-RZ900. First, it's DTS:X-ready, meaning that a future firmware update is promised to deliver DTS's flavor of object-oriented, channel-scalable surround sound—alongside Dolby's flavor, Atmos, which is also included here. Second, the receiver provides HDCP 2.2-capable HDMI connectivity, which means that it will, or at least should, accept forthcoming 4K Ultra HD Blu-ray players. Third, the TX-RZ900 is THX Select2 Plus certified. (THX categories are getting as hard to keep straight as canned-olive grades.) Onkyo also underscores that the HDMI ports support passthrough of high dynamic range (HDR) video, though unlike some other models in Onkyo's line, the TX-RZ900 performs no video processing. It is strictly a what-comes-in-is-what-goes-out device, the sole exception being incoming SD video, which the Onkyo cross-converts to HDMI but does not scale.
Thus, the only video "performance" note I made regarded HDMI source-to-source switching, which seemed noticeably faster than what I've experienced from many other Onkyo AVRs—a welcome upgrade. Otherwise, the TX-RZ900's only real video aspect was its onscreen displays, which were quick, crisp, and readable, though entirely text-based despite a "Features" bullet-point of "Graphical Overlaid OSD." Interestingly, an Onkyo receiver at half the price I reported upon nearly two years ago included very competent Marvel Qdeo video processing.
The little-mourned decline of S-video and composite-video (0/4 jacks, total) makes for a spacious rear panel; hookup was a snap. While billed without qualification as Dolby Atmos/DTS:X-ready, the TX-RZ900 incorporates only seven amplifier channels, so an Atmos/DTS:X setup with more than two "height" speakers—which I think very well worth the trouble—is not an option. Worse, Onkyo does not even permit you to route the two shortchanged channels to an external amplifier: With the TX-RZ900, two height channels is the max, period. Onkyo is by no means alone among the AVR corps in producing receivers in this architecture, but in all cases, and certainly at this price, I deplore the lack of expandability. (Onkyo's $1,699, nine-channel-power TX-NR1030 does permit flexible, 11.2-channel pre-out routing, so we know it's possible.) Neither the TX-RZ900's printed Basic Manual (supplied) nor the online Advanced Manual Web-linked on its cover, make all of this particularly explicit. (Ironically, the Dolby Atmos graphic on the TX-RZ900's page on Onkyo's own Website displays nine loudspeakers.)
In what's likely a cost-saving move (and as several other AVR makers have done), Onkyo has dropped Audyssey EQ/calibration in favor of proprietary software, AccuEQ. This proceeds along similar lines to most, Audyssey included, via a small wired calibration microphone that audits circulating noise bursts, with a brief pause for calculation; the whole deal takes only a few minutes. AccuEQ did quite a laudable job with channel levels and distances in my setup. However, since AccuEQ only takes data from a single mic position, these proved quite variable by a decibel or even 2 dB over fairly small placement differences. For the same reason, the proprietary speaker/room-EQ seems unlikely to be quite as effective as Audyssey's higher-version MultEQ, which takes data from up to eight mic positions (32 in a Pro setup) and presumably deploys considerably more, and more expensive, DSP power to derive filter coefficients. That said, the effect of Onkyo's results versus unequalized sound was generically similar to what I've heard many times from multiple Audyssey versions: a slight opening up of upper-octave sounds, a slight sharpening of soundstage image localizations, and a distinct tightening up of midbass elements. It would be edifying in the extreme to directly compare AccuEQ with MultEQ XT's eight-position setup, but it's just not practicable.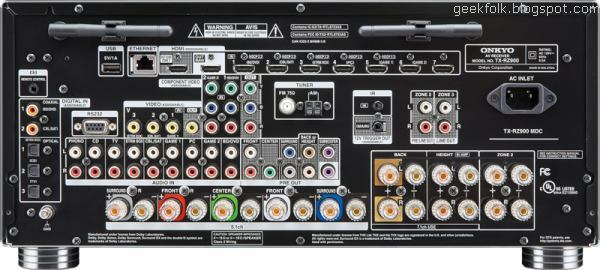 The Hands-On
Aside from its new front panel layout, the TXRZ900 is operationally similar to the last Onkyo receiver I reviewed, more than a year past. The supplied preprogrammed remote controller is virtually the same handset—logically laid out and reasonably readable, at least for the primary, on-key graphics. There's no illumination, though, and you have to return the remote to receiver mode every time you change inputs; otherwise, the newly selected component will respond (if programmed), but the TX-RZ900 won't. Onkyo's handy pop-up adjustments menu is retained, but its name has been rationalized, avoiding the confusion between Setup and Home menus I observed on earlier iterations.
The new model incorporates fundamentally the same network music features as previous Net-ready Onkyos: Internet radio courtesy of TuneIn free radio streaming, plus Pandora, Spotify, Slacker, Deezer, and Sirius/XM subscription services. The TX-RZ900 streamed my music library via my desktop's TwonkyMedia DLNA server, including hi-res FLAC, ALAC, and WAV formats, with all the expected sound quality, and with quicker, more responsive search and access times than I remember from previous models. However, even after updating the receiver to the latest firmware, the TX-RZ900's network streaming interface wouldn't accept DSD files for me (or even display all of them in their parent folers). This, despite Onkyo's cut-sheet claims that it should have, up to DSD 5.6. An upgrade to the latest version of Twonky (8.2) didn't resolve this, while the same DSD files all streamed and played just fine via my Oppo BDP-105 Blu-ray player's network interface, which is connected via a standardEthernet switch on the same network to which the Onkyo was connected. Similarly, I could not get DSD files to play from a USB thumb drive, though Onkyo's manual says that the unit won't do higher than DSD 2.8 from USB in any event.
The TX-RZ900's built-in Wi-Fi connection found my 2.4-gigahertz network without issue and worked with no noticeable sacrifice in speed. I also confirmed the Onkyo's Bluetooth and Apple AirPlay capabilities: Both operated without drama, and the receiver automatically selects its Net input in response to an AirPlay or Bluetooth handshake—pretty cool.
Onkyo headlines the TX-RZ900's power supply with a newly engineered, large, high-current toroidal power transformer, and indeed, audio performance itself was just about faultless. The receiver displayed ample power to drive my mixed, medium-sensitivity loudspeaker suite to reference level in my 3,000-ish-cubic-foot studio, even without active subwoofer support. And while most receivers I've tried that are rated for 100 watts or more can claim the same, the new Onkyo seemed to have a larger margin of headroom (even at a decibel or two above reference level) than some, as well as a pleasingly authoritative, effortless quality on demanding stereo music, whether full-orchestra fortissimos or R&B horn sections.
Thus, at my preferred listening level a few decibels below reference, all was completely pristine. A hi-res recording like Stravinsky's Suite from L'histoire du soldat, from an HDtracks 96/24 download, delivered all the transient crispness, textural complexity, and dynamic conviction I expect from recordings of this caliber. Of particular note were the arrestingly lifelike presence of the declamatory voice and the clarion timbre and pristine attack of the trumpet. (This excellent reading by Die Deutsche Kammerphilharmonie Bremen enjoys a fine recording indeed—the first I've heard to challenge my superb late-1960s Nonesuch LP, produced and engineered by the peerless duo of Marc Aubort and the late Joanna Nickrenz.)
Just as engagingly, the TX-RZ900 gave me an excuse to peruse a few new Atmosequipped Blu-ray titles, if only via a 5.1.2 layout (with just two height speakers, in front). Like bay leaf in a stew, a little Tom Cruise goes a long way; still, the wowfactor of Mission Impossible: Rogue Nation is a course that's hard to skip. You could pick any scene at random, really, but chapter 4—at the Vienna Opera, with chase, banter, and gunplay all interwoven with Turandot—did a great job of demonstrating the big Onkyo's prowess with music, effects, and dialogue, all in the space of a few minutes. Atmos announces itself right from Puccini's famous opening five chords, with the vertical space of the grand opera house well represented, followed by a great up, down, and all around workout in the chase through the backstage fly loft. Throughout this disc and several others, the TX-RZ900 never failed to deliver ample clean dynamics on even the biggest, full-frequency action.
In short, I have no bones to pick with the TX-RZ900's A/V performance: It's flagship-class, soup to nuts. Nor do I mean to pick on the new Onkyo in particular; as I said at the outset, the value proposition for top-of-the-line components is often problematic. The TX-RZ900 is expensive, yes, but it does all the basics we require from an A/V receiver very, very well, abetted by the full complement of up-to-the-minute technologies and features (albeit with the few limitations noted) and driven by playback power and quality that should satisfy the most demanding among us.
VERDICT
Plenty of performance and features, and solid human factors, with an emphasis on core audio quality, at fair "flagship" pricing.
SPECS
Power Output: 7 x 140 wats (2 channels driven)Auto Setup/Room EQ: Proprietary AccuEQVideo Processing: None (HDCP 2.2 HDMI 2.0)Dimensions (WxHxD, Inches): 17.1 x 8 x 17Weight (Pounds): 39.7Video Inputs: HDMI 2.0 (8, 5 with HDCP 2.2), component video (2), composite video (3)Audio Inputs: Stereo analog (8), phono (1); coaxial digital (2), optical digital (3)Additional: USB (1), Wi-Fi/Bluetooth antenna (2), Ethernet, USB (1 rear), RS-232, 12-volt trigger, IRVideo Outputs: HDMI 2.0 (2), component video (1), composite video (1)Audio Outputs: 7.1-ch. analog (1); Zone 2 (1), Zone 3 (1), ¼-inch headphone.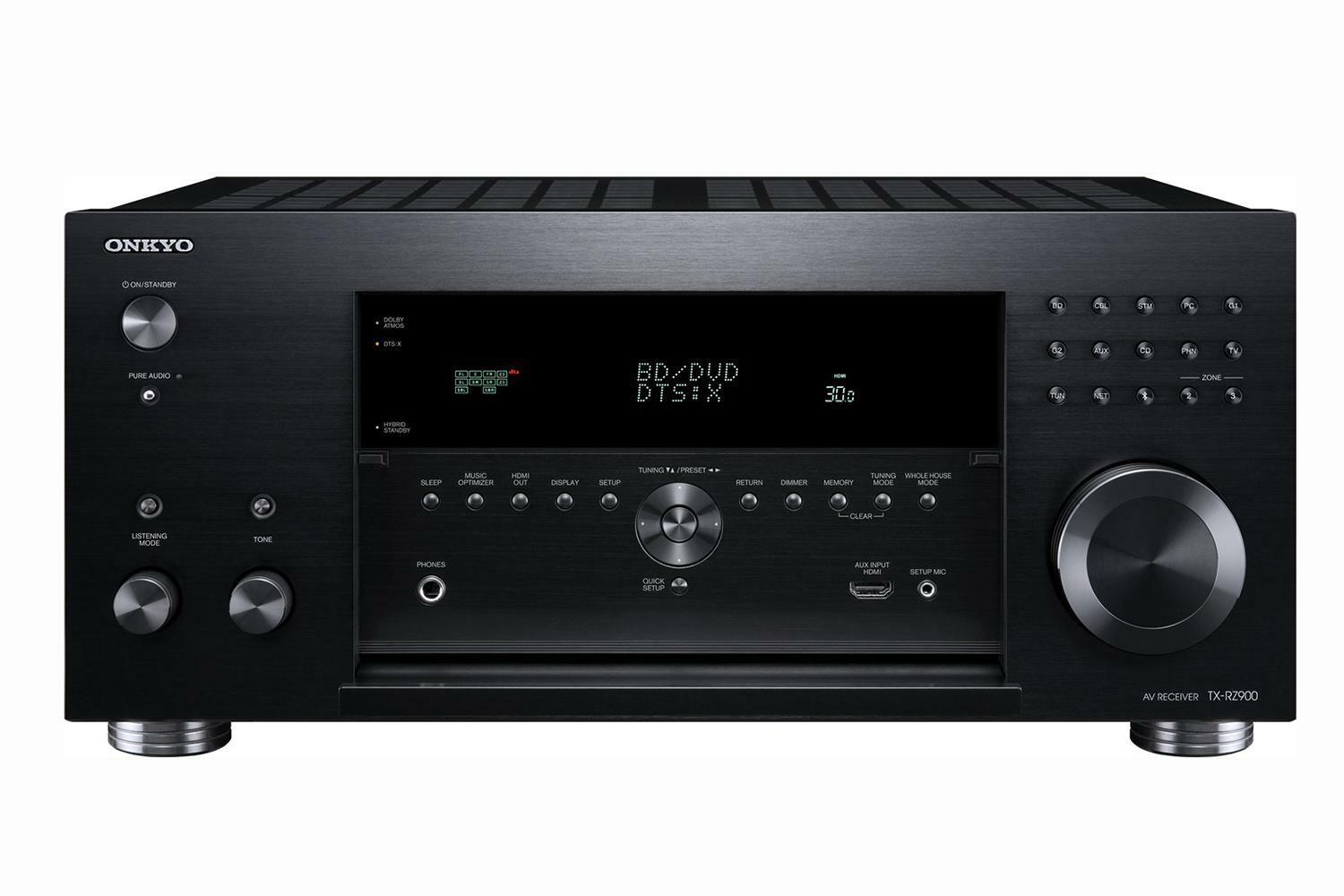 200 W/Ch (6 Ohms, 1 kHz, 0.9% THD, 1 Channel Driven) 140 W/Ch (8 Ohms, 20 Hz–20 kHz, 0.08% THD, 2 Channels Driven)
320 W (3 Ohms, Front) 270 W (4 Ohms, Front) 160 W (8 Ohms, Front)
200 mV/47 k-ohms (Line) 3.5 mV/47 k-ohms (Phono MM)
Last update was on: 2021-10-28 9:01 pm
200 W/Ch (6 Ohms, 1 kHz, 0.9% THD, 1 Channel Driven) 140 W/Ch (8 Ohms, 20 Hz–20 kHz, 0.08% THD, 2 Channels Driven)
320 W (3 Ohms, Front) 270 W (4 Ohms, Front) 160 W (8 Ohms, Front)
200 mV/47 k-ohms (Line) 3.5 mV/47 k-ohms (Phono MM)
1.0 V/470 Ohms (Pre Out) 1.0 V/470 Ohms (Subwoofer Pre Out) 100 mV/2.2 k-ohms (Zone Out) 1.0 V/2.2 k-ohms (Zone Pre Out)
5 Hz–100 kHz/+1 dB, -3 dB (Direct Mode); Dimensions : 17 1/8 - inch x 7 15/16 - inch x 17 1/16 - inch (435 x 201.5 x 433.5 mm) (Height 10 5/16 [261.5 mm] with antennas raised)