Easy reload
The design of the machine means all the stuff you need is in convenient reach.
Tray, ports, interface – no fumbling needed. Connect and go in minutes Don't worry about downloading any software – it's already all there. Just scan for device and print.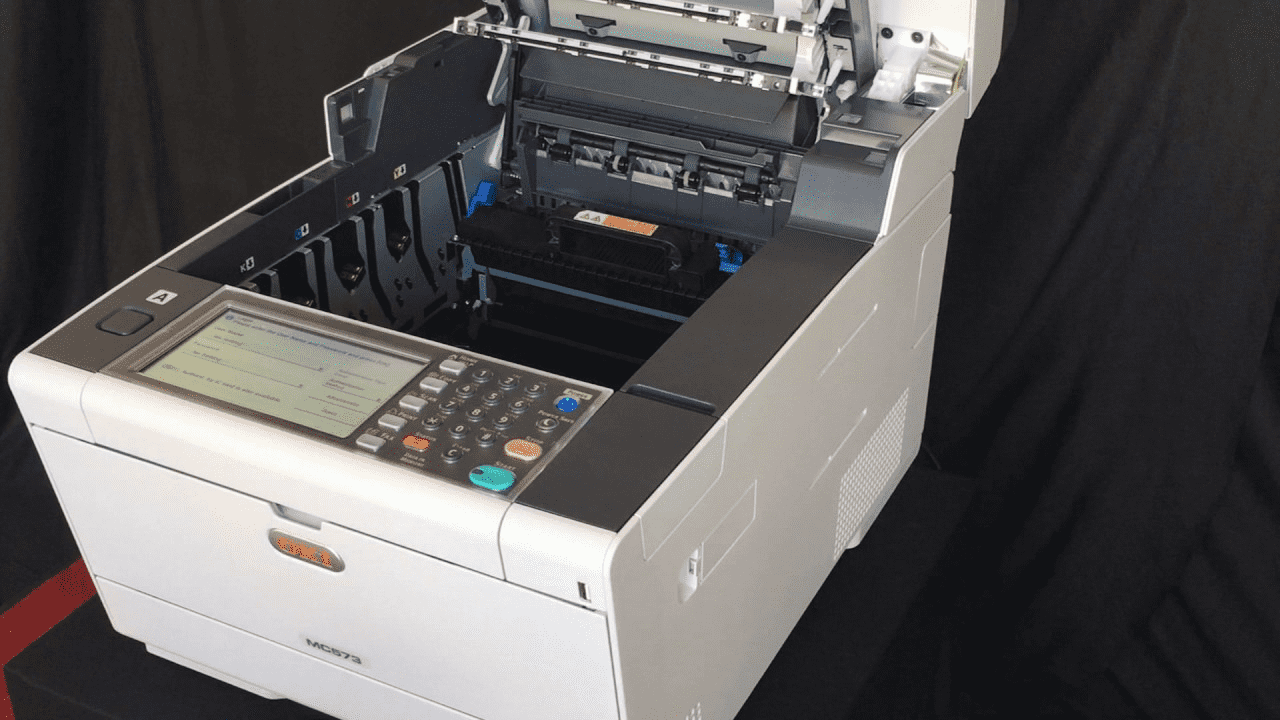 Simple interface
No confusing buttons, does things as said on the tin. Copy? There's a button for that. Scan? There's a button for that. Fax? You already know the answer.
No Rocket Science
The installation is easy and quick – it takes minutes, if that. There's no need for any extra installation – connect you LAN and go. Your devices on the same connection will automatically detect it. The interface is easy enough to use – copy, scan, fax and print – you don't need to figure out any rocket science to use this multifunction printer. It's a small enough machine that can fit on any regular sized table.
No Jam, No Smudge
Print the AGM report, print an IKEA catalog – the printer will still be running smoothly. No worries. Sure, it's not the fastest printer, but it does a decent job, printing a 130- page document taking less than 10 minutes. The colors are quite crisp, and does daily documents quite well. It's not going to look like our magazine you're holding, but it will look professional enough for a business report. There are also no issues about ink smudges found in many rollers.
Color clarity
Scanning and copying documents is quick, easy and clear. The operations are simple, no need to set 101 different settings just to copy or scan. It's all immediately obvious on the MFP's interface. The copy and scan quality is clear, with no fuzzy edges, all the details are clearly reflected on the copies or scans. With the copies, it's nearly indistinguishable to which is the original. You'll have to squint really hard.
VERDICT:
"A solid multi function printer for everyday work use. Simple to operate and no extra setups needed. " – Satoko
OKI MC 573 Review
"A solid multi function printer for everyday work use. Simple to operate and no extra setups needed. " - Satoko
Add your review
MORE DEALS

Specs
DIMENSIONS(WXDXH) : 427 x 576 x 472mm
WEIGHT : < 31 kg approx
WARM-UP TIME: Up to 35 seconds from power on and up to 28 seconds from power save
PRINT SPEED: 30ppm colour/mono
INTERFACE: USB 2.0 Device, 10BaseT/100Base-TX/1000Base-T Ethernet, Host USB x 1 (Front), Host USB x 1 (IC Card Reader connection),, Wireless IEEE802.11a/b/g/n (Optional)
PROTOCOL: All major network protocols supported via ethernet card with internal web server for printer and network card set-up and management.
TCP/IPv4&v6, NetBIOS over TCP, DHCP, DHCPv6, BOOTP, HTTP, HTTPS,  DNS, DDNS, WINS, UPNP, Bonjour, SMTP, POP3, SNMPv1&v3, SNTP, IPP, IPPS, WSD Print, LLTD, IEEE802.1X, LPR, Port9100, Telnet, FTP, AirPrint, Google Cloud Print, Wireless IEEE802.11a/b/g/n, WEP, WPA, WPA2, Personal, Enterprise
SUPPORTED OS: Vista (32-bit & 64-bit) / Server 2008 (32-bit & 64-bit) / Windows 7 (32-bit & 64-bit) / Server 2008 R2 (64-bit) / Windows 8 (32-bit & 64-bit) / Server 2012 (64- bit) / Windows 8.1 (32-bit & 64-bit) / Server
2012 R2 (64-bit) / Windows 10 (32-bit & 64- bit); Linux PPD; Mac OS X 10.8.5 to 10.11
MEMORY (STD./MAX.): 1GB RAM; 3GB eMMC
INPUT CAPACITY: TRAY 1: 250 sheets of 80gsm; Multi-purpose tray: 100 sheets of 80gsm; RADF: 50 sheets of 80gsm
OUTPUT CAPACITY: Face Down: 150 sheets of 80gsm; Face Up: 100 sheets of 80gsm