Computeractive's Office expert Jonathan Parkyn explains what your options are
On 10 October, Office 2007 will reach the end of its 'extended'support period, meaning it will join other dearly departed Microsoft products -such as Windows XP, Vista and Office 2003 – in the great software store in the sky.
At the end of a support period Microsoft stops releasing security fixes for any newly discovered vulnerabilities in that product. While the risks of using unsupported Office software aren't as severe as using an unsupported operating system – such as XP or Vista – it's still not recommended.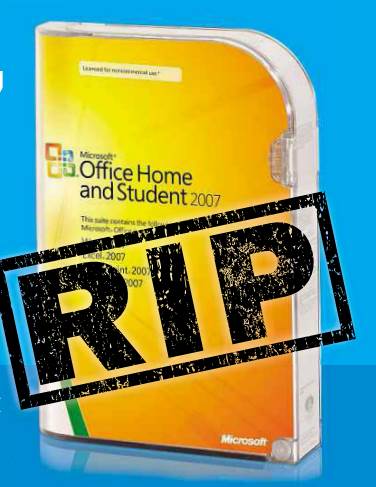 In December 2016, for example, a critical flaw was discovered that allowed hackers to run malware on any PC if the user opened a specially created Office document, effectively handing them the keys to your PC, passwords and files. At the time,
Office 2007 received an update to fix this. But any similar flaws that come to light after 10 October won't get fixed. And vulnerabilities like these are being unearthed all the time – Microsoft fixed security flaws in Office 2007 as recently as March.
Thankfully, there are still ways you can continue to work with your documents, spreadsheets and other files perfectly safely and – in some cases – without any additional cost. Here, we outline all your best options and examine the pros and cons of each one.
If you're determined to persevere with Office 2007, make sure you're running a proven antivirus software and keep this right up to date.
Malware can often infect your PC via macros embedded in Office documents, so you should disable these in Office's settings. To do this, open any Office tool (Word, for example), click the Office button, then select Word Options. Click Trust Center, then Trust Center Settings and, under Macro Settings, make sure 'Disable all macros with notification' is selected(see screenshot below left). Click OK.
This won't provide complete protection,however, so you'll still need to be careful when opening files that aren't yours. And, if your Office 2007 came with the Outlook email client, we'd advise against using it, because its vulnerability to malicious attachments will only increase over time. Instead, use the free eMClient.
If you're prepared to pay and want the latest version, you could sign up to Office 365 – Microsoft's subscription edition.
The idea behind 365 is that – much like with Windows – there will be no more new versions of it, meaning your software never becomes obsolete and is automatically updated. You'll always receive important security fixes and new features as they become available.
Office 365 Personal currently costs a year (or per month) and can be used on one PC only, as well as one tablet and one phone. On the Microsoft Store Office 365 Home costs a year (or a month) and can be used by up to five people on five PCs.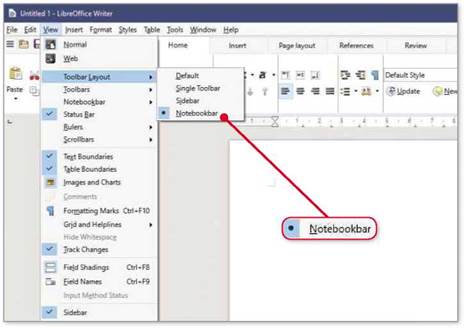 LibreOffice offers a traditional toolbar or an Office 2007-style Ribbon 'Notebookbar' a Office
It's possible to cut annual costs by as much as if you shop around. For example, Amazon is currently selling a year's worth of Office 365 Home. And your subscription is stackable, too, meaning you could buy two or three years'worth in one go if you find it going cheap.
Those who don't want to be tied to a subscription could opt for the latest standalone version of Office. The cheapest, most recent version is Office Home & Student 2016, which costs – though shopping around can save you at least. This version has the benefit of a one-off cost but, unlike Office 365,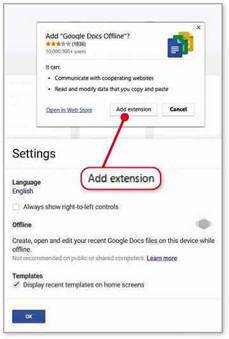 Install this extension to use GoogleDocs offline
it's subject to Microsoft's standard lifecycle policy and is due tohave support withdrawn in October 2025.
LibreOffice is a great free alternative to Microsoft's suite. It's open source and based on the same code as OpenOffice, but is less likely to be neglected (and unsupported) than OpenOffice. In fact, a new version of LibreOfiice (5.4) has just been released, adding pivot charts inCalc (its equivalent of Excel), improved support for imported PDF files and customisable watermarks.
LibreOffice has features that rival many paid-for office suites and supports all the most widely used file types, so you'll be able to open and edit your existing Office 2007 documents without any problems. Its interface and way of working is very similar to Office 2007 and even has a few tricks that Microsoft's suite doesn't – the best being the opportunity to choose whether you want to use a Ribbon-style menu system.
The default toolbars work like older Microsoft Office tools, but in the latest version of LibreOffice you can enable the Notebook bar – similar to Office 2007's Ribbon – by clicking Tools, Options, Advanced in any LibreOffice program, then ticking the 'Enable experimental features' box. Click OK, then click View, Toolbar Layout and select Notebook bar (see screenshot above).
Another free option is OnlyOfiice. Launched in 2015,it's a relative newcomer and not quite up
WILL THERE BE AN OFFICE 2018?
When Office365 launched in June 2011, Microsoft made the wise decision to continue releasing traditional standalone versions of Office.
But it's not clear whether we'll see a successor to Office 2016 (pictured). Office 365 has been a big success for Microsoft, with the company recently announcing that its earning snow outstrip those from traditional Office software. Microsoft will be keen to drive even more users to its subscription model.
That said, the company would be foolish to cut off a lucrative revenue stream by discontinuing non-subscription versions of Office. So we predict another version of Office will be released within the next 12 months.
to the standard of LibreOffice – yet. That said, both are free, so you've nothing to lose by trying them to see which one you prefer.
For some people, buying a full version of Office will be a waste of money. Paid-for versions of Office come with lots of templates and extended features, but if you don't need these and only tend to create and edit basic documents, you should consider using Microsoft's free Office Web Apps instead.
These online versions of Word, Excel and PowerPoint are a little basic but they may just provide everything you need. They work within your web browser – so you need to be online and signed in with a Microsoft account touse them. Documents can be stored in OneDrive or saved to your PC.
Google Docs is a similar free online office suite. It lacks the number of features you'll find in Office 2007, but's easy to use, and unlike the Office Web Apps, works offline as well as online, as long as you use Google Chrome as your web browser. Sign into Docs, Sheets or Slides with your Google account, then click Settings and turn Offline on. You'll be prompted to install an extension -click 'Add extension' (see screenshot left).