The futuristic-looking Nighthawk X10 is advertised as the 'world's fastest router,' with a claimed total wireless bandwidth of 7,133Mb/sec.
That's fast enough to download 50GB of data in under a minute, and if you think that sounds like an impossible feat, even for 802.11ac Wi-Fi, you're right.
Uniquely among this month's routers, the X10 also includes a 60GHz 802.11ad radio, allowing compatible devices to communicate at up to 4,6Gb/sec.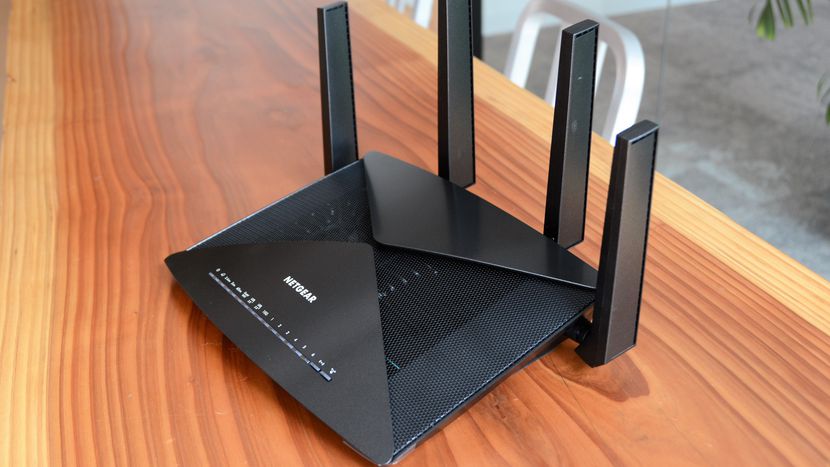 The catch is that 60GHz networking only works well over very short distances, so it's mostly useful for same-room devices such as smart TVs; you won't find it on mainstream laptops or tablets.
Still, even over regular 802.11ac, the Nighthawk X10 is an exceptional performer.
Its chunky illuminated antennae deliver fantastic 5GHz range: even in the bathroom at the far end of my home, I was able to enjoy the full speed of my 100Mb/sec fibre broadband connection.
The TalkTalk Wi-Fi hub was a whisker faster in the bedroom, but overall, the X10 delivers the best all-round wireless performance of any router on test.
There's more good news on the feature front too.
Although the X10's six Gigabit Ethernet ports aren't as generous as the Linksys EA9500's eight, there's also a 10GbE port, so you can connect an enterprise-grade NAS device or a super-fast internet backbone, should you have access to such gear.
You can aggregate the fifth and sixth Ethernet ports for faster client connections too.
Hidden at the side, you'll also find a pair of USB 3 ports, which let you connect a printer or external storage device.
Files can be easily shared across your home network, and optionally over the Internet, either through Netgear's ReadySHARE website or via direct FTP connection.
USB storage also works in conjunction with one of the X10's star features: a powerful quad-core ARM CPU that enables it to run a full installation of Plex Media Server, giving you a far richer set of video features than DLNA, along with a slick graphical interface that you can access from anywhere in the world.
It's not limited to USB either: your Plex library can live anywhere on your home network, so it's just as handy for folks who prefer to keep their files on a NAS drive or a desktop PC.
Finally, you can use USB media as a destination for the router's built-in download client, which supports BitTorrent, HTTP and FTP.
It's handy if you don't want to leave your laptop switched on overnight, but it's a shame it doesn't support watched folders – it's a bit of a drag to have to dig into the web interface every time you want to download a torrent.
Still, it's not a bad interface.
The white boxes and grey gradients look a bit Web 1.0, but it's all clearly laid out. with a straightforward set of buttons taking you directly to various settings areas.
It's pretty responsive, and as you click around you'll find pretty much all the settings you're likely to want, including VPN and dynamic DNS options.
One feature that's missing is a fully wireless bridge mode, but the X10 will work as a wired-to-wireless bridge in either direction (connecting wired devices to a wireless network, or vice versa).
Perhaps the X10's biggest weakness is its parental control features.
On the positive side, the system integrates well with OpenDNS to provide category-based web-filtering profiles on a per-device basis, and you can block internet access for specified clients between certain times.
Sadly, this latter feature is very limited: you can only specify a single block of time, and choose whether or not it applies on each day of the week.
If you want a different schedule for weekends, or for different family members, you'll need a third-party system.
Conclusion
That shortcoming aside, there's very little to criticise about the R9000 Nighthawk X10 – except the price.
It's by far the most expensive router here, costing more even than most multi-node mesh systems.
Yes, you get a lot of features for your money, and if you really want the latest, fastest networking technologies then there's simply no competition.
But for basic, domestic Wi-Fi duties, the Linksys EA9500 will make you just as happy.
VERDICT
Netgear R9000 Nighthawk X10 Review
If you want the fastest performance and loads of features, this is the router to buy, but it's just too expensive for most people.
Where to buy?
Fast WIFI Performance: Get up to 2500 sq ft wireless coverage with AD7200 speed (Tri-band up to 800 + 1733 + 4600 Mbps - for 60Ghz band devices)
Recommended Up to 45 Devised: Reliably stream videos, play games, surf the internet, and connect smart home devices
& Free shipping
Last update was on: 2020-05-21 11:30 am
Fast WIFI Performance: Get up to 2500 sq ft wireless coverage with AD7200 speed (Tri-band up to 800 + 1733 + 4600 Mbps - for 60Ghz band devices)
Recommended Up to 45 Devised: Reliably stream videos, play games, surf the internet, and connect smart home devices
WIRED ETHERNET PORTS: Plug in computers, game consoles, streaming players, and other nearby wired devices with 6 x 1 Gigabit Ethernet ports, and 1 x 10G SFP+ port.
Loaded with Advanced Technology: Designed with a 1.7GHz quad-core processor, 4 amplified antennas, Beamforming+, MU-MIMO, Dynamic QoS, Amazon Alexa Voice Controls, and more.System requirements:Microsoft Windows 7, 8, 10, Vista, XP, 2000, Mac OS, UNIX, or Linux and Microsoft Internet Explorer 5.0, Firefox 2.0, Safari 1.4, Google Chrome 11.0 browsers or higher
USB Connections; Share a storage drive and printer with any connected device, and create a personal cloud storage to access from anywhere, using the 2 x 3.0 USB ports
SMART PARENTAL CONTROLS: The Nighthawk app lets you manage device internet access and filter websites.