Carbon fiber all the things.
Gigabyte's Gaming 5 series has generally always been the value king, but it might need to rethink its game plan with the likes of MSI dropping this sweet little number on to the AMD playing field.
It may not have as clean a look as Gigabyte's mighty Aorus lineup, but it's hard to deny that the connectivity is there.
Well, OK, so you lose out on a few banks of SATA 3, there's no U.2 and it's still prone to MSI's haphazard butchery of the rear I/O, but all in all, it's a well specced board for anyone looking to build a fairly entry-level Ryzen rig, even featuring DVI-I for those future APUs that might come out soon (seriously, we don't know).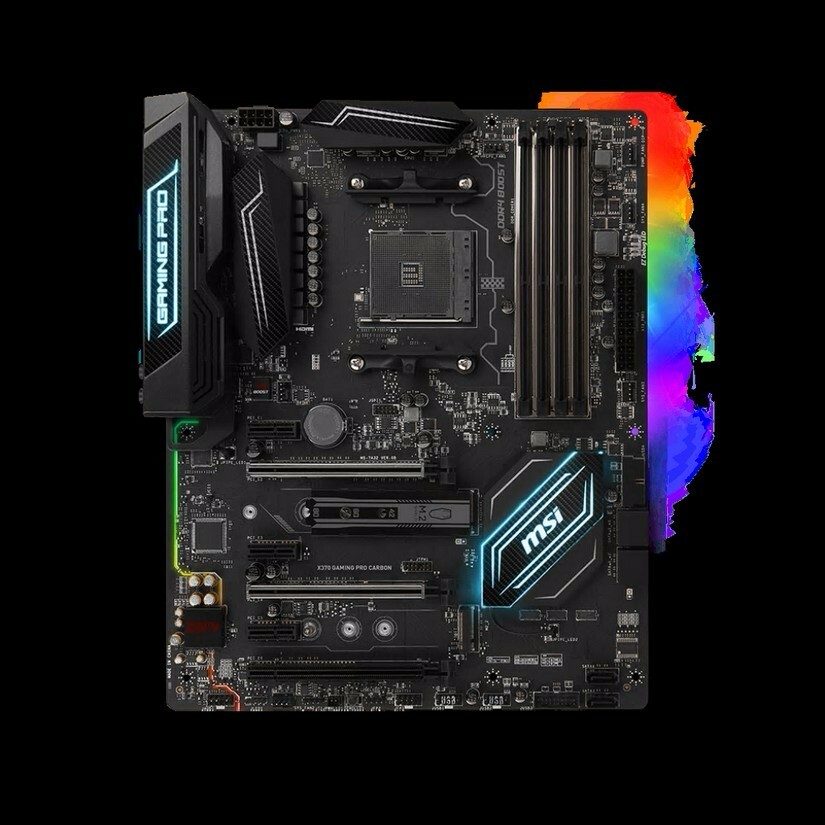 All joking aside, couple this with a Ryzen 5 1600, and you're looking at a potential six-core, 12-thread, DDR4- touting overclockable workstation base.
So aesthetics. Yeah, it's covered in a carbon fibre finish. We're not sure why. Honestly, do motherboards benefit from being lighter? It's a checquered finish that you'll either love or hate, and it's certainly different.
Let's call it that. OK, MSI, truthfully: We don't like this finish. Keep it black, have a brushed aluminium styling on it, clean it up, keep the lines straight and the MSI logo sharp, and you'd be on to a classic.
On the other hand, the black finish across the board is neat, and the RGB lighting is easy to configure to any colour you want in MSI's desktop app.
Onboard audio across the brands right now is pretty solid. Not quite up to the level of DAC and HRA, but for anyone simply wanting to plug and play, you're unlikely to find much difference between models.
The Nahimic audio suite included with MSI's lineup since the Z170 series, on the other hand, is a force to be reckoned with. For those familiar with THX's Crystalizer software, way back in the days of Windows 7, think of this as that on steroids.
On to performance, and the Gaming Pro Carbon actually outshone its XPower cousin in the X265 benchmark, Cinebench, and even Fry Render, by around 1% in most cases. Memory latency was fairly middle ground, with power draw being our overall winner, both under load and idling.
We also managed a swift 3,000MT/s overclock on our 16GB Corsair Vengeance LPX kit, as well — with the latest BIOS update, of course. We can't stress enough how important it is that you update your BIOS if you're already using — or thinking about jumping on to — the AM4 platform.
The Gaming Pro Carbon is a real show-topper.
Coming in at less than the Crosshair VI Hero, and packing that vital core performance, its stability, memory support and overall feature set are more than enough for anyone looking to sate their eight-core desires. With that extra bit of cash in your pocket, you could upgrade from a six-core Ryzen 5 1600X to an eight-core Ryzen 7 1700. Whack that clock speed up to 4GHz, and you'd easily be rolling above the 1800X, and within spitting distance of Intel's Core i7-6950X.
Ultimately, MSI's X370 Gaming Pro Carbon is one of the best value boards out there. If you're looking for all the connectivity and features that Ryzen has to offer in an affordable package, and aren't too bothered about aesthetics, the Pro Carbon is definitely the board for you.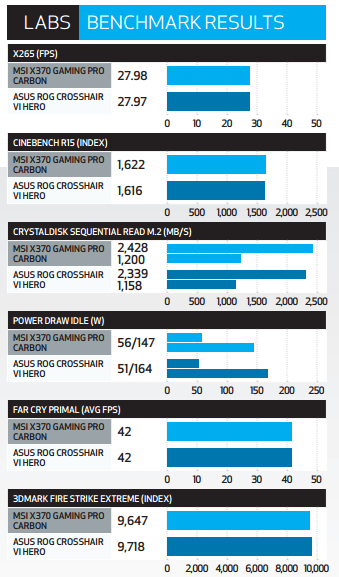 Verdict
Dependable feature set but with a questionable appearance, it luckily has solid performance at a staggering price.
Rating 4.5/5