Once upon a time, laptops were big and heavy and made of plastic. Then, in 2008. Apple invented the MacBook Air. It was thin, light, wedge shaped and metallic.
The design was so distinctive it became the model for every other 'ultraportable', shamelessly copied by rivals for their premium Windows hardware. The world has moved on since then, but the MacBook Air hasn't, and Asus' 13.3in ZenBook UX330UA could be the last of its clones. It's also one of the best.
Sharp screen, great performance and slick design
You could be forgiven for losing track of all the brushed-metal notebooks Asus has released (under confusingly similar part numbers), but this is more slender than most. That's reflected by a degree of flexibility' in the aluminium case that Apple's Sir Jonathan Ive wouldn't approve of, but it's only really noticeable when hammering at the keyboard journalist-style. The slightly textured chassis, 150g lighter than the 13.3in Air, feels wonderfully refined, and somehow all the necessary' parts have still been squeezed into it, including a relatively generous 256GB of fast storage.
The midrange 15 processor had little trouble in our performance tests, scoring well for both photo and video editing. Basic 3D games were sufficiently smooth with sensible graphics settings, although more demanding games won't be an option. The ZenBook struggled mote when required to do two things at once.
Where it comfortably beats Apple's laptops is in its screen resolution: the UX330UA's 3200×1800 display is incredibly sharp and. while its 90 per cent coverage of the sRGB color range isn't ideal for professional graphics work, it's perfectly' adequate for most purposes. We'd have liked a bit mote contrast, but good brightness levels made it usable in sunlight, helped by the screen's matt finish, which looks duller than the more popular glossy finish when turned off, but avoids the annoying reflections while you're working.
The tile-style key's don't move a lot when you type, but we found them convincingly firm and accurate once we'd got used to the slightly cramped layout – the cursor arrow keys in particular are on the small side.
A similarly specified MacBook Air would cost you more, and that's with a distinctly old-fashioned 1440×900-pixel screen. While the Air's build quality is impeccable, its only practical advantage is its 12-hour-plus battery life. The ZenBook lasted us seven hours 18 minutes playing video continuously. You'd often get longer in general use, as long as you weren't constantly online. And unless you're often away from a plug socket for more than seven hours at a stretch, it seems a fair sacrifice for the sharper display.
In reality, you've probably decided already whether you prefer Apple's software and creative-industry credentials or the broader compatibility of Windows 10. If it's the latter, the UX330UA is a great choice for a premium laptop. It's not the only choice, though: Asus' identical-looking UX303UA comes with a lower-resolution Full HD display – but with the benefit of touchscreen and a faster i7 processor – for the same price. Take your pick.
Best value
Asus ZenBook UX330UA - Lighter than Air
You could pay less, but if quality and style are important, this is a good Windows 10 equivalent to the practical MacBook Air
Add your review
SPECIFICATIONS
2.3GHz Intel Core i5-6200U dual-core processor
8GB memory
256GB flash storage
13.3in 3200×1800-pixel screen
Webcam
802.11ac Wi-Fi
2x USB 3.0 ports
USB Type-C port
MicroHDMI port
SD card reader
Windows 10 Home
14x323x221mm (HxWxD)
12kg
One-year warranty
ALTERNATIVE: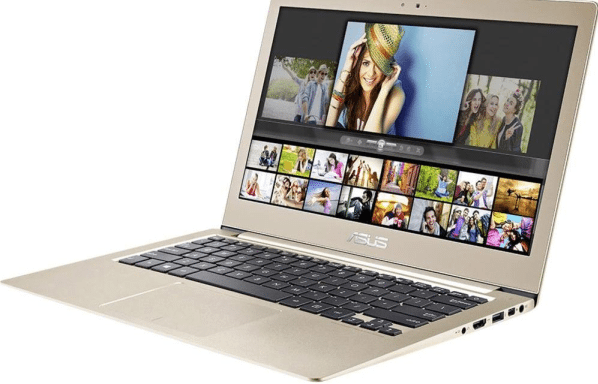 Various configurations exist but despite an i7 processor and touchscreen, this model costs the same