MSI's GE72 7RE Apache Pro is a breath of fresh air among the pricier laptops we've reviewed recently, and it balances its affordable price with solid components. The key component is the GeForce GTX1050 Ti. Its one of Nvidia's more modest Pascal GPUs, but don't discount its 1080p abilities: it has 768 stream processors and 4GB of GDDRS memory too.
The GPU is bolstered by a Core i7-7700HQ CPU. with four Hyper-Threaded cores and a 2.8GHz frequency. Most games don't need all that multi-threading power, but they'll enable the MSI to handle heavily multi-threaded software, such as video editing packages. There's also a solid 16GB stack of 2400MHz DDR4 memory, a 1TB hard disk and a Toshiba SSD. The 128GB SSD won't hold many games, though, and its SATA interface will hold it behind the latest NVMe drives.
The GeForce GTX1050Ti GPU is ideal for 1080p gaming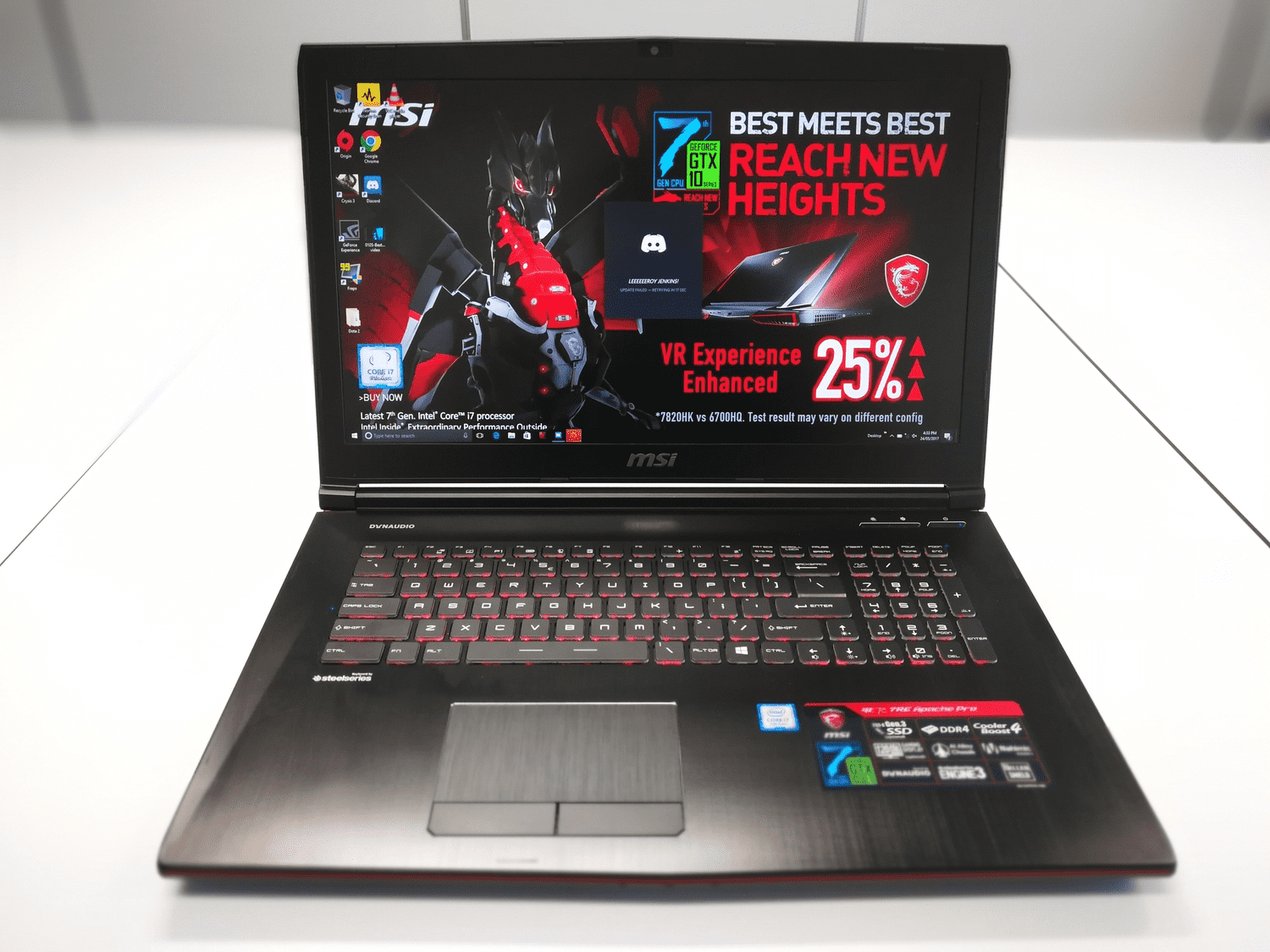 MSI has sensibly paired the GTX1050 Ti with a 1080p screen, although the 17.3in diagonal does mean pixels can took obvious, and (not surprisingly) there's no G-Sync support either, although the screen can cope with an impressively quick 120Hz refresh rate. The screen is also accompanied by four 2 W speakers and a 3 W subwoofer. Connections are decent too. with Killer Ethernet and dual-band 802.1lac Wi-Fi, plus connectors for USB 3.1, HDMI and mini-DisplayPort.
The outside serves up a typical gaming laptop design.
The aluminium lid has MSI's illuminated logo and a couple of slats, and the interior has red accents and smart buttons. Meanwhile, the rear has dramatic air vents and the machine weighs 2.7kg – competitive with other 17.3in gaming laptops. The MSI is thicker than some rivals, though, with a 33mm body, and its build quality is inconsistent -the screen is sturdy, but the wrist-rest and the area around the keyboard feel weaker. It's possible to get inside, but nearly 20 screws need to be removed. Doing so gives you access to the M.2 port, memory sockets and hard drive, although any upgrades will involve replacing the existing parts.
Meanwhile, the MSI's chiclet keyboard offers impressive pace and consistency when typing, and it has reasonable travel and a solid base. The trackpad is similarly good, and its two buttons have a fast shallow action that's reminiscent of proper gaming mice.
The GE72 is managed by MSI's Dragon Center app. which is brimming with features. Its System Tuner tool switches between four overclocked modes, and the LED Wizard customizes the keyboard's RGB backlighting. There's a System Monitor for keeping an eye on temperatures and clock speeds, and an app portal for othertools.
Performance
The GeForce GTX 1050 Ti GPU is ideal for 1080p gaming.
The GE72 uses MSI's Sport mode by default, which gives you the maximum performance available without extra overclocking. It performed well: its 32fps minimum in Fallout 4 is fine, and it hit 39fps in The Witcher 3. Deus Ex: Mankind Divided is tougher, but the MSI still managed a borderline playable 2Sfps here. Only the toughest titles will need their settings dropped to moderate levels.
Enabling the MSI's Turbo mode boosted the GPU core and memory clocks by200MHz and 250MHz, taking the Deus Ex minimum up to 28fps – a decent performance boost. There's also a Comfort mode, which manages clock speeds according to temperature.
The MSI delivered solid application performance in its Sport. Turbo and Comfort modes, where its overall result of around 122,000 is ample. The SSD delivered unspectacular read and write speeds, though, of 513MB/sec and 353MB/ sec respectively. That performance is fine for general Windows use, but the latest NVMe drives are much quicker.
There's also an Eco mode, which reins in the CPU speed to 1.4GHz, causing a significant drop in the system score to 48,290. Interestingly, changing the MSI's modes didn't have a huge impact on noise and temperature levels. In Sport, Turbo and Comfort modes the GPU returned peak delta Ts of around SO'C, white the CPU topped out at 72'C, which is a tad high, but within thermal limits. That's a slight worry, but a more conventional gaming test – without the CPU running at 100 per cent load – saw the processor delta T reach a more sensible peak temperature of 55'C.
Thankfully, the MSI does a good job of dissipating heat. Even in Turbo mode, the keyboard only became a little warmer than usual, and the base stayed chilled throughout It's quieter than some gaming laptop rivals too – we never had to veer away from its automatic fan controls.
SPECIFICATIONS
CPU 2.8GHz Intel Core I7-7700HQ
Memory 16GB 2400MHz DDR4
Graphics Nvidia GeForce GTX1050 Ti 4GB
Screen 17.3m 1920×1,080 IPS
Storage 128GB Toshiba HG6z SSD, 1TB hard disk, DVD writer
Weight 2 7 kg
Networking Gigabit Ethernet dualband 802.11ac WI-FI
Ports 2 X USB 3, 1 x USB 31 Type C.1 X USB 2. Gigabit Ethernet, 2 X audio, SD card slot HDMI. mini-DisplayPort Dimensions (mm) 420 X 288 X 32 (WxDxH)
Operating system Windows 10 Pro 64-bit
Warranty Two years parts and labour return to base
Don't expect miracles from the battery though. With the screen at full brightness and Sport mode activated, the MSI lasted for around 50 minutes in a gaming test although enabling Eco mode pushes that figure to 107 minutes with the screen at 50 per cent brightness, and the frame rates are still pretty good at this setting.
The screen quality is middling, however. Its high brightness level of 319cd/m2 is matched with a decent black level of 0.23cd/m;, which means contrast of 1.387:1 – a solid figure that provides good depth. The average delta E of 7.04 is mediocre, though, and the color temperature of 7.094K results in a cool blue tint in its default Gamer mode. Still, thats better than the red pall found across the sRGB, Movie and Designer options.
Meanwhile, we found that the speakers' Music mode is the best option for audio. Vocals are clear and the subwoofer provides surprisingly solid bass, with the only minor issue being a murky mid-range.
Conclusion
The MSI GE72 7RE Apache Pro isn't groundbreaking, but it gets the balance just right in its price league. The GTX1050 Ti has enough power to play 1080p games smoothly, the processor is fast there's loads of memory, and the storage setup gets a good balance of solid state and mechanical capacity, although there are much faster M.2 SSDs available.
The keyboard and trackpad are good as well, and while the MSI's screen is only average, you can't expect to get the best of everything at this price.
Better screens and slimmer designs can be found if you're willing to spend more money, but if you're on a tight budget, the GE72 7RE Apache Pro is a great option if you're looking fora portable 1080p gaming machine.
[MIKE JENNINGS]
A 128GB SSD sits in the M .2 slot although ifs a SATA model, not NVMe
There's a solid 16GB stack of dual-channel 2400MHz DDR4 memory
The cooling system does a great Job of dissipating heat without making a racket
VERDICT
Solid 1080p gaming speed, a good balance of components and a decent design for a very reasonable price.