Samsung Galaxy Book Pro vs MacBook Air
07 Feb 2022 – Words: Christian Guyton
First available in the latest MacBook Air, Apple's M1 chip has come out swinging. Can Samsung hit back with its Intel-powered Galaxy Book Pro and reclaim the ultrabook crown?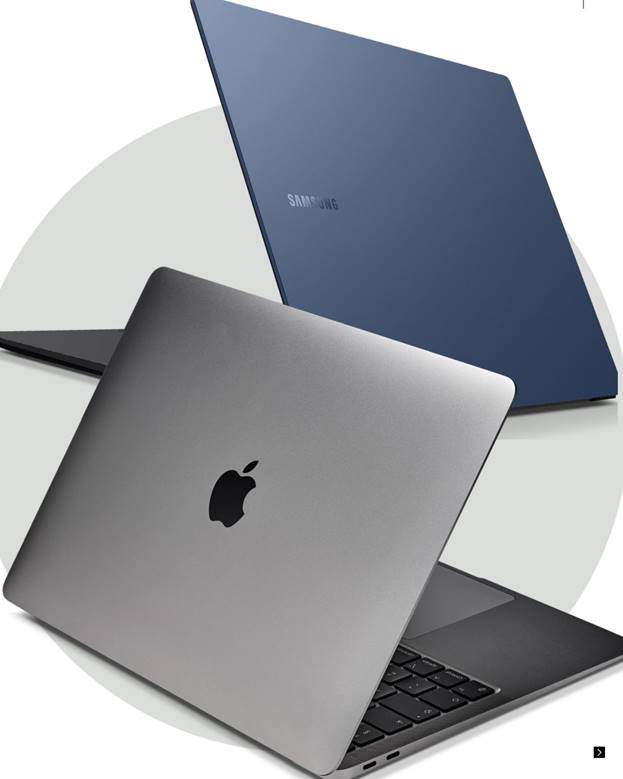 SAMSUNG GALAXY BOOK PRO Review
Samsung takes 'thin and light' to a whole new level with a smartphone-thick laptop light enough to hold in one hand
Portability and connectivity are king when it comes to Samsung's latest ultrabook, with a frankly ridiculous weight of just 0.87kg and a thickness of less than 12mm when closed. There's plenty of competition in the ultralight ultrabook arena, and the compact chassis of the Galaxy Book Pro makes it clear that Samsung is taking aim at competitors like Acer's Swift 5 and Dell's XPS 13.
That impressive exterior doesn't mean that the Galaxy Book Pro is all sizzle and no steak, fortunately; the hardware specs on show here demonstrate that this ultrabook can go toe-to-toe with bigger laptops. An 11th-generation Intel Core CPU with Xe G7 graphics gives this laptop a decent amount of processing oomph, enough to keep up with other Windows 10 ultrabooks cut from similar cloth.
This is a productivity machine, so it's not best cut out for heavy lifting like video editing or triple-A gaming. That being said, the i7 version should be able to handle most games at lower graphical settings. The 1080p AMOLED display – available in 13.3-inch or a pricier 15.6-inch – does look fantastic, with vibrant colours and vivid contrast.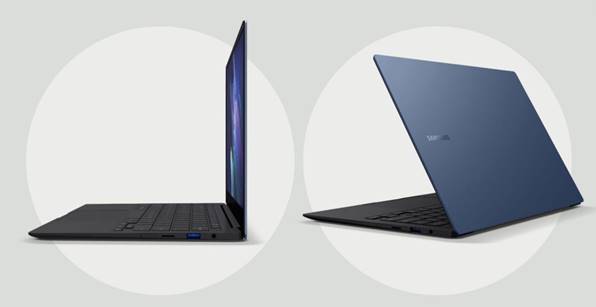 Samsung fitted several ports onto the frame of the Pro, including but not limited to an HDMI out, microSD, USB-A, and a Thunderbolt 4 USB-C. It's a relief that physical connectivity wasn't sacrificed to keep the chassis as small as possible, since Apple's MacBook Air only has two USB-C ports and a headphone jack in comparison.
There's a conventional Wi-Fi model available, or 4G LTE if you want truly on-the-go internet. 5G would've been a nice inclusion, but the MacBook Air doesn't have any form of mobile internet connectivity whatsoever, so it's certainly a point in the Galaxy Book Pro's favour.
The battery life of this ultrabook is pretty phenomenal, with usage tests indicating
It feels a bit flimsy compared to more durable machined aluminium laptops
that it's easily capable of going dawn to dusk without needing a charge. If you do need to top up, the charger is pleasingly compact and uses fast-charge via USB-C.
If you've got another Galaxy device, there's a bevy of features here to take advantage of. Photos and files can be synced with minimum effort, Galaxy Buds pair automatically when the case is opened nearby, and the laptop can even use a Galaxy Tab S7 or S7+ as a seamless second screen.
Our main criticism is that the Galaxy Book Pro's magnesium alloy construction makes it feel a bit flimsy compared to more durable machined aluminium laptops. The keyboard and screen hinge feel fine, but that ultra-low weight means that there's a little more flex in the chassis than we'd like. Be wary of dropping or bending this ultrabook.
Prices vary significantly since there are several customisation options, from RAM and drive capacity to processor and screen size. The starting price is £1,099, slightly higher than the base price of the MacBook Air, with a £1,449 price tag for the highest- spec model.
samsung.com
MACBOOK AIR Review
The Ml processor is a bit of a monster, and Apple has put it to work with excellent effect in its new line, including in this ultrabook
At first glance, the Ml MacBook Air doesn't do much to distinguish itself from the throngs of other Apple laptops available right now. That's by design, of course: MacBooks are instantly recognisable thanks to their iconic brushed silver design and black keyboard.
The chassis is largely identical to the previous Intel-powered Air, with no flashy touch bar to be found. The trackpad is nice and broad, and the built-in 'Magic Keyboard' feels great to use thanks to sophisticated scissor-switches under every key. The Retina display is gorgeous, with excellent brightness and a higher resolution than the Galaxy Book Pro.
Inside this machine, though, Apple's ARM-based Ml chip is the beating heart of what makes the MacBook Air great. Intel and AMD laptops running integrated graphics will be blown out of the water by the Ml's eight CPU and eight GPU cores, and multitasking should be a breeze. Navigating the OS and all your favourite software feels smoother than ever.
This might be a lightweight ultrabook, but it's got the performance to measure up against heavier hitting laptops. Gaming is – somewhat surprisingly – a valid option here. The Ml's single-core performance is solid compared to Intel-equipped competitors, but it absolutely dominates in multi-core workloads.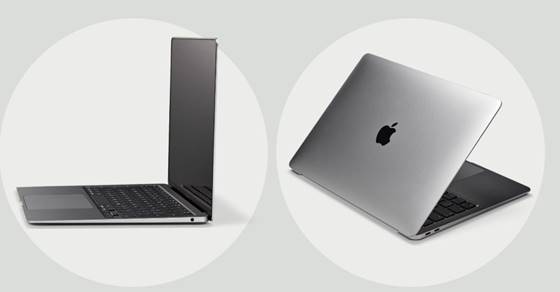 The Ml chip works wonders for heat generation and battery life too, making us feel bad for anyone who recently purchased an Intel MacBook Air, which can get hot and noisy rather too often. Battery life isn't quite as good as the Galaxy Book Pro, but it's a close call. The Ml uses a fanless thermal solution, which makes it virtually silent. Samsung's offering, on the other hand, does experience a bit of fan whine under heavy loads.
The overall build quality of the Air remains among the best in the business
Neither of these ultrabooks has a touch display, but the lack of touch controls is more sorely felt on the MacBook Air than it is in the Galaxy Book Pro (or any other Windows 10 notebook). The screen bezel on the Air is also much chunkier than that found on Samsung's ultrabook, a hangover from older MacBook designs that we think really needs to be nixed for future models.
The webcam here is a pretty bog-standard 720p affair, which is adequate but not impressive. Other than that, though, the overall build quality of the Air remains among the best in the business, with a sleek outer casing available in silver, gold, or 'space grey' (it sounds better than just 'grey'…).
With the Ml processor on its side, Apple's newest ultrabook decisively has more power than Samsung's competing model. It's also a bit cheaper at £999 to £1,199, although both of these laptops sit closer to the high end when it comes to ultra-compact laptops. The Galaxy Book Pro has superior flexibility, though, running Windows 10 and offering greater connectivity, as well as smartphone­compatible features.
apple.com