Specification
Manufacturer: Logitech
Requirements: Compatible sound card, output source.
The Z506 5.1 set is part of Logitech's lower-end multi-speaker product range and features five satellite speakers: two 8W front units, one 16W centre and a pair of 8W rear, along with a 27W subwoofer, bringing the grand total RMS power to 75W.
Speaker cables lengths are always a problem with these kind of low-price sets, but the Z506 doesn't do too bad a job. The satellite cable length for the front pair are two metres, with 2.8 metres for the centre and a more than reasonable five metres for the rear pair.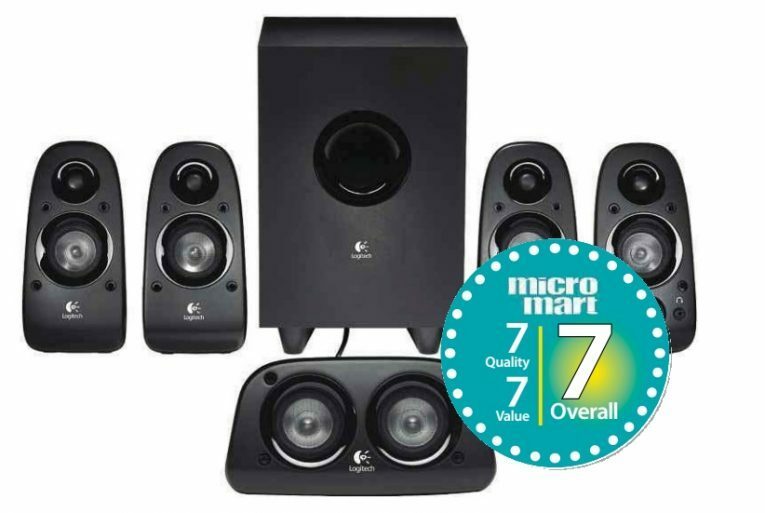 A The Logitech Z506 kit is easy to use
The design is good too. The sub is surprisingly compact, and the five satellite speakers are of the tall, slim variety. The centre speaker is more horizontal than the others, but again it's quite a compact set. There's also a folding kick stand fitted on the centre speaker, so it can rest on top of an AV shelf comfortably.
Although they feel a little cheap, all the speakers are reasonably well constructed. We wouldn't fancy dropping any of the satellites from desk height, admittedly, but we're fairly confident they could withstand the usual amount of abuse a deskbound speaker set would take. The sub is well built too, which is important, because desktop 5.1 sets can get kicked around when the sub is located under the desk.
Controls are on the right, main satellite speaker, with volume and power alongside ports for a headphone and mic. Depending on where you position everything, it's well within reach, but it's worth noting that the bass control is located on the back of the sub, which can get a little awkward if yo need to alter the levels for the type of media you're listening to.
Sound quality is very good, which is quite surprising for a cheaper-feeling set. The bass levels were excellent, once we'd fiddled with the controls, and the satellites picked up every audio detail without dropping or missing anything from the ranges. Voice and higher frequencies were particularly good, and the mid-range audio was nicely complemented with the bass turned down slightly.
Movies, games and pretty much everything else we could throw at the Z506 were handled extremely well. And due to the more compact design, they could happily sit on a desk without getting in the way too much.
Overall, we were pleased with the Logitech Z506 5.1 set. It may lack digital optical inputs, having just 3.5mm six-channel inputs, with a serial input for the front right speaker, but it's enough for a basic connection to virtually any device or system. And since these are PC-orientated speakers, they're perfectly matched for older PCs, as well as newer machines.
Sound quality is very good, which is surprising for a cheaper-feeling set.