TIME ON TEST:
Two years
REVIEWER:
​Richard Stevenson
AV INFO
PRODUCT:
Atmos/DTS:X AV processor
POSITION:
Marantz's flagship model
PEERS:
Arcam AV860; Anthem MRX 1120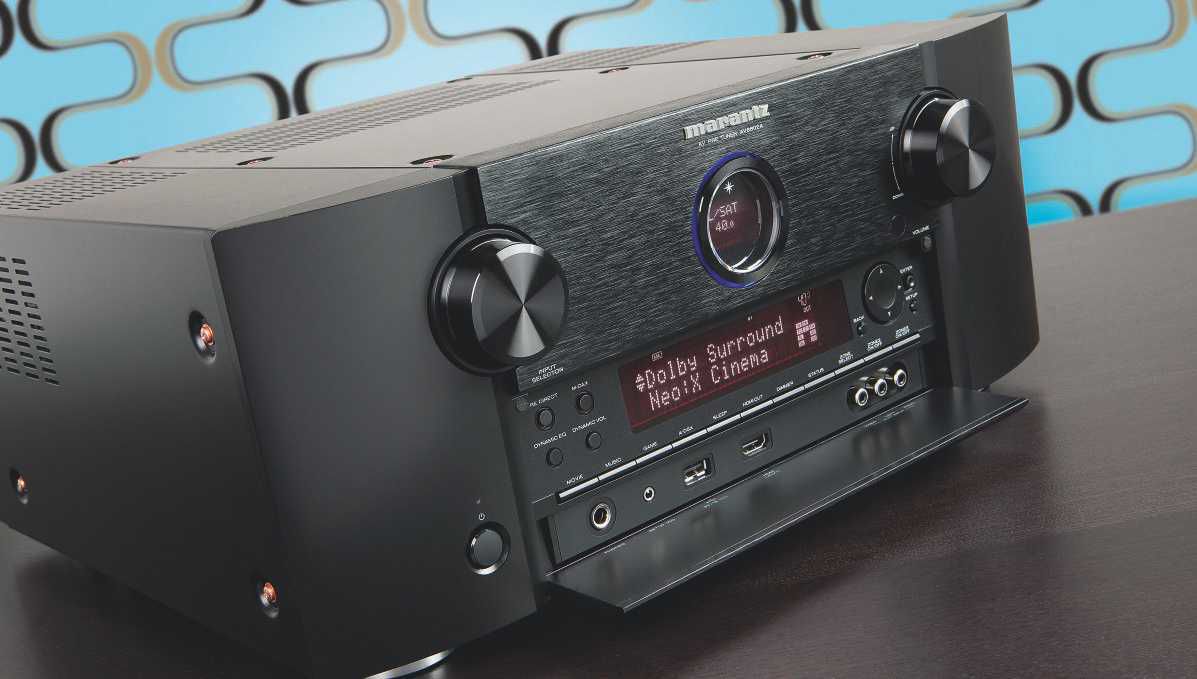 TWO YEARS AGO, the 'A' suffix variant brought Marantz's flagship AV8802 processor bang up-to-date, allowing full-fat 11-channel Dolby Atmos processing and 4K passthrough via HDMI with HDCP 2.2 support. A later firmware update added DTS:X playback, and you could extend your 3D audio obsession to Auro3D if you were prepared to pay for the upgrade. It's still topping Marantz's AV range, so can the venerable AV8802A still claim it's red-carpet status as we head into 2018?
What's good about it?
Reviewing the AV8802A ended in an inevitable, bank account-sapping conclusion. I had to buy one. Two years on and the Marantz is the heart of my home cinema system, delivering stunning AV performance on a weekly basis. It's still available.
Waving a fond farewell to the outgoing Denon AVP- A1HDA, the Marantz heralded in an era of true height channels at Stevenson Ranch. While Audyssey's excellent, if faux, DSX front-height processing is still doable on the AV8802A, the big draw here is genuine three-dimensional surround sound thanks to object-based audio processing.
The AV8802A saw the end of S-video connectivity, which isn't something anyone was going to complain about. I did, however, moan at the lack of a built-in Ethernet hub at the time (as Sony had just put a hub on its flagship AVR) but that has proven far less of an issue in an era of ubiquitous Wi-Fi connectivity. Its twin antennas look the part, too, although its wired Ethernet connection has been my go-to connection.
Video- wise, this big beast supports 4K passthrough (including 50Hz/60Hz and 4:4:4 colour). Possibly more by luck than judgment, it happily passes through HDR10 as well (and Dolby Vision high dynamic range content will be supported by a firmware update in 2018). It can upscale 1080p content to 4K (although my source gear and display does that, too) and is certified by the Imaging Science Foundation with a full selection of optional ISFccc video calibration controls… which I have never used.
You wouldn't buy the AV8802A for its video tweaks: you buy it for its sound quality, which is sublime. This processor ekes out whole new layers of depth and articulation over my previous Denon and backs that up with plenty of clout. Few processors can match its ability to find detail within a soundtrack and fully unravel a complex multi channel mix. Not at its relatively affordable price, anyway.
Models from the likes of Anthem, Krell, Bryston and Datasat have all recreated a bigger, truer cinematic presence in my listening room and delivered just as much detail too. Yet their asking price is heading towards 'small family car' territory, so they were unlikely to take up residence here any longer than the review period. The Marantz simply delivers solid features and stunning sound at a very appealing price.
Two years of constant use hasn't diminished that impressive sound and the Marantz still rocks. It is supremely neutral, with a sprightly and articulate balance. It's not quite the full-bore action-fest of some of its peers, but it is perhaps better suited to a much wider range of material. Play anything from stereo music to an Atmos- encoded Blu-ray thriller and it never disappoints or feels over-gunned.
With far more Atmos and DTS:X content to make the most of its outstanding processing abilities, the AV8802A is arguably more suited to today's home cinema environment than ever.
What's not so good about it?
Well, are you a future-gazer worried about HDMI v2.1 – which will bring 8K video support, enhanced ARC skills and other goodies? Really, you probably shouldn't be, but there's nothing like an announcement from HDMI LLC to
Few processors can match its ability to find detail within a soundtrack and unravel a complex multi channel mix
upset the apple cart. The AV8802A is evidence of how HDMI specs can be upgraded, both physically and through firmware, but HDMI v2.1, I'm told by Marantz, won't be on any upgrade agenda. Food for thought.
A more immediate concern is that the Marantz's operational niggles still niggle. The supplied remote control is nothing to write glowing prose about, and not just because my now quinquagenarian eyesight struggles with its tiny legends and near unreadable LCD display.
Its vertical symmetry makes for moments of hilarity, too – I have lost count of the times I have fervently pressed unresponsive buttons only to realise I'm holding it the wrong way around.
By comparison to the latest app-controlled home entertainment electronics, Marantz's 'Remote App' feels a little dated and clunky, too. It successfully replicates the main remote control but it doesn't add any further sophistication or panache. On a positive note, the backlight is brighter than the remote control, the buttons a whole lot bigger and you'll never use it upside down.
My biggest niggle with the AV8802A, a factor of my admittedly unusual system of monoblock power amps and mix-and-match speakers, arises from the Audyssey XT32 room EQ, which aims to balance speakers at 75dB.
With my lineup, the setup procedure struggles to cope. To achieve that 75dB it applies a cut to all 'hot' channels; this results in a -12dB maximum cut to all channels in my system. The upshot is no channel balancing. My frisky centre speaker still comes in 5dB hotter than the rears.
To balance speaker levels, I've then had to go into the manual setup menu and adjust using an SPL meter, old- school style. Quite what this subsequent manual level adjustment does to Audyssey's Reference room EQ is a mystery but I can't help thinking it's less than ideal.
Of course, most people will only set up once, but I'm forever swapping kit in and out of my system.
Should I buy it?
The AV8802A is still top of Marantz's AV processor lineup, and still at the top of its game. There are even better-sounding processors out there – and with more customisable EQ systems – but they are all more expensive. I'm not looking to upgrade any time soon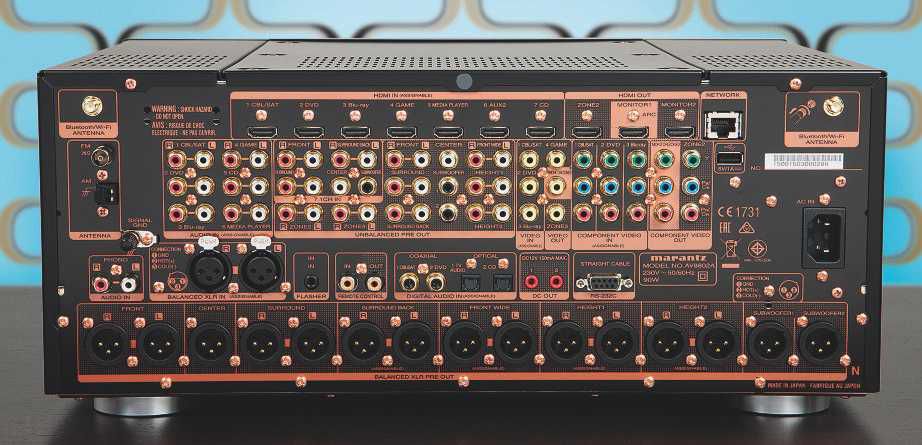 A pull-down flap reveals a secondary status window and additional inputs
The AV8802A has balanced XLR outputs for compatible power amplifiers
SPECIFICATIONS
DOLBY ATMOS: Yes DTS:X: Yes THX: No MULTICHANNEL INPUT: Yes. 7.1-channel phono MULTICHANNEL PRE-OUT: Yes. 13.2-channel phono; 13.2-channel balanced XLR MULTIROOM: Yes. Zone 2 and 3 AV INPUTS: 4 x composite; 4 x digital audio (2 x optical and 2 x coaxial) HDMI: 8 x inputs; 3 x outputs COMPONENT VIDEO: 3 x inputs; 2 x outputs VIDEO UPSCALING: Yes. To 4K DIMENSIONS: 440(w) x 410(d) x 185(h)mm WEIGHT: 13.6kg
FEATURES
Audyssey MultEQ XT32 Pro; ISF video calibration; Apple OS and Android control apps; DLNA networking; Ethernet; Wi-Fi; Bluetooth; USB; AirPlay; FM and internet tuner; Spotify Connect; HDCP 2.2; 4K/60 passthrough; Pure Direct mode; Compressed Audio Enhancer; DSD, FLAC, WAV and ALAC hi-res audio support
Verdict
Marantz AV8802A Review
Great value, cutting-edge AV processing with a natural and detailed sound – Marantz's AV8802A continues to impress two years after its launch.
Add your review
Best Marantz AV8802A prices ?
MORE DEALS