Deep dive: Hands-on with the new operating system
Hot off the heels of the iOS 16 release and a slew of new hardware announcements, The launch of macOS Ventura brings dozens of new features designed to make our MacBooks iMacs, and Mac Studios even more powerful, including the cutting-edge Stage Manager. Read our macOS Ventura Review.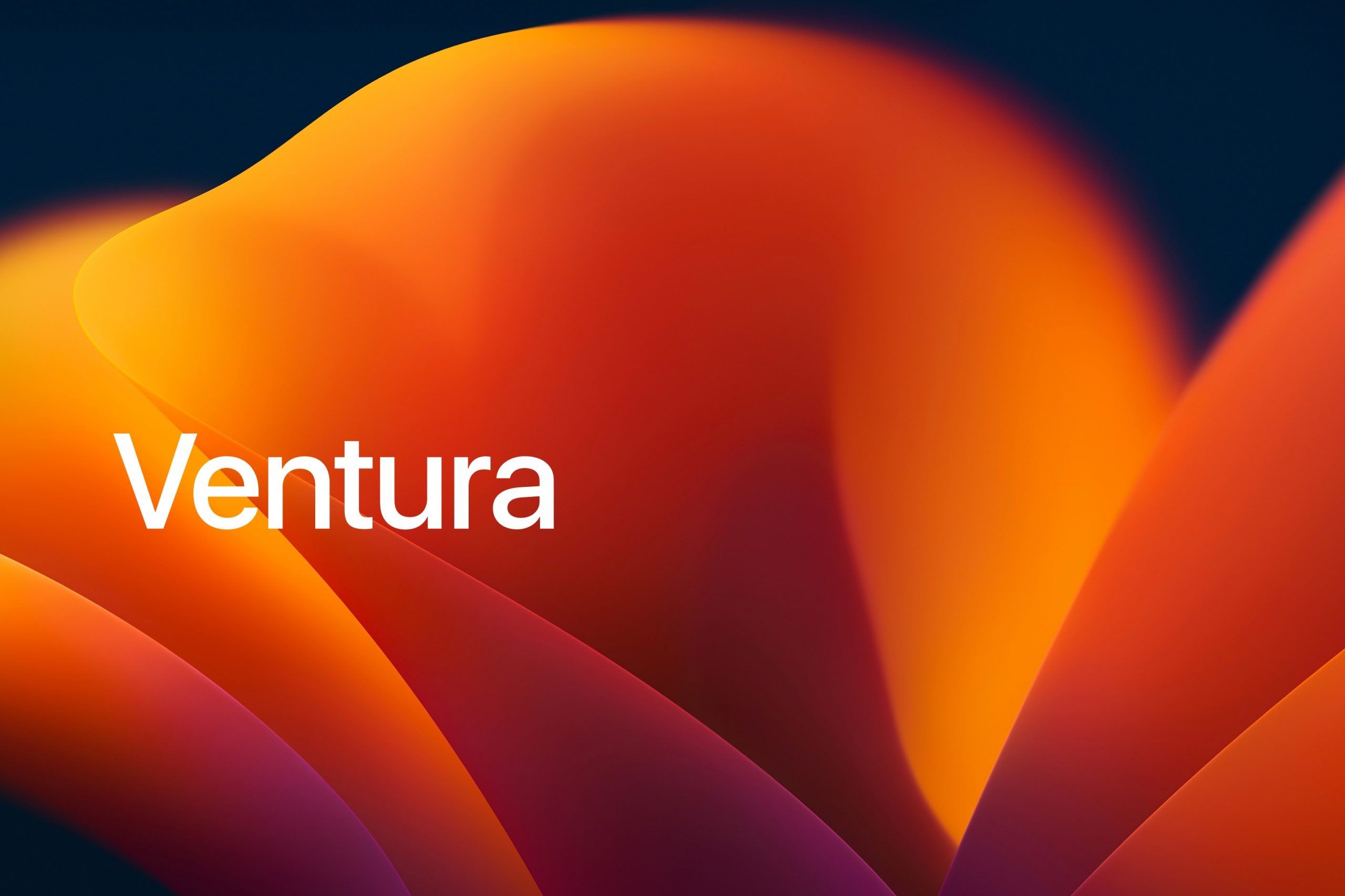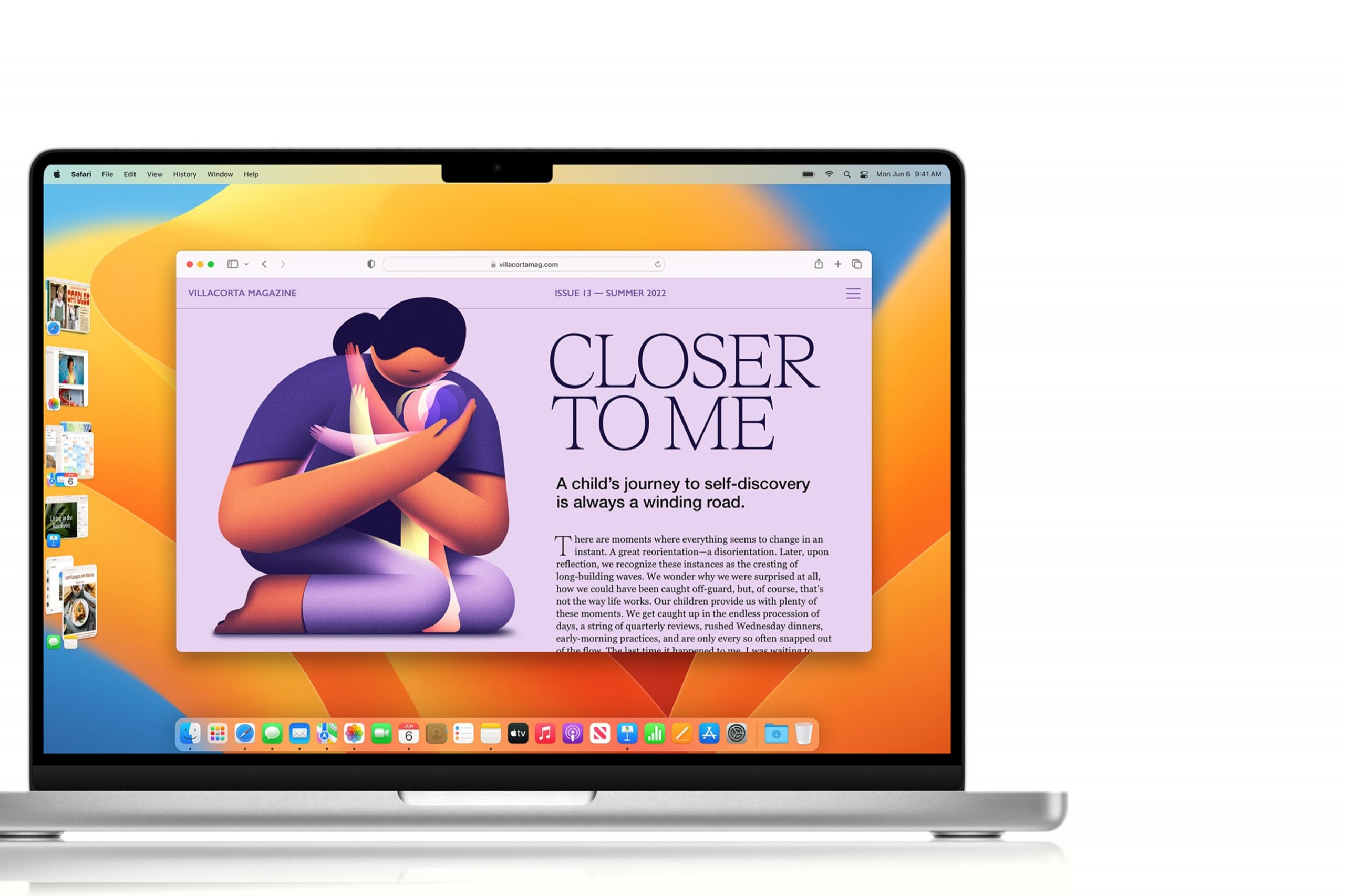 GAME-CHANGING NEW FEATURES
Back in June, Apple hosted its annual Worldwide Developers Conference to show off the new software it had been working on behind the scenes. While it's often iOS that receives the most attention, this year, Apple is introducing some game-changing new features that will make our Macs more powerful. And there's a reason for it: Apple is defying the odds, and amidst falling PC and laptop sales, Mac sales remain strong, and their market share is up. The introduction of Apple Silicon back in 2020 has changed the way we think about the Mac entirely, and Apple has a renewed vigor and focuses that's helping it carve out a new path for the once-fledgling brand. As such, we see more polished and refined OS updates to the Mac, and this year's update, macOS Ventura, is no exception.
Perhaps one of the most exciting new features announced was Stage Manager, an all-new multitasking tool that organizes apps into a single view. Active apps are 'center stage', and other windows are collapsed and off to one side, making it easier to see what you're working on and get back to your important documents, Photoshop, and browser sessions. The tool allows users to pair apps together for specific projects, and the best part is that this is coming to iPadOS, too, though there has been some controversy about its implementation.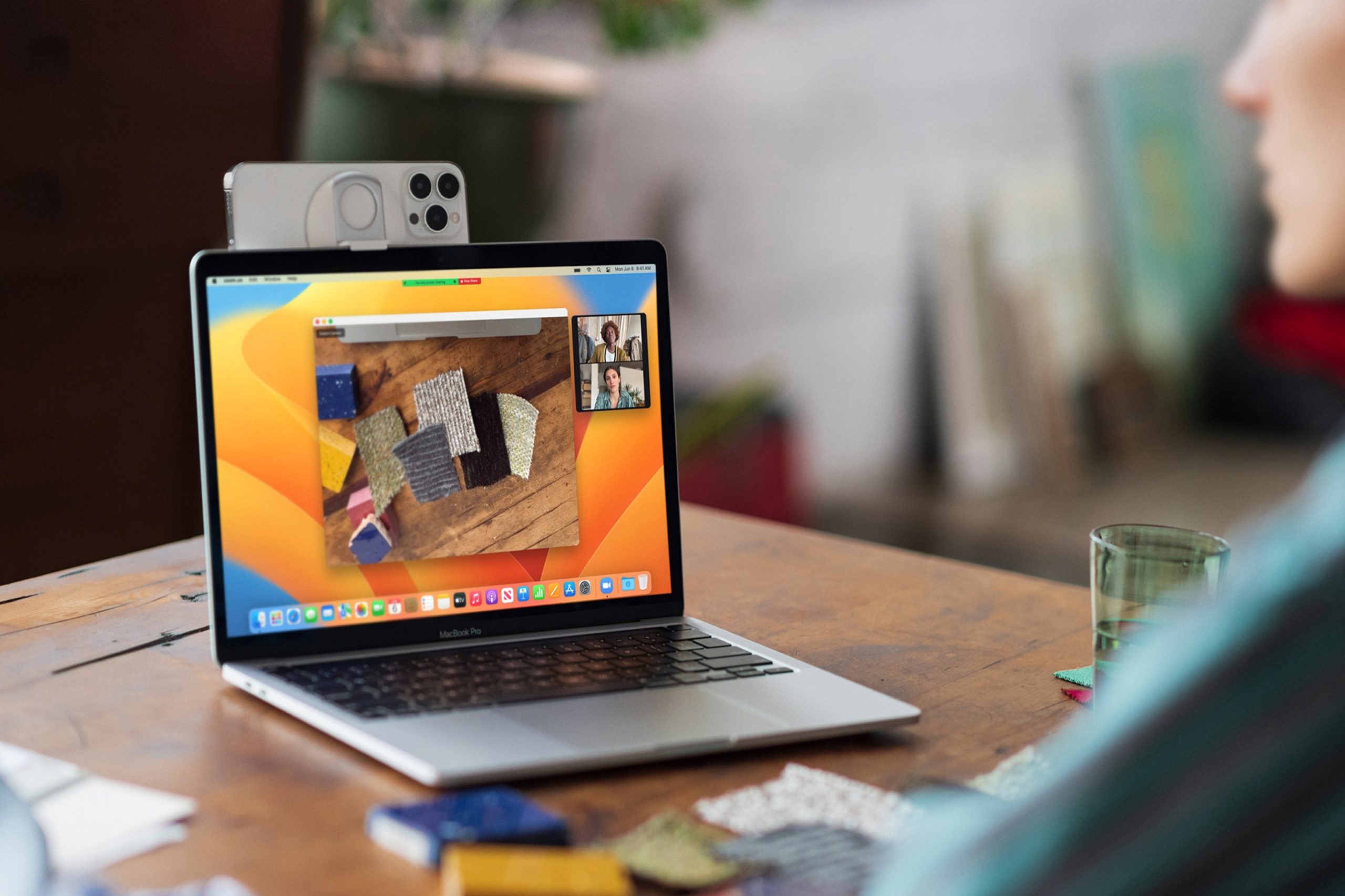 Another long-awaited feature is Continuity Camera, which allows users to use their iPhone XR or later as an external webcam on their Mac. It's Apple's not-so-subtle way of saying that Mac cameras aren't the best, and allows users to take advantage of the superior camera technology in the iPhone for clearer video calls on FaceTime, Zoom, and other sessions. The iPhone will also serve as a microphone. You can take advantage of features such as Portrait Mode, Center Stage, Studio Light, and the jawdropping Desk View, which uses the Ultra Wide camera on the iPhone to show what's on your desk during a video call. Early reviews say it's a "game-changing" feature.
Keen to make Messages more competitive amidst growing competition from WhatsApp, Apple is implementing a number of long-requested features such as an edit option, so iMessages can be edited for up to 15 minutes after they're sent, and you can also unsend messages you didn't mean to send. Apple will also allow users to mark messages as unread, and you'll be able to recover recently deleted messages for up to 30 days after deleting them. Apple has also added SharePlay with FaceTime support so users can watch movies and play games together. In short, all of the new iMessage features and enhancements from iOS 16 have been bundled with macOS Ventura, offering excellent cross-platform support.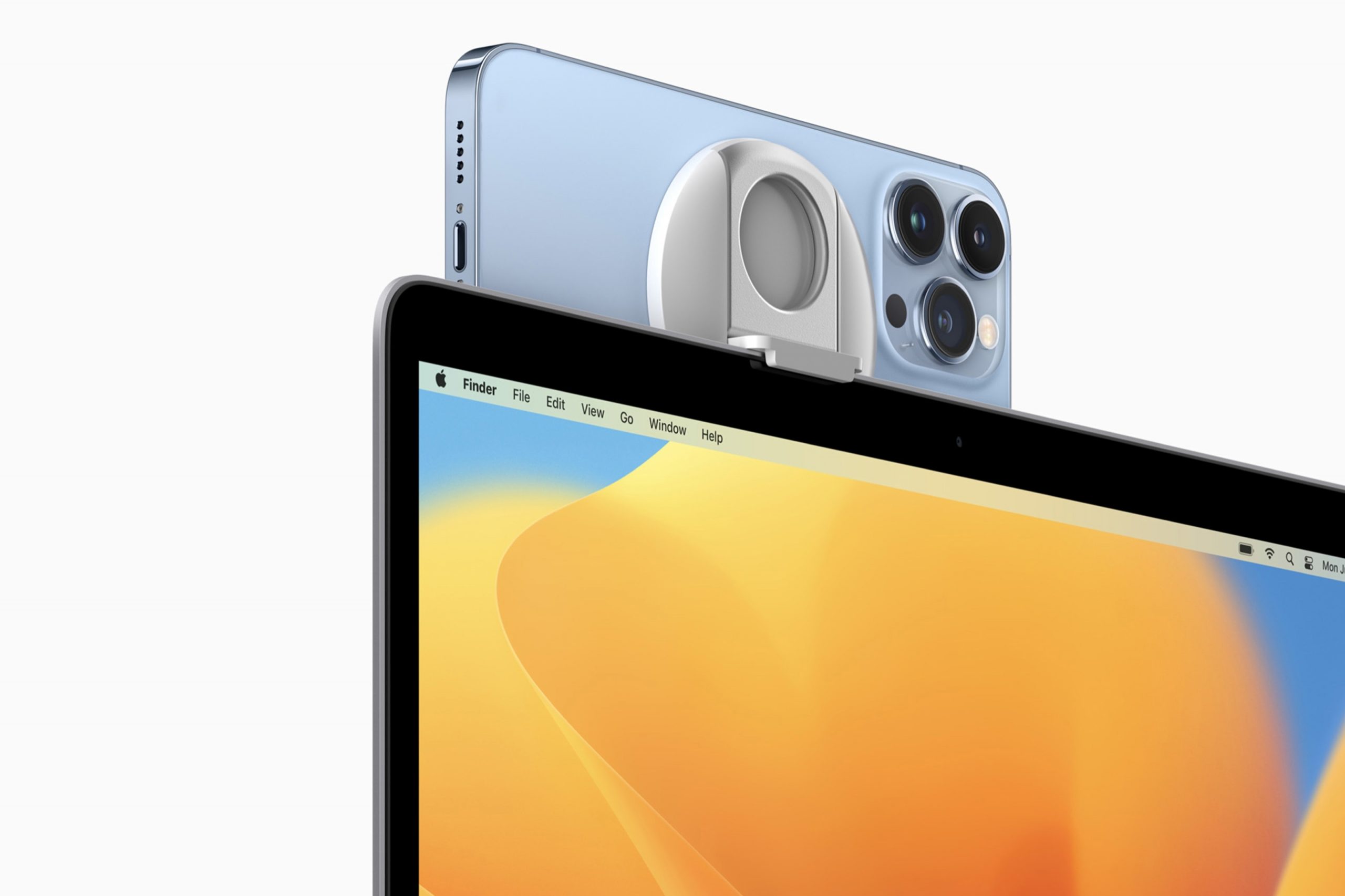 TAKING PRODUCTIVITY UP A GEAR
With more and more professionals making the switch to macOS for work, this year's release will no doubt come in useful. On Safari, Apple is introducing Shared Tab Groups so groups can collaborate on projects, and Tab Groups have their own start pages so that each one can have a customized background image and favorites. Apple has also added new web extension APIs so developers can create new Safari web extensions. For the first time, website settings like zoom and automatic Reader view sync across all devices. It's also now possible to opt-in to notifications on Safari pages, and Live Text works on images with text on the web. But perhaps one of the biggest new features of Safari is PassKeys.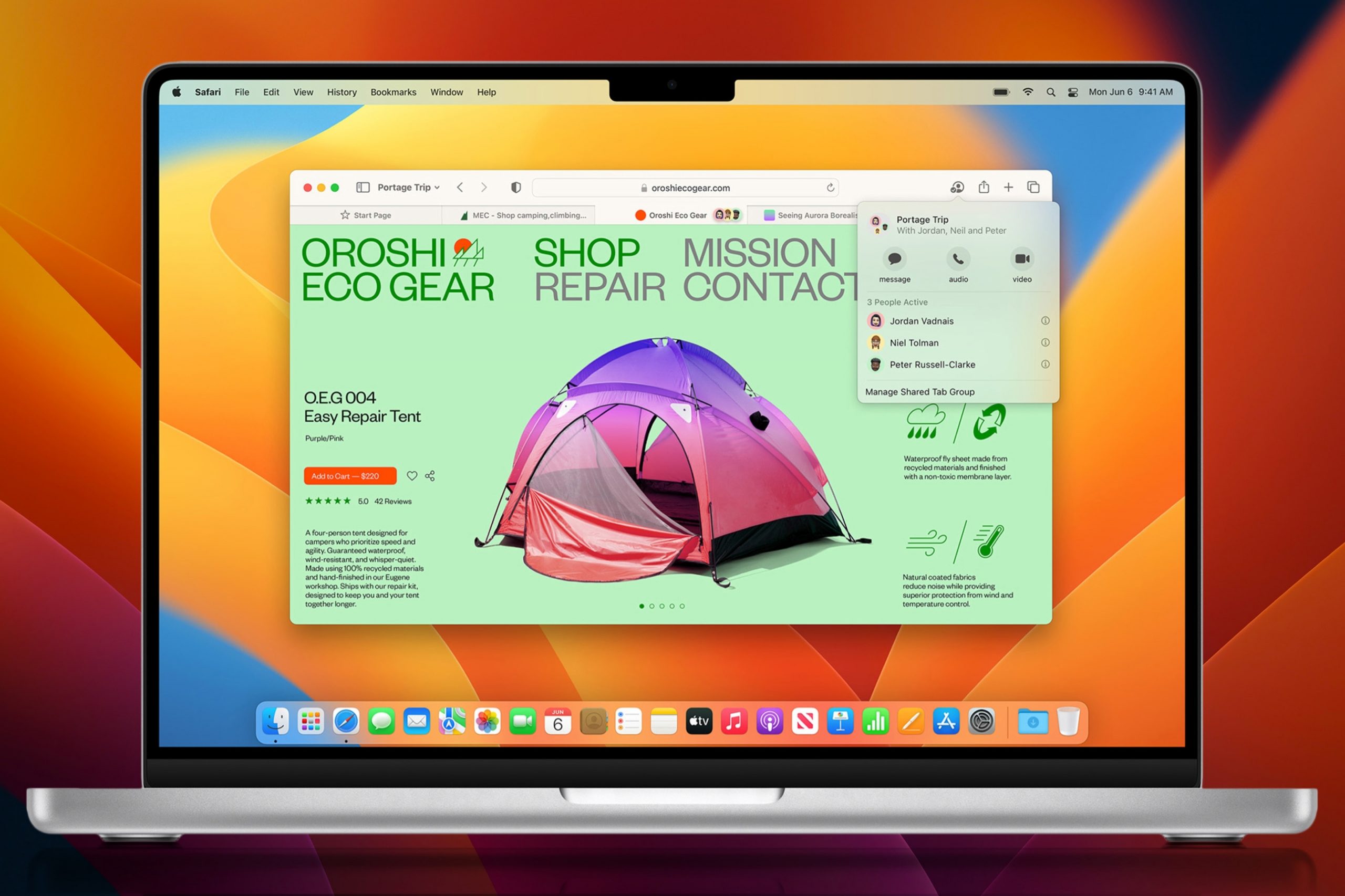 Across iOS 16 and macOS Ventura, PassKeys replace traditional passwords when signing into websites and apps, offering safer and easier access to websites and apps without needing to remember a password. Built on the WebAuthn standard, they use a unique cryptographic key pair for each website or account and work with Face ID and Touch ID. The best part is that these new keys work on the iCloud Keychain so that PassKeys will sync across your iPhone, Mac, and iPad, with end-to-end encryption as standard. Apple says it's been working with the FIDO Alliance, including Google and Microsoft, to ensure PassKeys work on other devices, too. If you try to sign into an account with a PassKey on a Windows or Android device, Apple will display a QR code that will authenticate using the iPhone.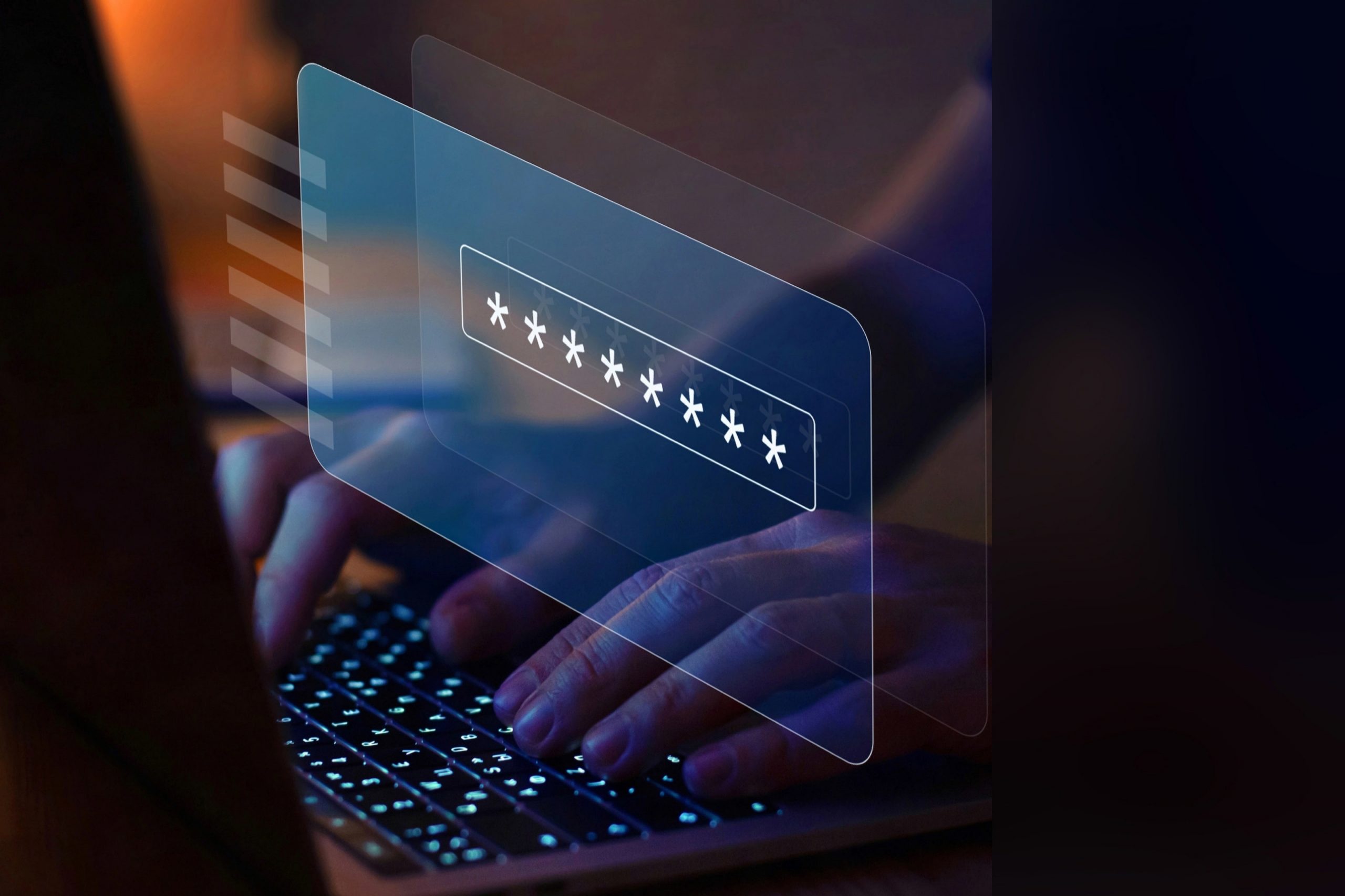 The Mail app has also been given some attention, bringing it in line with other third-party email apps. You can now "unsend" emails within 10 seconds, and you can schedule emails in advance. Apple is also adding a Remind Me option so you can go back to an email at a later time, and Search has been overhauled to offer more accurate results. FaceTime, on the other hand, now works with Handoff, so a FaceTime call can be accepted on the iPhone and then transferred to the Mac – ideal for both business calls and personal chats between work. FaceTime also gains the ability to collaborate with others across Files, Keynote, Numbers, Pages, Notes, Reminders, and Safari, which could take hybrid working to the next level.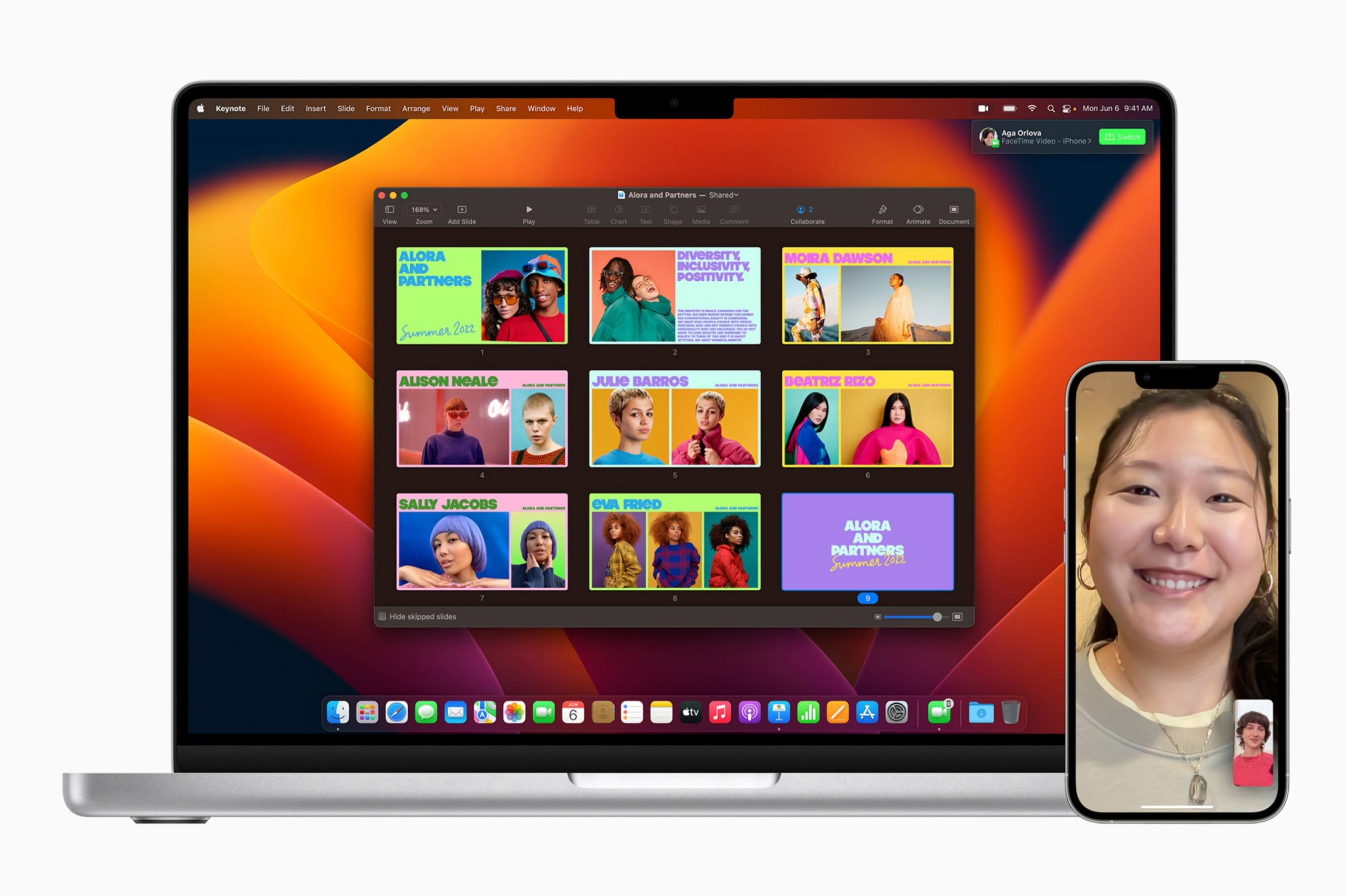 Several default Apple apps have been given some attention, too. For example, Photos automatically detect duplicate images, and Apple has locked the Hidden and Recently Deleted albums in the Photos app in macOS Ventura, so they can only be accessed using Touch ID or a password. The Clock and Weather apps come to the Mac for the first time. The Home app has been given a new look. It now supports Matter, a new smart home connectivity standard designed to allow accessories from Apple, Google, and Samsung to work together seamlessly. Apple has also updated Maps to add multi-stop routing for the first time, Notes are now automatically organized into Smart Folders based on new filters in macOS Ventura. Reminders add new features like pinned lists, templates, and scheduled lists, and the iCloud Shared Photo Library comes to the Mac to make it easier to share photos with family members. Apple has renamed System Preferences System Settings with an all-new iOS-like design to make it easier to find the information you're looking for at a glance.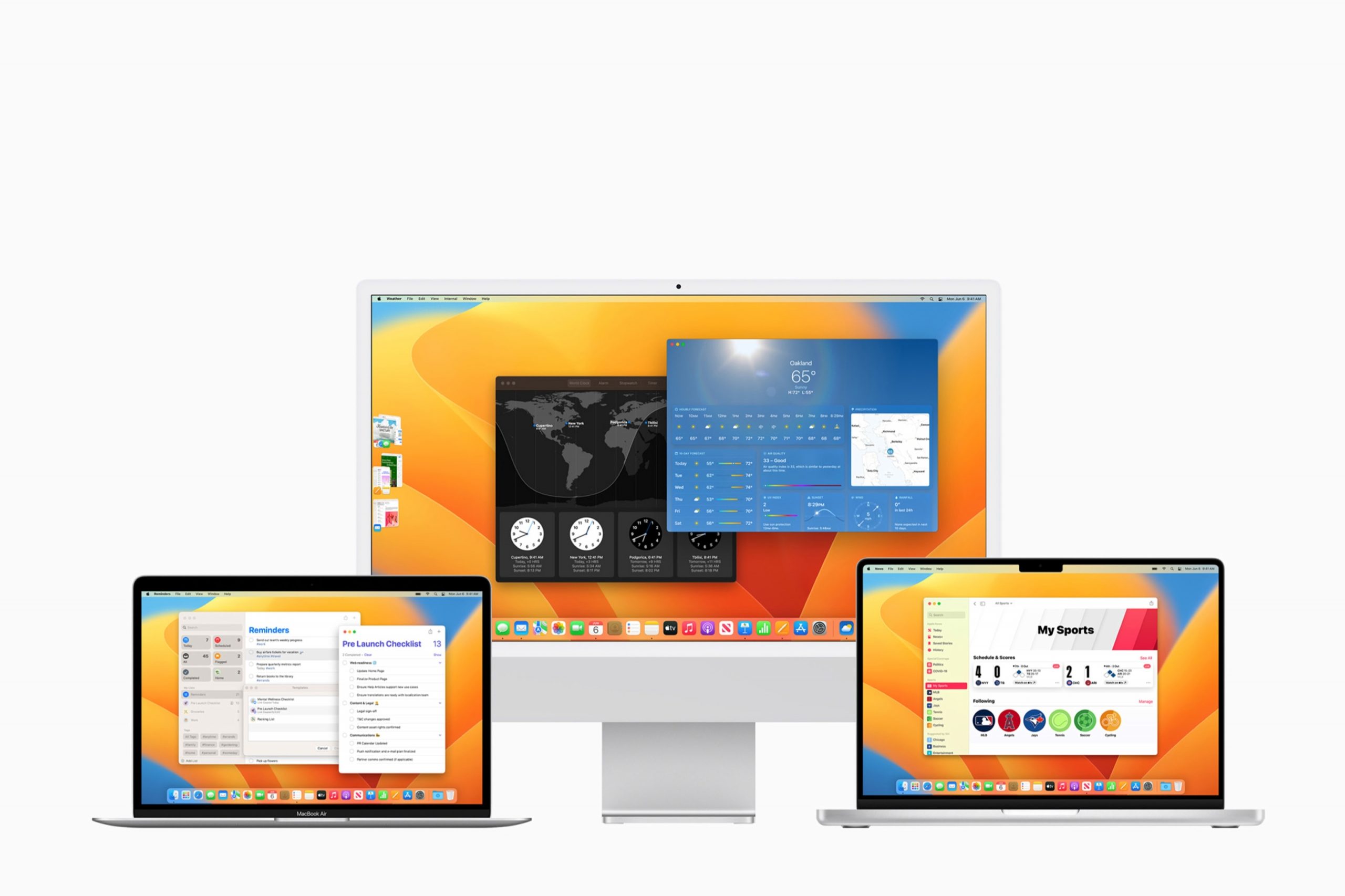 Apple's 2022 release schedule is a little different this year. Not only did it release iOS on its own, but it pushed back the release of both macOS and iPadOS to refine the operating systems further and prepare them for public release. One of the reasons for doing so was to test tools like Freeform, an all-new app that works across iPadOS 16 and macOS Ventura. This new virtual whiteboard offers a blank canvas for collaborating, brainstorming, and diagramming and is designed to bridge the gap between iPads and Macs for the first time. The new cross-platform app supports realtime collaboration, and it works with Messages and FaceTime so collaborators can chat and see what's going on wherever they're in the world. Users can add images, video content, PDFs, and more, and while other collaboration tools on the market offer the same functionality, Freeform will be the first time it's universally accessible across iPadOS and macOS, starting an exciting new journey.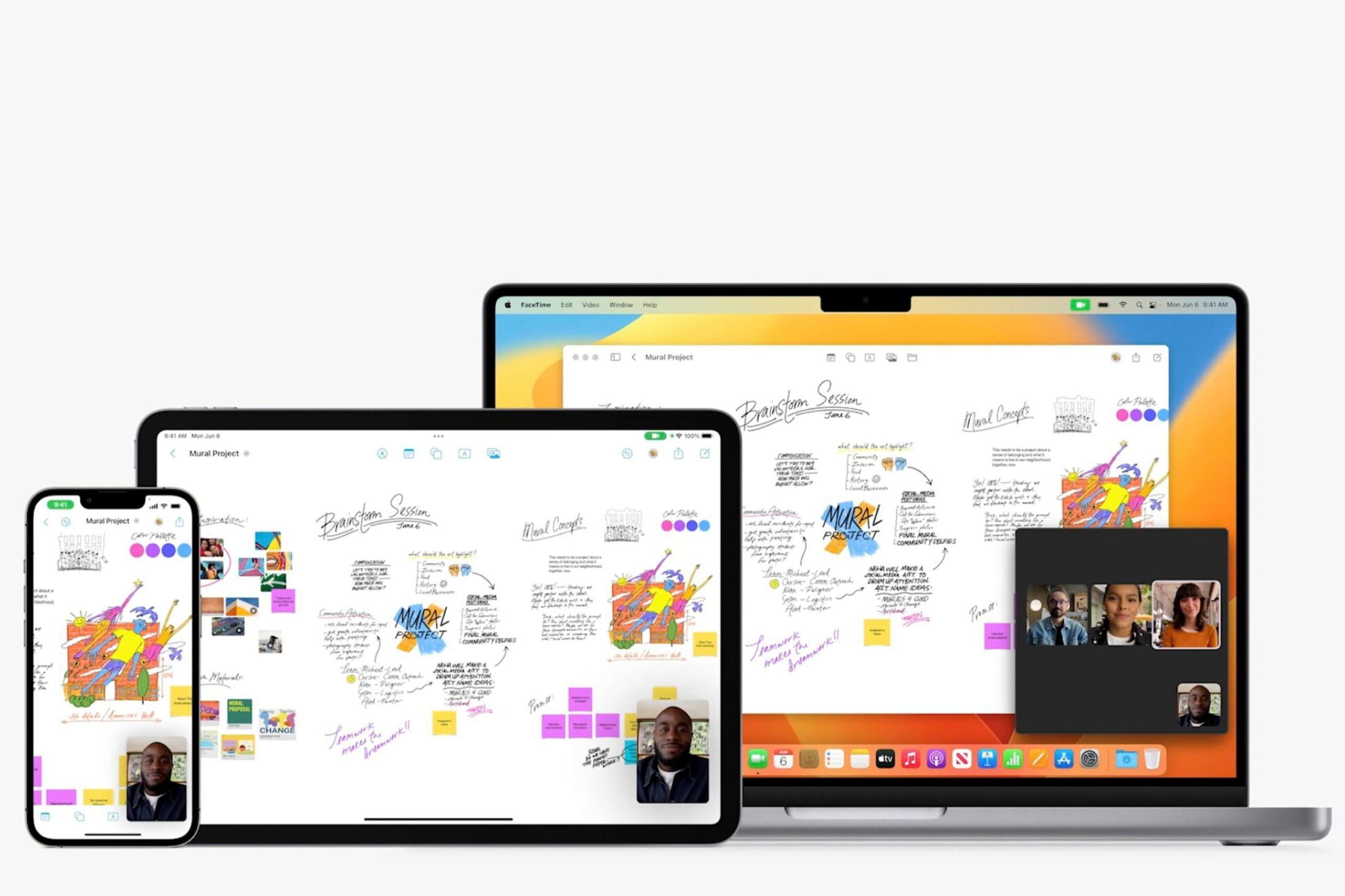 macOS Ventura is out in the wild, and we can't wait to see what comes next. Every year, Apple further elevates and refines the desktop experience we all know and love, allowing us to become more productive and engaged in the process.