LG 43UD79 Review – LG UHD 4K 43-INCH MONITOR 43UD79 – USING A MONITOR THE SIZE OF A TV ISN'T AS AWESOME AS IT SOUNDS
The LG 43UD79 is a huge ultra HD monitor. At 43-inches diagonally, it is larger than many people's living room televisions. Everyone who saw this monitor whilst it was being reviewed thought it was a television. When it was explained to them it's a monitor, their minds were blown and inevitably, the topic of "who needs a monitor that big?!", was raised.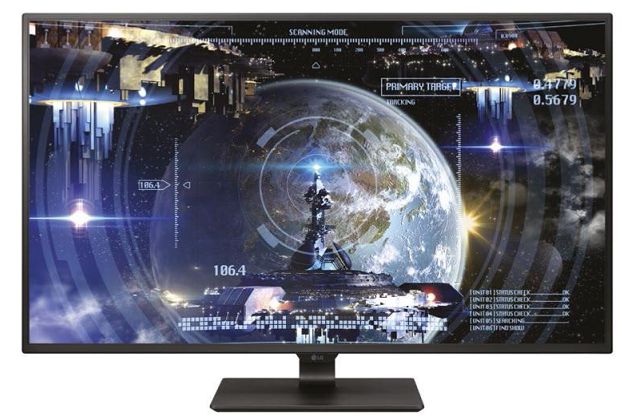 It's a great question – who does need a monitor this large? Well, if you're the sort of person that wants multiple windows open at once on your computer, but doesn't want to, or can't connect multiple monitors, then the LG 43UD79 is right up your alley. The effective desktop resolution and screen size is the same as having four 21.5-inch 1080p monitors glued together with no bezels distorting the image.
The UHD resolution is perfect for placing a browser window, a double-page spread PDF, a programming IDE and a command-line terminal on screen, all at once. No more flicking through trying to find the app you wanted, they're all open and viewable simultaneously – boosting your productivity.
Specs wise, the LG 43UD79 has an antiglare IPS panel with a 3840×2160 resolution and a 178-degree viewing angle. Colour accuracy is average, with a basic 72% coverage of the NTSC gamut. Brightness and contrast are adequate at 350cm/m2 and 1000:1 (native) respectively. Response time is on the high end at 8ms GTG and refresh rates are maxed out at 60Hz due to the limitations of DisplayPort's bandwidth. Despite AMD FreeSync support, the LG 43UD79 isn't a gaming monitor.
On the rear, there's a Display Port v1.2 socket and four HDMI ports – two of them support HDMI vl.4 and the other two HDMI v2.0. Two USB 3.1 Gen1 ports are awkwardly placed at the bottom-rear of the monitor. There's also a headphone socket and an RS-232 port if you want to connect the LG 43UD79 up to an automation setup.
Rounding out connectivity is a USB-C connector that supports DisplayPort, however, it only provides 5V/1A of power delivery. Whilst that's useful for smartphone users, LG missed a great opportunity to please laptop users by offering full power delivery capabilities, as well as displaying an image.
Included with the LG 43UD79 is a remote control that works just like a TV remote with volume, power and input selection, but without all the other useless buttons. On it are options to flick between picture-in and picture-beside picture modes, as well as enabling game mode for reduced input lag. LG also provide basic window management software that makes life with this behemoth easier.
In use, the LG 43UD79 is awkward because it's so damn big. Placing the screen at an ergonomically recommended arm's length away means you're constantly moving your head around to focus on something. If the window you want to focus on isn't at eye level, your neck is stuck on a funny angle that will lead to soreness long term.
If you sit further back to prevent moving your neck around, the text at the LG 43UD79's native resolution becomes too small to read. Increase the DPI in Windows to compensate and you start sacrificing all that beautiful desktop real estate. The LG 43UD79 sits in a bit of a catch-22 area. It's great because it's big, but because it's so big, you can't enjoy the full UHD resolution and all the benefits that provides.
Is the LG 43UD79 the most colour accurate monitor on the market? Nope, but it still looks great. Has it got amazing response times and refresh rates that gamers will love? Not really, but anyone but the most hard-core gamer won't even notice. But if you want a huge monitor with loads of pixels to have loads of windows open simultaneously, then you should get the LG 43UD79, as that's exactly what it's designed for.
ANTHONY AGIUS
LG 43UD79 Review: KEY SPECS
43-inch IPS anti-glare panel • 16:9 aspect ratio • 3840×2160 resolution • 350 cd/m2 brightness • 1000:1 native contrast • 8ms (GTG) response • 178-degree viewing angle • 1.06b colour depth • 4x HDMI • 1x USB-C • 1x DisplayPort v1.2 • 2x USB 3.1
Best LG 43UD79 prices ?
MORE DEALS