One OLEDTV to rule them all
There aren't many TVs that we look forward to checking out. At this point, most of us have seen what 4K Ultra-HD sets are capable of, and while the addition of High-Dynamic Range (HDR) capabilities have reinvigorated our curiosity, the TVs we actually want in our home are few and far between. But the exception to that is LG's line of OLED TVs.
To give a brief recap, OLED passes an electric current through organic light-emitting diodes to create color on the screen. Each individual LED can be individually controlled, which means there's no need to have giant lamps sitting on the side of the screen or scattered across the back of the panel.
OLED screens are more uniformly lit than LCD LED screens, have a better contrast ratio and, in most cases, have richer, more natural colors, too.
LG's OLED65E6P, 65-inch flagship TV from the South Korean electronics manufacturer, excels at everything we've mentioned, but also surprises with so much more such as built-in screen casting capabilities, 3D and a useful universal search function.
Design
The OLED E6 is one of four separate OLED series from LG.
The panels are named with one letter followed by a 6. What separates the OLED E6 from its siblings – the G6, C6 and B6 – is that it the C6 is curved, but doesn't have a soundbar. The E6 has a 2.2 stereo soundbar, but it's not as powerful as the 4.2 soundbar that's attached to the G6. Meanwhile, the B6 is a bit chunkier in the back than the E6's slim picture-on-glass, 2.57mm thick panel. In short, choosing this specific OLED over the others is a matter of screen preference -curved or flat – and whether or not you're prepared to buy an external soundbar.
If you're looking for the hard numbers, the OLED E6 is an ultra-slim 57.5 x 35.2 x 2.2 inches without a stand, and 57.5 x 35.2 x 7.9 inches with a stand. It's a hefty 22.6kg, making it fairly stable on a wide enough entertainment center and just hefty enough that you'll need to enlist the help of a second person if you have any thoughts of mounting it on the wall.
As for the screen itself, it's a gorgeous all-glass front. But, even in a bright room, the screen retains a great deal of color and clarity, while a super-thin trim gives the E6 a picture frame-esque appearance.
On the left-side are four HDMI ports with HDCP 2.2 and three USB 2.0 ports, alongside composite and component in, ethernet and optical audio ports. What's there is the basics, enough for most home entertainment enthusiasts, but not enough for those with multiple games consoles, HTPCs and 4K Blu-ray players.
While other manufacturers have made the switch away from proprietary operating systems and latched onto third-party sources such as Android TV, LG has stayed strong with webOS. This year's iteration of the trimmed-down OS brings a number of refinements but, more importantly, puts the most useful apps front and center.
Pressing the home button on the remote pulls up a long row of subscription-based apps – Netflix, Amazon Prime Instant Video, YouTube, Vudu, Google Play Movies &TV, Hulu in the US and Gamefly. There are a few other heavy hitters on the LG Content Store such as Pandora and Plex, but most of the top apps come pre-installed and ready to go.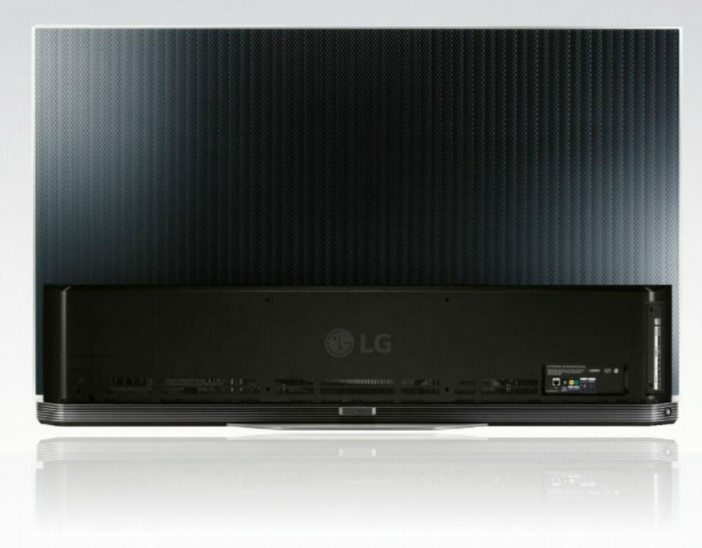 The universal search function allows you to voice search the LG Content Store and pull up results from almost all the major providers. Use the built-in microphone on the remote to search for The Departed and it will pull up a page with links to Amazon Instant Video, Vudu and Google Play Movies & TV, and give a synopsis alongside the cast list.
Performance
Performance across the board is excellent. Like a premium engine, though, the OLED E6 runs better with premium content. But it also gets on well enough with standard fuel.
Color reproduction is frankly excellent. The blacks are as deep and dark as you'd expect, and there's a decent amount of clarity when you have the right 1080p source feeding into it. However, if you take an older film – say Back to the Future II – and throw it on LG's expensive TV, you might not be all that impressed.
"In a bright room, the screen retains color and clarity, while a thin trim gives it a picture-frame appearance"
4K/HDR content was everything we had dreamed it could be. The image quality can be broken down into a few parts: color, contrast, brightness and motion after you take upscaling out of the equation.
Starting with color, the OLED E6 nails it in every respect. It's a 10-bit panel on the inside and hits the Rec.2020 standard for color depth. All that means is that the colors can take on 1.07 billion hues and that, for the most part, are as accurate as possible to the source.
While most series come with pretty terrible down-firing speakers, LG's OLED E6 sports a powerful and ultra-crisp soundbar right in the box. The soundbar is part of the stand and while it could be removed from the setup and swapped out for a Dolby Atmos 7.1.2 system, the 40-watt 2.2 speaker system is already pretty powerful on its own.
We could spend hours going on about the ample noise it generates (the speaker goes up to 100), how you can custom-tune it to your living room via the remote's built-in microphone or how it strikes the balance between mids, lows and highs, but we'd rather focus on its other cool feature: screencasting through a function called DIAL.
Similar to Google Cast, DIAL allows you to share your mobile device or laptop's screen directly to the biggest TV in your house with a few clicks. There are other TVs with more integrated solutions out there – just look at Vizio's SmartCast series, for example – but if you're looking for deep black levels and this kind of connectivity, LG's OLED is the only place to find it.
Verdict
Nice touches like the soundbar stand, built-in Google Cast capabilities and 3D add work in tandem with the OLED panel itself to deliver quality that's second-to-none. If you're looking for a killer 65-inch and have plenty of money on hand, there should be nothing stopping you from going all-in with OLED. That said, if you can live without the 4K capabilities, soundbar and some of those other add-on features, check out LG's 55EC9300, which is a premium 1080p panel with many of the same picture-quality characteristics.
LG's latest OLED is pricey, but offers exceptional clarity when given 4K HDR content.
Editor choice
LG OLED65E6P review
LG's latest OLED is pricey, but offers exceptional clarity when given 4K HDR content.
Add your review
Best LG OLED65E6P prices ?

$

325.99
1 new from $325.99
in stock


$

329.99
1 new from $329.99
in stock

MORE DEALS