Colour laser printers are traditionally in a different class from affordable inkjets, but Lexmark's new laser range promises business-level performance at a low price, and on paper – quite literally – the C3224dw delivers. It's rated at 22 pages per minute, much faster than most inkjets; has Wi-Fi as well as USB and Ethernet connections; and can print both sides of the paper (duplex). It's only a printer – there's no scanner for digitising documents and making quick copies – but at just over a hundred quid, if has to be worth a look.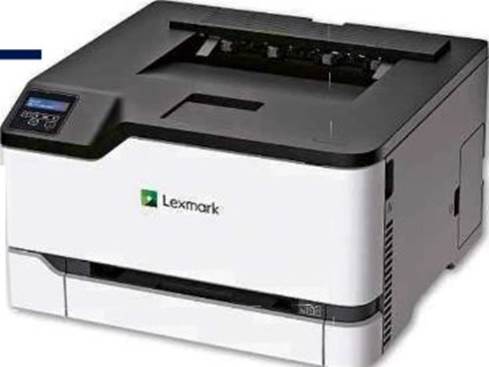 A quick and high- quality printer, but running costs will prohibit regular use
Print quality is certainly up to scratch. Laser models work like a photocopier, melting plastic powder on to the page rather than squirting ink. which means the results suit solid colour graphics such as charts better than photos. But we found the C3224dw had a pretty good go at everything, managing smoothly toned pictures in colour or black-and-white as well as crisp text.
The default print mode is meant to balance quality against speed, but when we increased the resolution we couldn't see any difference, so you might as well stick with it. Setup was straightforward, and there are smartphone apps you can use to get the printer configured for your Wi-Fi and printed documents. There's also support for online sendees like Dropbox and Apple AirPrint, but no Android equivalent. And yes, it really did
SPECIFICATIONS
600x600dpi maximum print resolution • 250-sheet paper tray • Duplex • USB • 100Mbps Ethernet • 802.11n Wi-Fi • 244x411x394mm (HxWxD) • 16kg • One-year warranty
print 22 pages per minute, even when we tried a more complex document rather than plain text.
It's a neat machine, as well, styled in black and white and taking up a modest amount of desk space, though be warned it still weighs a ton (well, 16 kilos). You don't get extras like printing from an SD card or USB stick, and the control panel consists of a calculator sized LCD with a few basic buttons.
The biggest drawback, as with other colour laser printers, is the cost of printing. Including the periodic waste toner bottle replacement, it works out at just over 4p for black pages and 17.7p for colour. That's with cartridges that last 1,500 pages, so a single set of refills will cost more than the printer. We do welcome Lexmark's assurance that you can print in black without replacing the colour toners, which makes this far more practical for occasional colour printing than many lasers. But even printing in black is expensive.
VERDICT
Lexmark C3224dw Review
Running costs make it hard to recommend any colour laser, and this is no exception on that score, but for low volumes it could make sense
Add your review
Best Lexmark C3224dw prices ?
$

153.98
1 new from $153.98
in stock


$

418.88
1 new from $418.88
in stock


$

974.95
2 used from $490.36
4 new from $936.92
in stock

MORE DEALS

ALTERNATIVE
Brother HL-L3270CDW
It has a colour touchscreen and is cheaper to inn, albeit more expensive to buy