Desktops, laptops, tablets – why can't we just have one kind of PC that does it all? A full-size convertible like this is the nearest thing so far, squeezing all-round processing power into a case that's not only portable, but lets you fold the touchscreen back against the keyboard and use it like an iPad.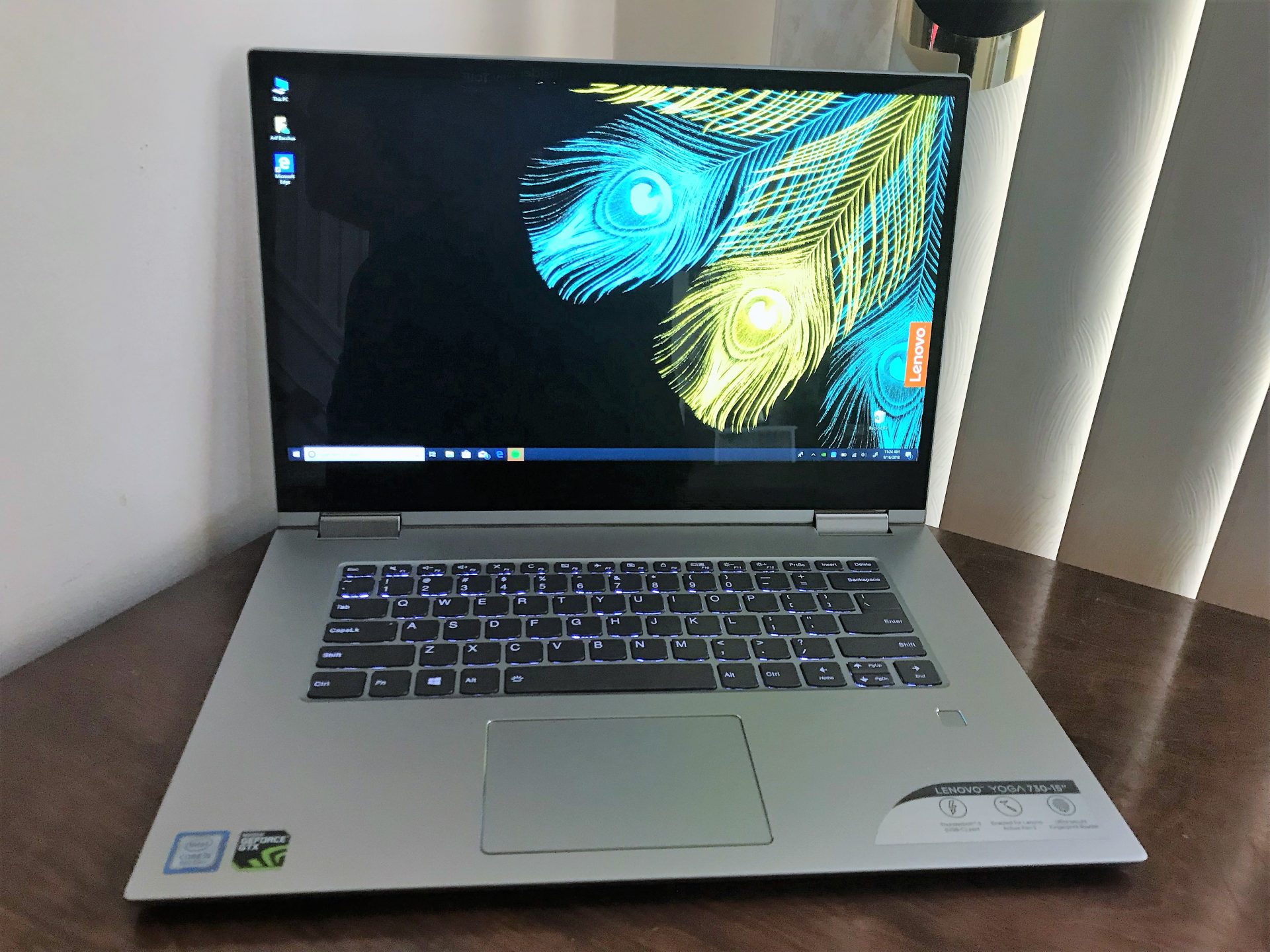 Lenovo even throws in an Active Pen 2 stylus. Unlike an iPad, it runs all the Windows 10 programs you need. And although we're sceptical about this rather unwieldy kind of laptop, Lenovo has made a good job of this one at a fair price (given what it's capable of).
Laptop, tablet and desktop PC in one-a powerful, portable and fast performer
The 730 comes only in iron grey, and looks just how that sounds, consisting of a thick aluminium slab hinged to a thinner aluminium slab. It's neater and lighter than Dell's XPS 15 2-in-1, but the bezels around the 15.6in screen aren't quite so narrow, and you'd struggle to fit this machine on a fold-down train or plane table. Anywhere else, you get the benefit of that big and extremely sharp display. Brightness isn't the highest around, and 82 per cent of sRGB colour range with an average Delta E score of 3 won't quite satisfy graphics professionals, but for most purposes it looks great. The backlit keyboard isn't as robust as those of Lenovo's ThinkPads, but works fine, as does the touchpad. A fingerprint reader is built in.
With a quad-core i7 processor and plenty of memory, performance is very good, although an i5 desktop PC would beat it. But it gets better. The 512GB SSD is one of the fastest we've ever seen, and the dedicated GTX 1050 GPU, with 4GB of its own memory, will cope with any 3D game in Full HD as well as helping compatible photo- and video-editing software. The only catch is battery life: our video-playback test ran for just 4 hours 30 minutes. The Dell XPS 15 2-in-1 lasted twice as long, but that was with a Full HD screen – the extra resolution may account for quite a lot of the difference.
This £1,499 model has 4K. If you don't want it, go for the model, which has an i5-8250U chip, 8GB memory and 256GB SSD. The GTX 1050's onboard memory is also halved to 2GB. We haven't tested this, but were disappointed by the dull Full HD screen on the Yoga 530, so we'd be more tempted by the 4K configuration, which more than justifies its price.
SPECIFICATIONS
1.8GHz Intel i7-8550U quad-core processor • 16GB memory • S12GB SSD • 15.6in 3840×2160-pixel screen • Webcam • USB Type-C Thunderbolt 3 port • 2x USB 3.0 ports • 802.11ac Wi-fi • Fingerprint reader • Windows 10 Home 17x360x249mm (H x W x D) • 89kg • One-year warranty
VERDICT
See also THE COMPLETE GUIDE TO…OLED laptops
ALTERNATIVE
Dell XPS 15 2-in-1